Located in the north-central US, South Dakota is one of the least populated states in the country but the 17th biggest by land area. The state's geography does not support large settlements, and a shortage of employment opportunities has fuelled emigration from the state. South Dakota is, however, a haven for outdoor enthusiasts with its raw wilderness areas, rivers, scenic state parks, beautiful lakes, etc. Here are the 10 biggest cities in South Dakota by population:
1. Sioux Falls - 200,243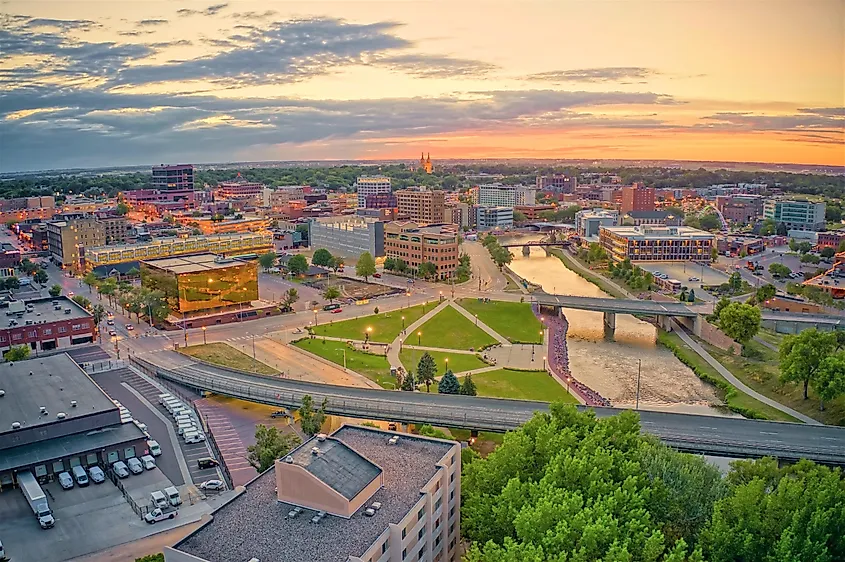 Accessibility, affordable housing, and low tax rates make Sioux Falls a great city to call home. In addition, Sioux Falls is home to three of South Dakota's top ten public schools, earning the city strong ratings for its education system. Sioux Falls is home to more than 80 parks, many of which are connected by a network of paths known as the Greenway. The city's primary natural attraction is Falls Park. As the Big Sioux River flows through the park, one can view the renowned waterfalls falling over pinkish-red stones. Sioux Falls and the surrounding region are a paradise for outdoor explorers, with plenty of accessible trails for bicycling and hiking, and exploring nature's wonders.
2. Rapid City - 76,053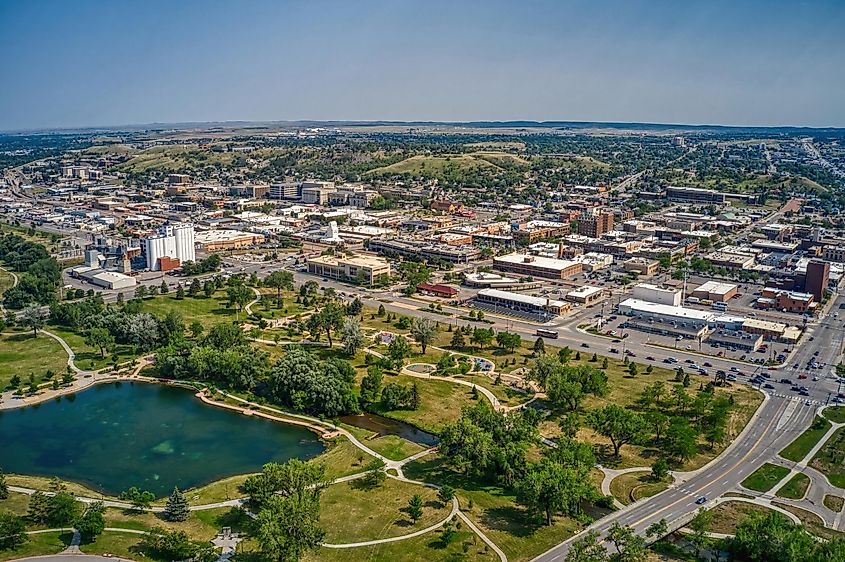 Rapid City is located east of Black Hills National Forest in western South Dakota. It is the gateway to the famous Mt. Rushmore, the enormous sculpted mountain featuring four legendary US presidents. However, there is more to this city. The country's largest ongoing public art installation is present here. Thirty eateries in the city's historic downtown serve gastronomic delights. It is a city with one of the top IT colleges in the country and a picturesque location amidst the legendary Black Hills and the Badlands. The Journey Museum & Learning Center has local history and geology displays north of Rapid Creek, which bisects the town. Thus, it makes sense that many young professionals find this medium-sized city a fantastic place to live and work.
3. Aberdeen - 28,975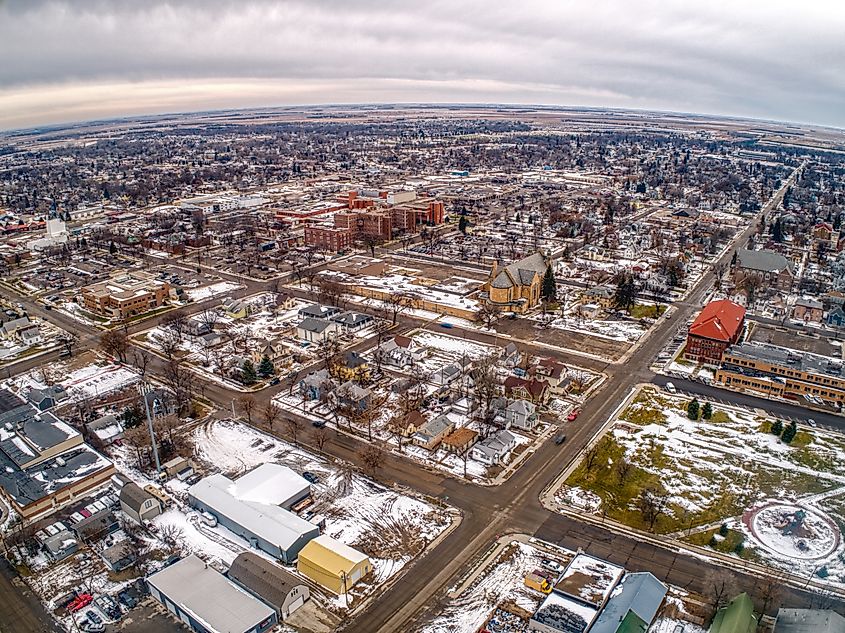 The third-largest city in South Dakota, Aberdeen, combines a big metropolis's comforts with a small town's beauty. A strong sense of community, top-notch educational institutions, fun activities for the whole family, and a thriving economy are just some things that keep people coming to Aberdeen. Along its rivers and among its rolling hills, Aberdeen is renowned for its breathtaking beauty. The Aberdeen Ironbirds (a Minor League Baseball team) and Northern State University are located in this city. Throughout the state, there are many great fishing spots that are home to some of South Dakota's largest fish. Moreover, there always appears to be an ongoing celebration in the city honoring a significant occasion. The area is packed with world-class attractions, amusement parks, and historical museums that are sure to keep the whole family entertained.
4. Brookings - 23,641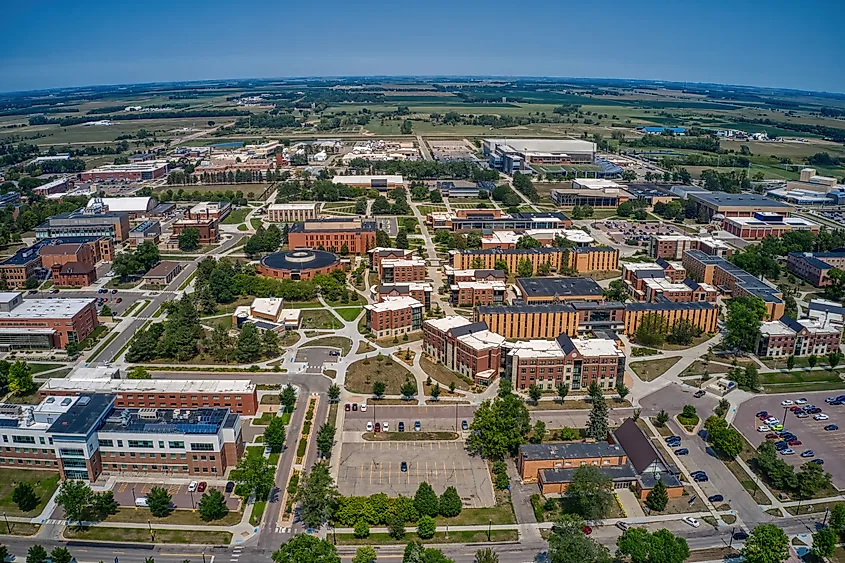 Brookings is not typically associated with the rural Midwest. People from approximately 85 nations reside in Brookings because it is home to South Dakota State University, a prestigious land grant university. When visitors like students and educators arrive in Brookings, it enriches the city's culture. Brookings has cultural attractions, sports, restaurants, and shops. It does not, however, have much traffic, crime, or excessive taxation. Bigger cities indeed offer more of everything, but some of those things, like increased violence and a high cost of living, aren't what families desire. That is why many families prefer Brookings, where they can feel comfortable, receive a top-notch education, have enough money to buy a home, and enjoy a variety of recreational and cultural attractions.
5. Watertown - 22,889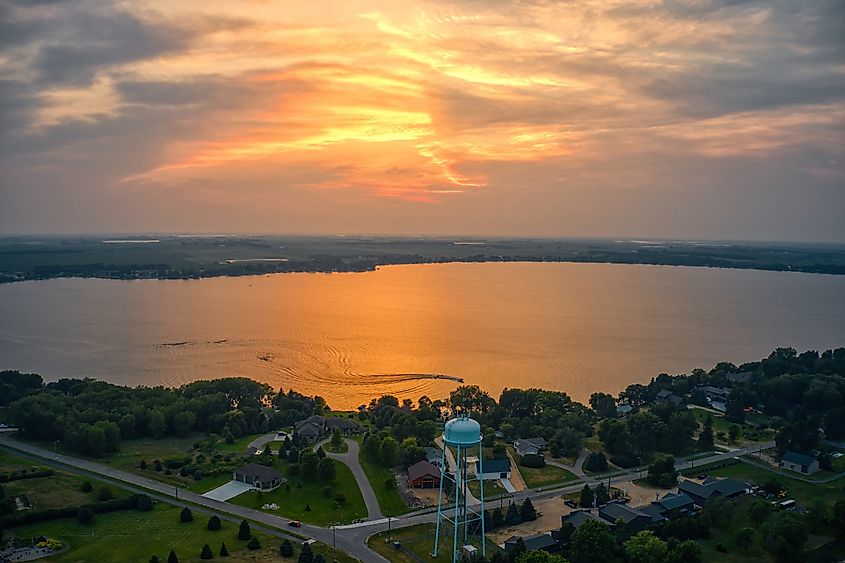 Anyone wishing to add a little excitement and history to their life should visit Watertown. Some of the most incredible locations for tourists of all ages are also some of the most serene areas where one may enjoy life at a slower pace. The Redlin Art Center, located near Watertown, houses more than 150 unique paintings by renowned wildlife artist Terry Redlin. Josh Spies, an internationally renowned artist who has a gallery in the old Goss Opera House uptown, also resides in Watertown. The Codington County Heritage Museum and other specialty retail stores are also found in Historic Uptown. The Bramble Park Zoo, Discovery Center, and Terry Redlin Environmental Center are open all year round and are home to approximately 500 different animal species. Everyone can find something to enjoy in Watertown, whether their hobbies include shopping, golfing, fishing, or simply spending time outside by the lovely Lake Kampeska.
6. Mitchell - 15,742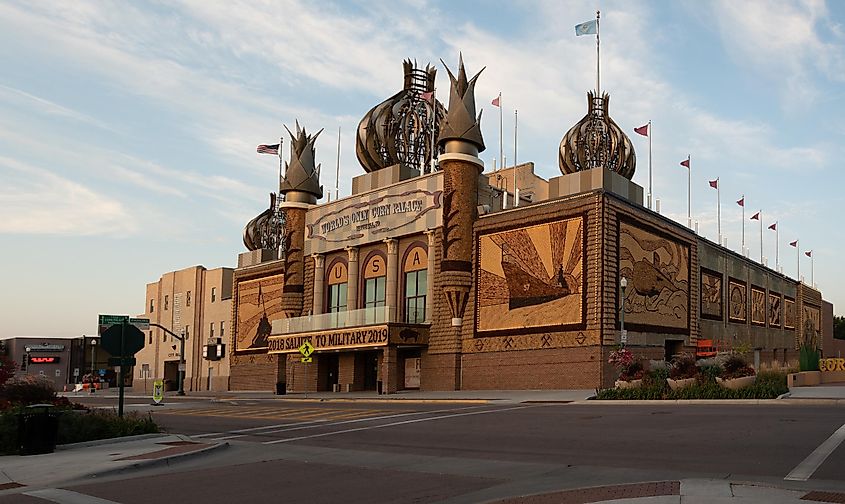 Mitchell is located in the James River valley next to Firesteel Creek, about 70 miles west of Sioux Falls. Dakota Wesleyan University and Mitchell Technical Institute are two of Mitchell's post-secondary schools. The Corn Palace, a major attraction here, is famous for the murals painted in this historical building using different colored dried grains and corn. The Dakota Discovery Museum, whose goal is to exhibit and preserve the history of the prairie and its people, is also located in Mitchell. The exhibit spans the years 1600—when the Native Americans were primarily still undiscovered—through 1939, when the Great Depression ended. Visitors and locals are invited to Mitchell to partake in some of the greatest extracurricular activities in the area. Mitchell offers activities all year long, whether one wants to enjoy hunting, fishing, or seeing a play at the local theater.
7. Yankton - 15,603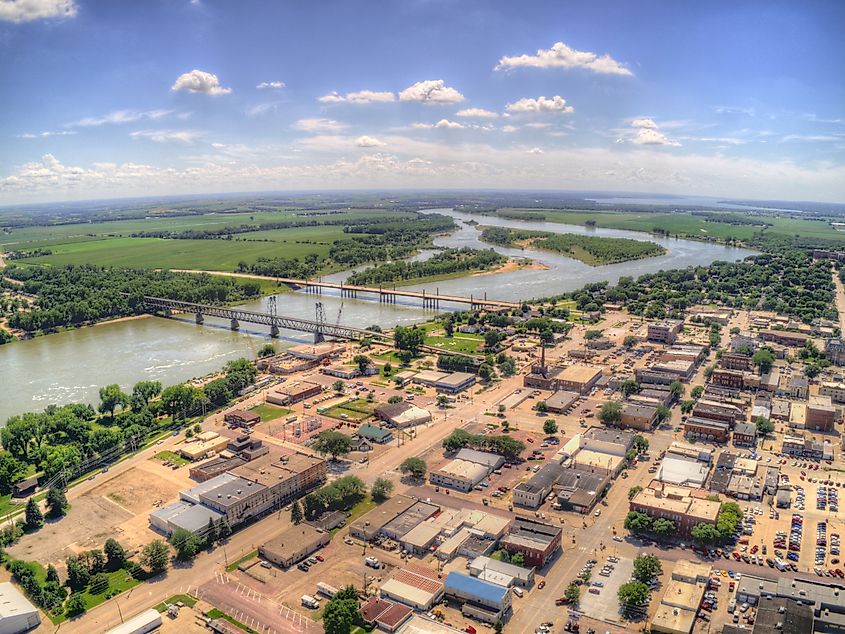 Not only is Yankton the most ancient settlement in South Dakota. It is among the most exciting ones too. The city offers a perfect mix of both outdoor activities and indoor pursuits. The nearby Lewis & Clark Recreation Area allows one to explore nature at its best, while one can enjoy the Missouri River's scenic beauty from the Meridian Bridge viewpoint. The downtown area has a vibrant atmosphere with quaint boutiques and eateries offering gastronomic delight. Overall, like most of the cities on this list, Yankton is also a great place to reside and grow a family.
8. Huron - 14,597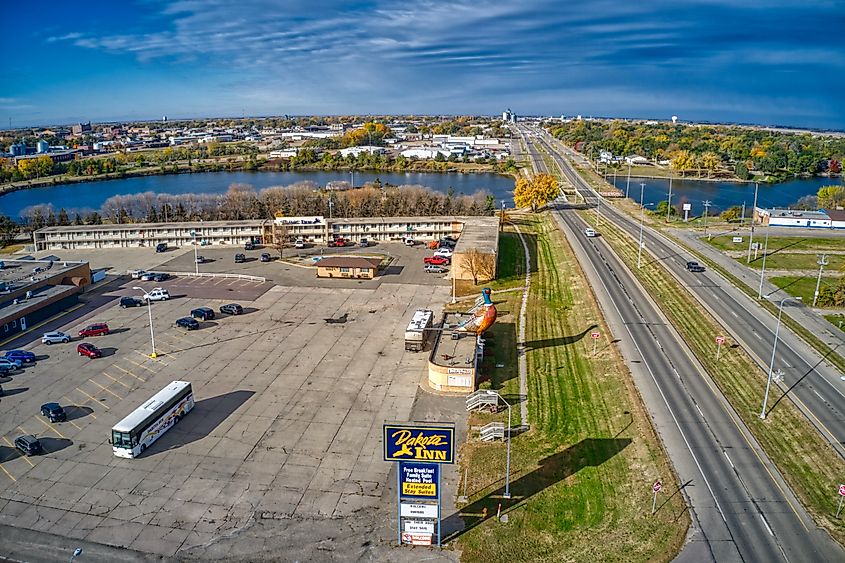 Huron is situated along the beautiful James River in a natural-history-rich region in east-central South Dakota. Huron offers a suburban vibe, which may be excellent for families seeking more room and a decent place to raise kids than bigger, more crowded cities. The comparatively low cost of living in the city is a major draw for families looking for a home in the state. Huron is also a lot of fun. The town hosts several fairs and festivals throughout the year like the annual South Dakota State Fair, livestock and equestrian competitions at the Dakota Events CompleX (DEX), and auto races at the Dakota State Fair Speedway all take place at the 190-acre South Dakota State Fairgrounds. At Splash Central Waterpark, visitors of all ages may enjoy water slides, pools, a lazy river, and a water coaster. One can also visit the Memorial Park on the James River or Ravine Park on Ravine Park Lake for relaxing strolls or picnics.
9. Pierre - 14,179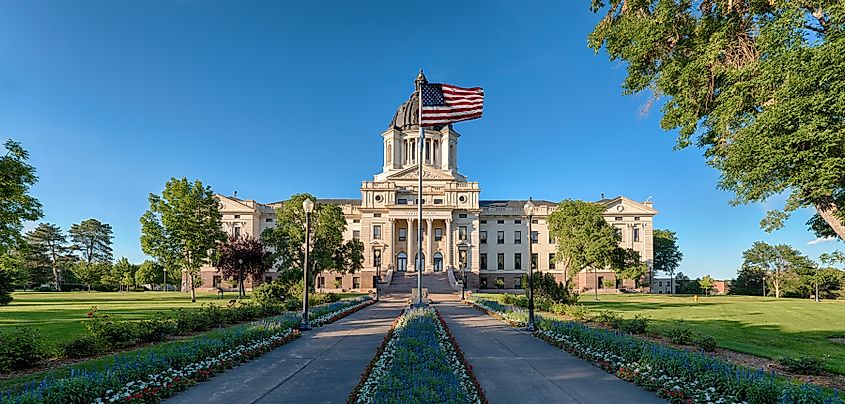 Pierre, South Dakota's capital city, is the nation's second smallest capital. The Missouri River runs through Pierre, making it a popular destination for outdoor enthusiasts. Lake Oahe also offers great recreational opportunities to the residents of Pierre and is popular among anglers. The surrounding grasslands host many animals that attract hikers and wildlife lovers. Delicious eateries, attractive boutiques, and bronze sculptures of several of the state's governors dot the downtown area. The low cost of living in Pierre and its sound educational system also attract people to settle down in the city.
10. Box Elder - 12,536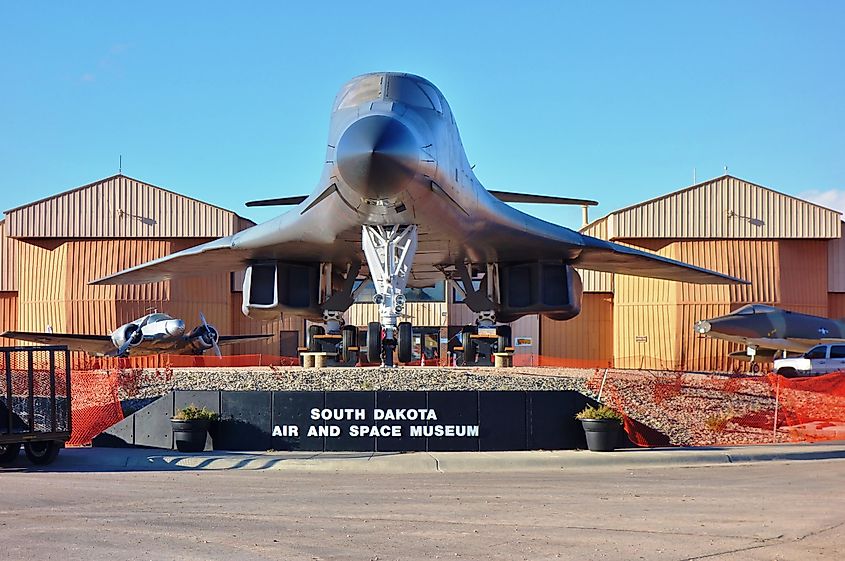 Located near the Ellsworth Air Force Base, Box Elder is a small community that is part of Meade and Pennington counties. As a result, the community comprises a mix of residents and military personnel and their families, who collaborate to enhance every element of life here. The Douglas School District serves families in Box Elder and residents of Ellsworth AFB. The city's school district runs six schools. Also, the town hosts the South Dakota Air and Space Museum, an aviation museum devoted to South Dakota's aerospace industry and America's Air Force history.
With its diverse landscape, historical significance, large sculptures, and other features, South Dakota is a true gem in the United States. It is dotted with fascinating and picturesque villages, from Black Hills charmers to prairie settlements that have hosted renowned personalities in the past. It really is a beautiful location for people to call home.
30 Biggest Cities In South Dakota
| Rank | Name | Population |
| --- | --- | --- |
| 1 | Sioux Falls | 200,243 |
| 2 | Rapid City | 76,053 |
| 3 | Aberdeen | 28,975 |
| 4 | Brookings | 23,641 |
| 5 | Watertown | 22,889 |
| 6 | Mitchell | 15,742 |
| 7 | Yankton | 15,603 |
| 8 | Huron | 14,597 |
| 9 | Pierre | 14,179 |
| 10 | Box Elder | 12,536 |
| 11 | Spearfish | 12,533 |
| 12 | Vermillion | 11,919 |
| 13 | Brandon | 11.500 |
| 14 | Rapid Valley | 8,066 |
| 15 | Harrisburg | 7,260 |
| 16 | Sturgis | 7,098 |
| 17 | Madison | 6,135 |
| 18 | Tea | 5,956 |
| 19 | Belle Fourche | 5,621 |
| 20 | Dell Rapids | 4,068 |
| 21 | Milbank | 3,582 |
| 22 | Hartford | 3,518 |
| 23 | Hot Springs | 3,331 |
| 24 | Mobridge | 3,221 |
| 25 | Summerset | 3,204 |
| 26 | North Sioux City | 3,144 |
| 27 | Pine Ridge | 3,104 |
| 28 | Canton | 3,068 |
| 29 | Blackhawk | 3,052 |
| 30 | Lead | 2,954 |