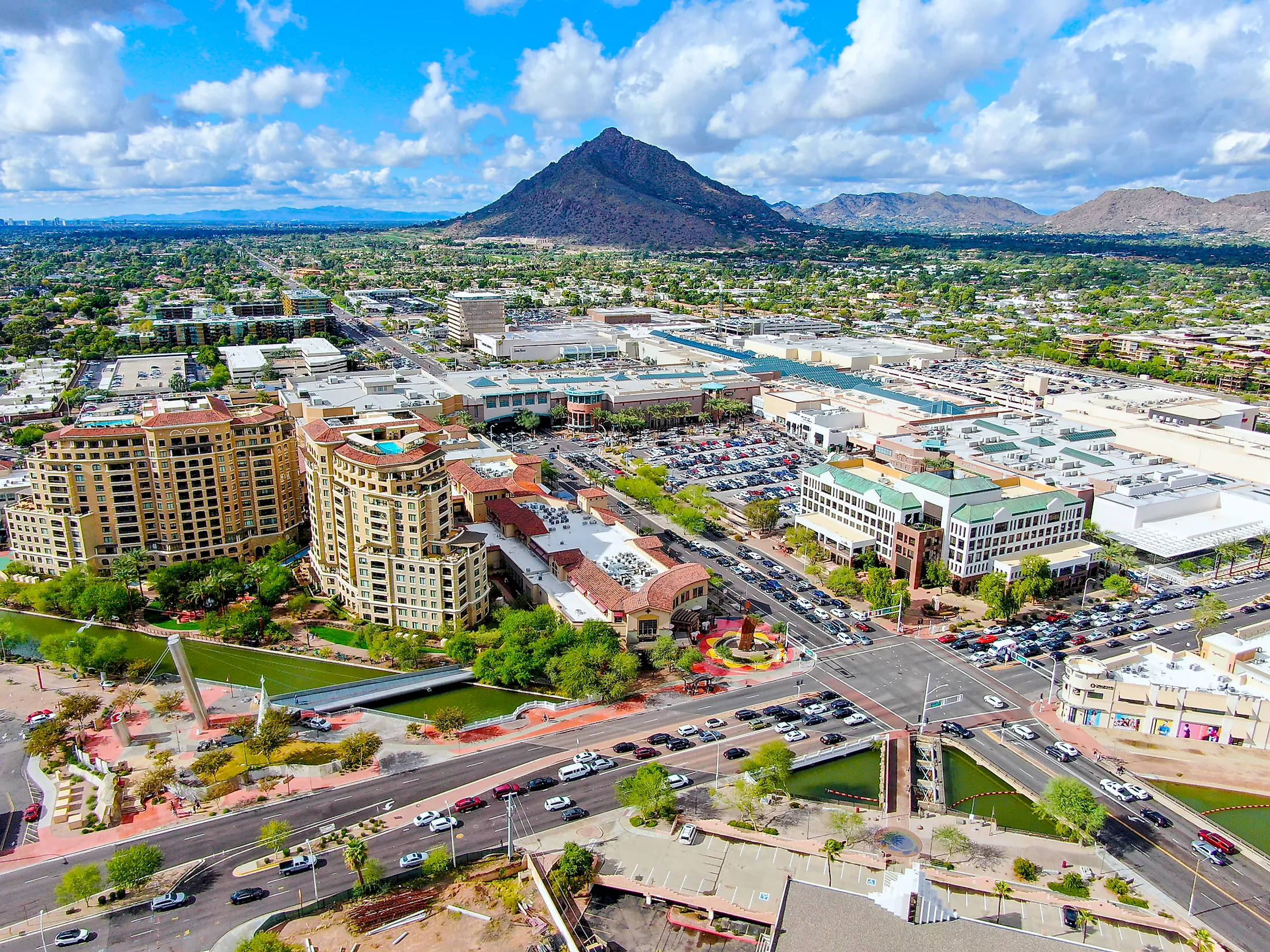 10 Largest Cities In Arizona
The state of Arizona has been experiencing a population boom for over a decade. According to the United States Census Bureau's 2020 survey, The Grand Canyon State ranked as the fourteenth most populous in America, up from number sixteen in 2010, owing to a growth rate of 11.88% during that period (which ranked Arizona as tenth in the country by this metric). The upward trend has only continued over the past two years. It is estimated that the top ten most populated cities in Arizona have all benefited from significant growth since 2020. Nine out of ten of these entries are within Maricopa County and are closely connected to Phoenix - the first stop on our journey and by far the most populous. 
1. Phoenix - 1,640,641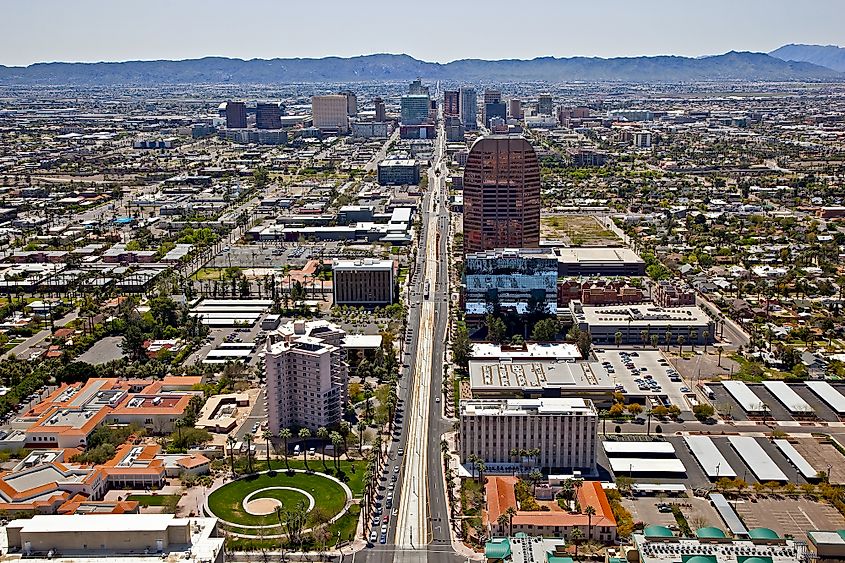 Phoenix has a lot going for it. It is the capital city of Arizona (in Maricopa County), the largest city in the state, the fifth largest in the United States, and also the sixth sunniest city in the country. Phoenix offers a mix of big-city life, complete with all the sports/entertainment and culinary cravings, while still being immersed in the Sonoran Desert landscape and culture. The 2020 population showed 11.2% growth since the 2010 census. It is also estimated that Phoenix grew by 1.02% in 2021 and 2.02% in 2022. So, there appears to be no break in momentum for this sun-seekers' hub. 
2. Tucson - 547,131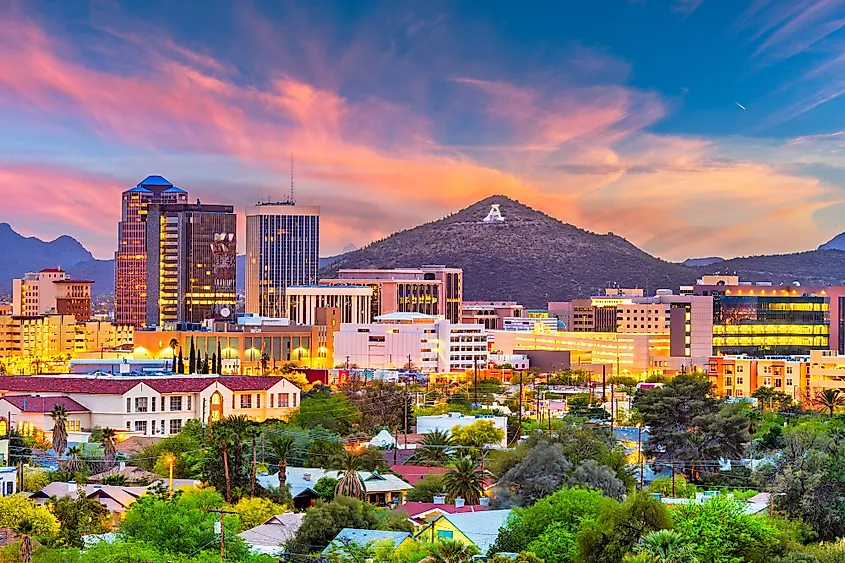 Located in Pima County, the only city on this list not found in Maricopa, Tucson takes the number two spot. Though its population is about one-third that of the Phoenix, this Southcentral city has a couple of fun bragging rights over its neighbor to the North. With an average of 355.46 hours of sunshine per month, Tucson is the sunniest city in Arizona. It is also a UNESCO City of Gastronomy, home to the University of Arizona, and proudly draws residents/visitors to the hip, shop-lined, festival-hosting Fourth Avenue strip. 
3. Mesa - 517,302
Though Mesa, situated just twenty miles East of Phoenix, takes the bronze, it is within shouting distance of Tucson's population. Mesa's 2020 census also eclipsed a half-million people, and it is estimated to have grown by 2.59% in the past two years and an impressive 14.9% since 2010 (versus 0.83% and 4.3%, respectively, for Tucson). Mesa allows for a breath of fresh air and an escape from the big city. This place also takes full advantage of its fair-weather blessings with bountiful farmland/agritourism. It is also known for the ever-so-popular Major League Baseball Spring Training camps - where spectators can see reigning legends and upcoming stars get tuned up for the regular season. 
4. Chandler - 283,959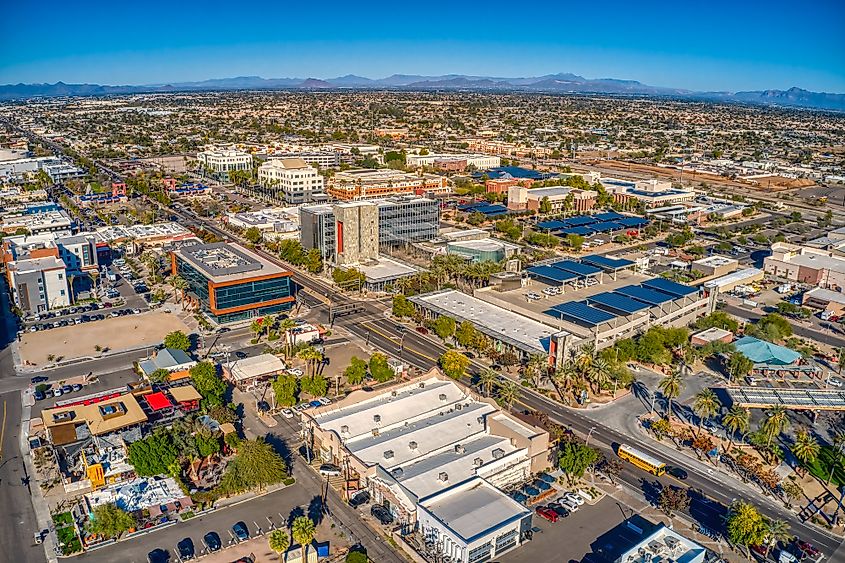 Roughly 25 miles Southeast of Phoenix, the city of Chandler narrowly gets the fourth spot over its nearby rival, Gilbert. This speaks to the overall growth of the surrounding Phoenix area, as many cities on this list are suburbs of the capital. Chandler also registered the second-highest population density in Arizona (based on the 2020 census), with approximately 4,226.4 people per square mile. The rapidly-growing technology and innovation sectors drive career-focused people to town, while the resorts, golf courses, and shopping opportunities resonate with leisure enthusiasts. 
5. Gilbert - 279,810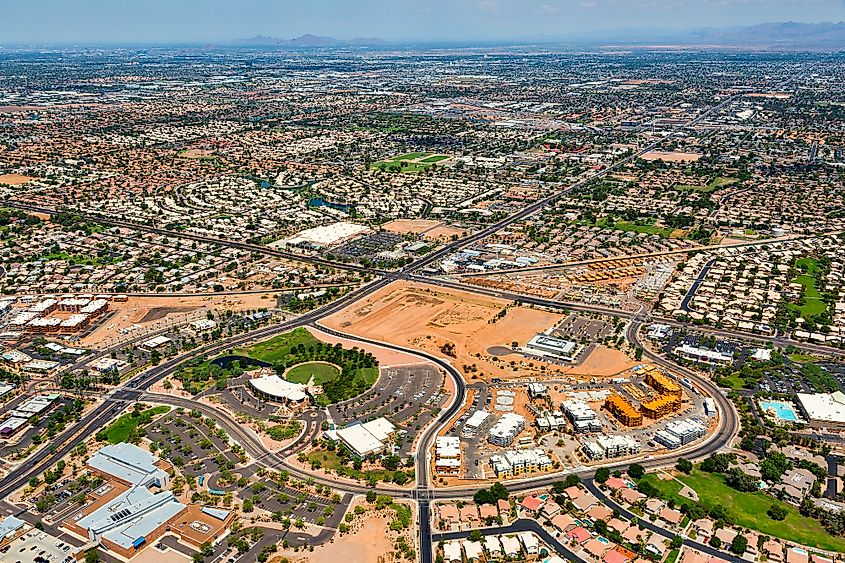 A mere five-miles northeast of Chandler, and nine miles south of Mesa, Gilbert acts as a middle ground for much of the area. The 2020 census showed a whopping population growth of 28.5% since 2010 and another estimated 4.44% through to 2022. Both of these figures represent the state's highest growth over those periods. This is even more impressive, considering Gilbert is classified as a town (the only such entry on this list). And despite the exploding population, Gilbert very much retains a smaller-scale charm. This is most evident throughout the walkable, restaurant-rich downtown (Heritage District) that is punctuated by a pretty, illuminated water tower. 
6. Glendale - 252,645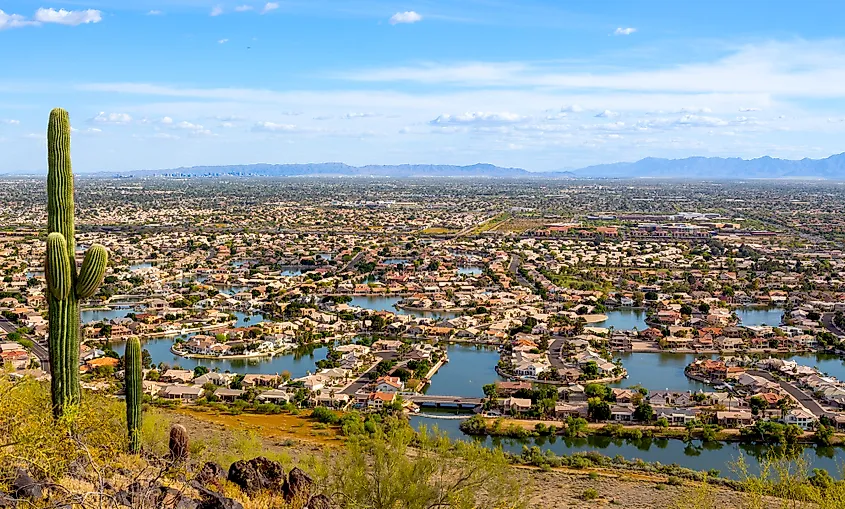 The Northwestern suburb of Phoenix (nine miles NW), Glendale, registered just shy of a quarter-million people in the 2020 census and just north of that milestone by 2022 (estimated at 252,645). This city also clocked the third-highest population density in the state (4,031.3 people per square mile). Glendale is a three-time host of the Super Bowl (2008, 2015, and coming up in 2023) and a budding sports mecca in general. The locally-loved Cactus League Spring Training baseball games also take place here, and there are always a variety of other stadium-packing events across several niches and multiple stadiums. 
7. Scottsdale - 246,157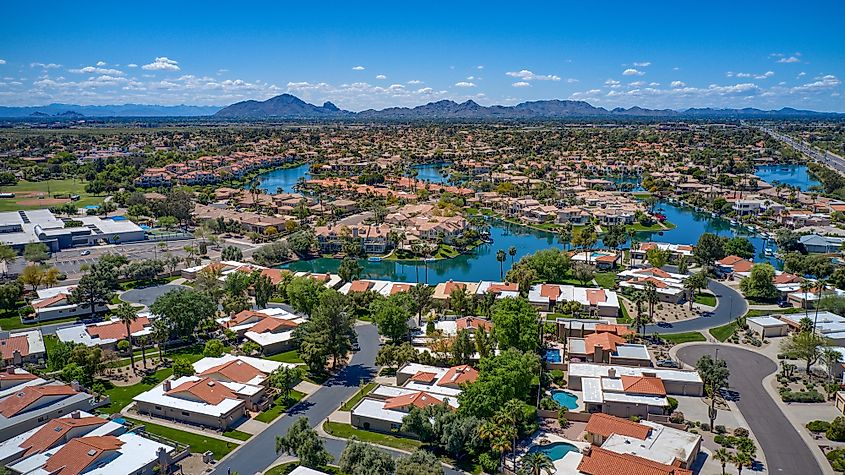 Scottsdale is part of the northeastern Phoenix metropolitan area (thirteen miles NE) and is a popular vacation destination. The city is divided into distinct neighborhoods that promote a little something for everyone, including arts, entertainment, and shopping districts, the Old Town, and the soothing, sophisticated waterfront. The variety of well-groomed golf courses, backdropped by beautiful desert mountains, also makes Scottsdale a golfer's delight.
8. Peoria - 198,369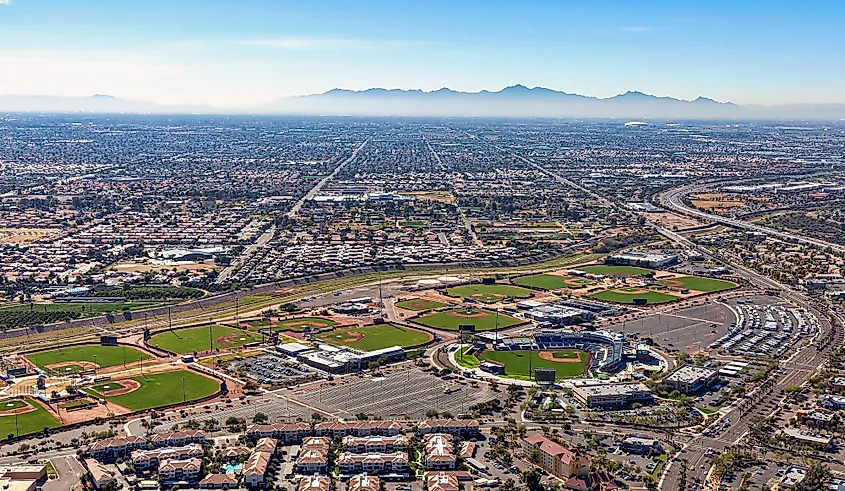 The city of Peoria is fourteen miles northeast of Phoenix and only five-miles Northeast of Glendale - placing it in both Maricopa and Yavapai County. Peoria experienced the second-highest population growth in Arizona between 2010 and 2020 (24.4%). This trend appears to have continued, with an estimated 3.87% growth between 2020 and 2022, which again places it second behind Gilbert. Peoria is another great spot to get in on the baseball scene. And during those hot Arizona days, residents like to take refuge at the local desert oasis: Lake Pleasant.  
9. Tempe - 184,361
Tempe is the closest suburb of Phoenix, sitting just eleven miles east of the capital. Given the continued growth within the city's fixed boundary, Tempe scores the highest population density in the state (4,521.5/sq mi). This vibrant college town is home to Arizona State University. The surrounding student-life energy naturally spills into the bars and clubs of Mill Avenue and the boats, pathways, and seasonal events around Tempe Town Lake. 
10. Surprise - 148,274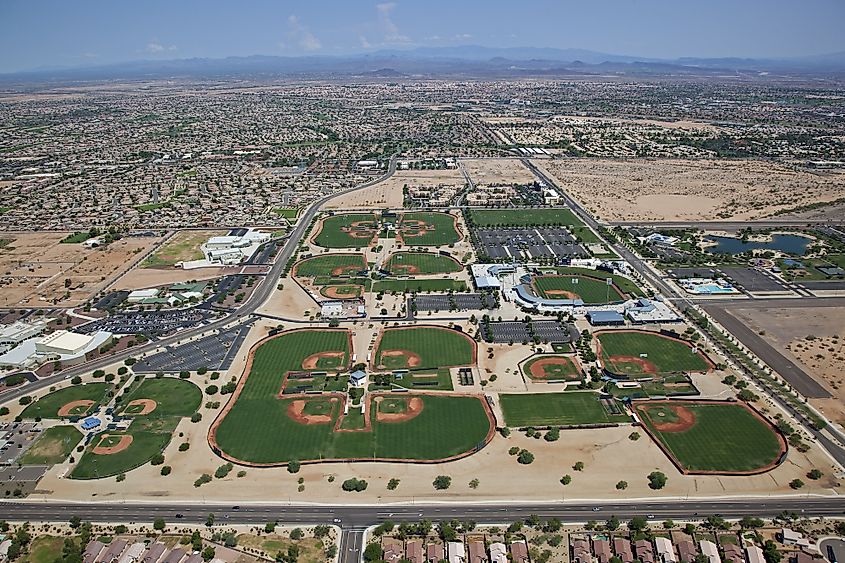 This delightfully-named city, located about 29 miles Northeast of Phoenix, caps off the top ten list. Surprise also grabs the third spot on the podium for relative growth (out of these top ten cities), both between 2010 and 2020 (21.8%), and 2020 to 2022 (estimated at 3.58%). Not surprising is the fact that the spring training baseball festivities again run strong in these parts. And the twenty nearby golf courses ensure ample access to Arizona's other seemingly mandatory pastime. 
Many roads seem to point to Arizona. This sunny Southwestern state continues to see newcomers laying down roots, particularly throughout these ten largest cities. Phoenix is undoubtedly the focal point, but the surrounding suburbs have been happy to welcome the ensuing influx and certainly do their share to capture attention. 
30 Biggest Cities In Arizona
| Rank | Name | Population  |
| --- | --- | --- |
| 1 | Phoenix | 1,640,641 |
| 2 | Tucson | 547,131 |
| 3 | Mesa | 517,302 |
| 4 | Chandler | 283,959 |
| 5 | Gilbert | 279,810 |
| 6 | Glendale | 252,645 |
| 7 | Scottsdale | 246,157 |
| 8 | Peoria | 198,369 |
| 9 | Tempe | 184,361 |
| 10 | Surprise | 148,274 |
| 11 | San Tan Valley | 103,608 |
| 12 | Goodyear | 101,298 |
| 13 | Yuma | 96,044 |
| 14 | Avondale | 91,954 |
| 15 | Flagstaff | 79,023 |
| 16 | Casas Adobes | 71,809 |
| 17 | Queen Creek | 66,151 |
| 18 | Maricopa | 61,053 |
| 19 | Lake Havasu City | 58,068 |
| 20 | Marana | 55,298 |
| 21 | Casa Grande | 54,676 |
| 22 | Catalina Foothills | 52,721 |
| 23 | Prescott Valley | 48,377 |
| 24 | Oro Valley | 48,282 |
| 25 | Prescott | 47,023 |
| 26 | Sierra Vista | 45,592 |
| 27 | Bullhead City | 41,710 |
| 28 | Sun City | 40,417 |
| 29 | Apache Junction | 39,031 |
| 30 | San Luis | 37,207 |