One of the biggest public institutions in the United States, Arizona State University's main campus is housed in Tempe, which is about 20 minutes east of downtown Phoenix in the Maricopa County in the US state of Arizona. Tempe is a southern suburb of Phoenix and is located along the Salt River. This quaint, little city is bursting with history and personality and has a lot to offer to its visitors. The Greek Vale of Tempe served as the inspiration for the city's name. 
Geography And Climate Of Tempe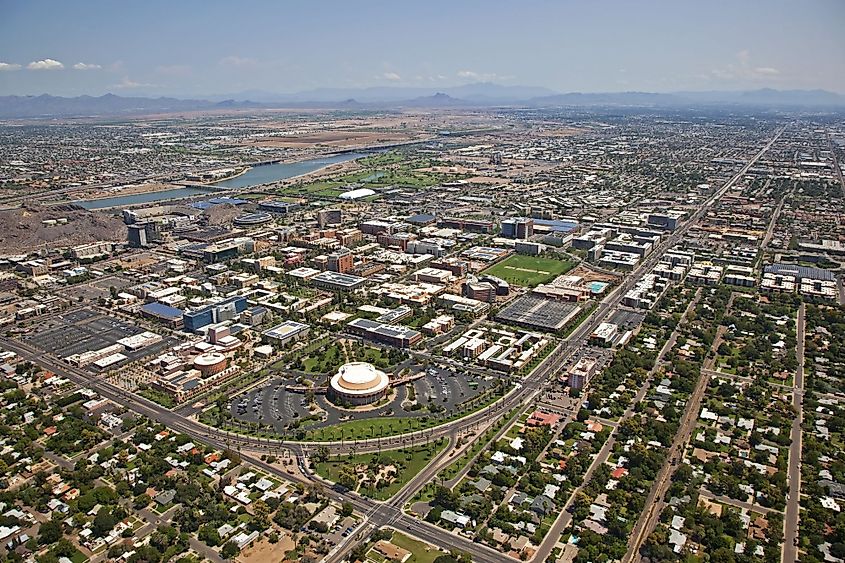 Tempe covers a total area of 103.99 sq. km, of which 103.45 sq. km are occupied by land, and 0.54 sq. km are covered by water. Scottsdale, Mesa, and the Salt River are located to the city's east. The cities that surround Tempe include Pima-Maricopa Indian Community to the north, Phoenix and Guadalupe to the west, and Chandler to the south. Most of Tempe is flat, except for Hayden Butte. Elevations at Tempe Town Lake and Hayden Butte range from 350 m to 456 m, respectively.
Tempe is renowned for its desert climate. Tempe experiences hot, dry summers, chilly winters, and mainly clear skies all year round. The average annual temperature ranges from 44 to 106°F, rarely falling below 36 or rising over 111°F. Tempe is a fantastic city for year-round weather, with an average of 300 sunny days per year. The year's hottest month is July, and the hot season lasts for 3.7 months, with an average daily high temperature exceeding 98°F. With an average daily maximum temperature below 73°F and December being the year's coldest month, the cold season lasts for 3.2 months.
Brief History Of Tempe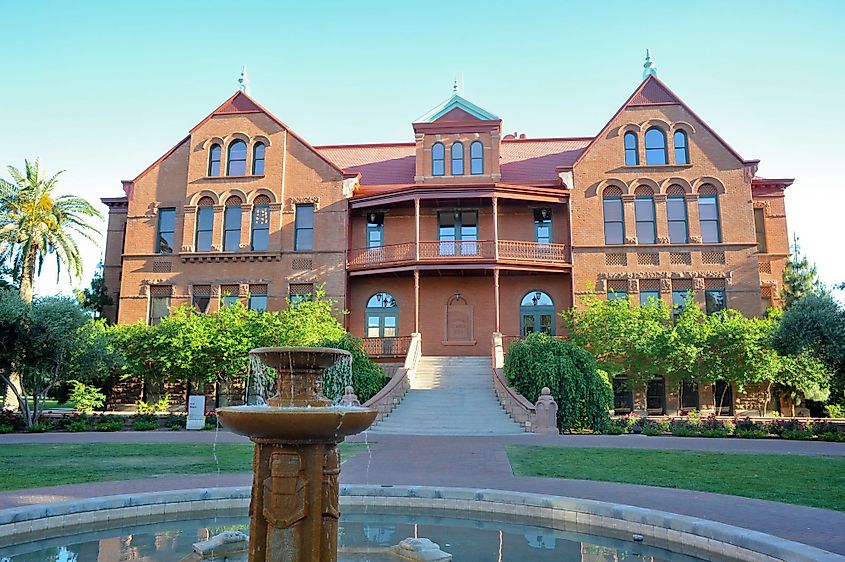 Tempe was first established by Charles Hayden, the father of prominent Arizona senator Carl Hayden, and was once known as Hayden's Ferry before being renamed for the Greek Vale of Tempe. Although they mainly abandoned the region in the 1400s, the Hohokam people who first colonized Tempe, constructed extensive canals for agriculture. Fort McDowell, which was founded in 1865 and is now located in Tempe, contributed to the growth of new communities along the Salt River. Military personnel and Hispanic laborers were brought to support the fort, care for livestock, and harvest crops. These individuals also established two permanent towns in the valley, San Pablo and Hayden's Ferry, which was named after a ferry operator. In 1879, the town was renamed Tempe.
The Population And Economy Of Tempe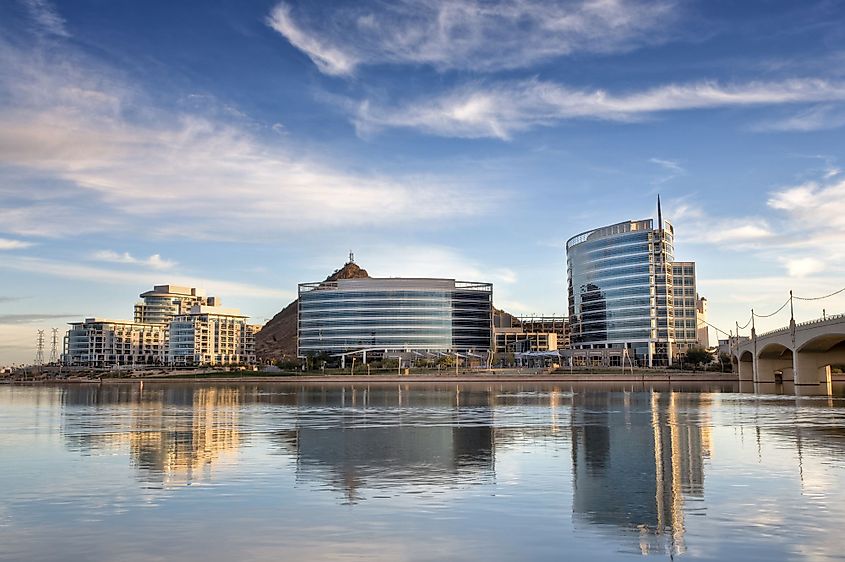 Tempe has 184,361 residents as per the latest US Census. Tempe's population has grown by 2.09% since the most recent census, which showed a population of 180,587 in 2010. The city's population is currently increasing at a pace of 1.03% yearly. It is currently ranked the eighth biggest city in Arizona State and one-hundred-forty-eight populous city in the United States. Tempe has an 18.52% poverty rate and a $76,573 average household income. The median cost of rent during the past few years has been $1,230 per month. In Tempe, the median age is 29.5 years, with males being on average 29.2 years old and females being on average 30 years old. White (Non-Hispanic) (56.7%), White (Hispanic) (11.6%), Asian (Non-Hispanic) (8.93%), Other (Hispanic) (8.08%), and Black or African American (Non-Hispanic) (6.53%) make up Tempe's top 5 ethnic groups. In Tempe, about 89.2% of the population are US citizens. 
One of the most prosperous economic environments in the nation is maintained in Tempe. It boasts one of the healthiest economic climates in the nation. Tempe has a lower unemployment rate than the national average, at 5.4%. The work market in Tempe has grown by 3.3% over the past year. Fortune 500 corporations, top research firms, and startups can all find what they need in the city to establish themselves, grow, and succeed. Tempe takes pride in aiding startup companies and offers a variety of tools and initiatives, including BRIC and FABRiC. Town Lake also has significance for Tempe and the surrounding area. With 2.4 million visits and an economic impact of around $2 billion since its opening, Town Lake is Arizona's second most visited public attraction.
Things To Do In Tempe
Visit Mill Avenue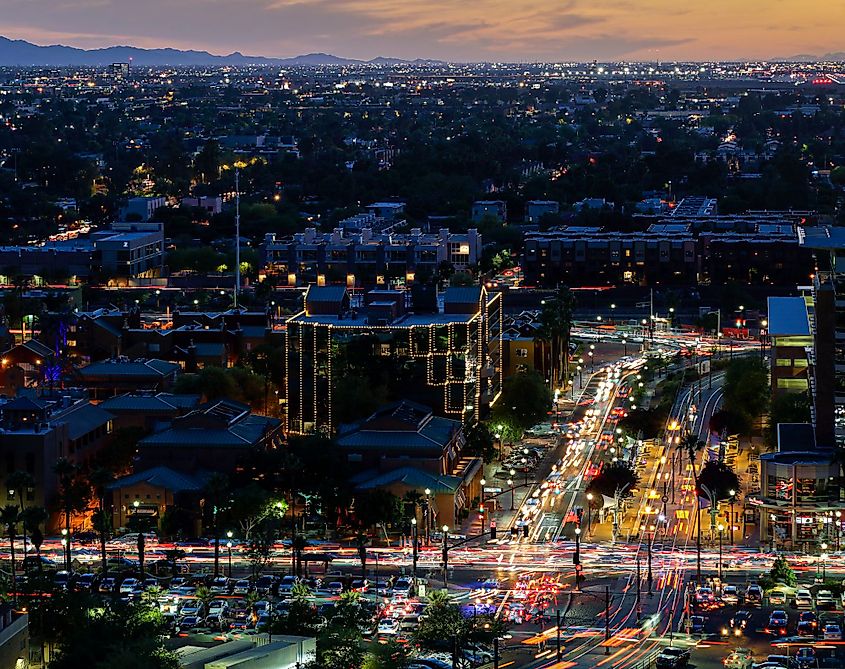 Without mentioning Mill Avenue, one cannot talk about Tempe's nightlife and entertainment scene. Tempe's entertainment sector, or Mill, serves as the town's beating heart. Young adults and college students are common in the area around Mill, as you might anticipate given its accessibility. On game days, Sun Devil pride fills this neighborhood. This area of town is very walkable, so going out to a few bars after work or shopping is simple.
Hike The Best Trails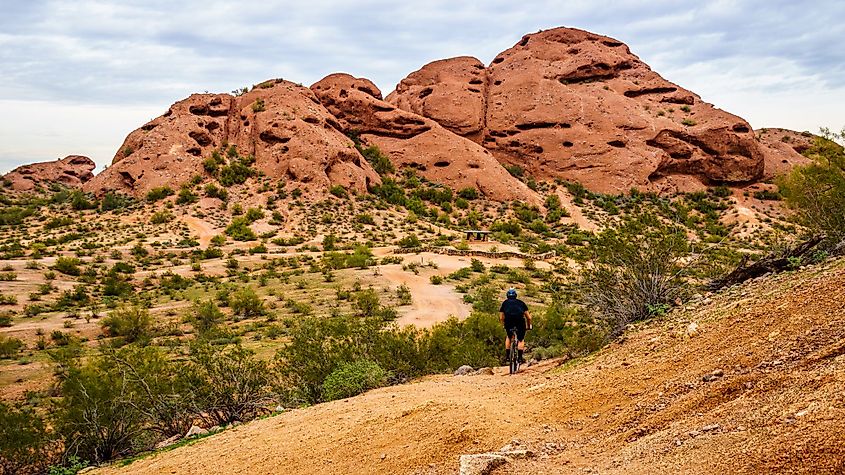 Living in Arizona is really advantageous for hikers. You won't get bored because Tempe offers so many options for surrounding trails, making it a simple way to stay active on the weekends. Visit the Petroglyphs carved by the Hohokam tribe, who inhabited the region until 1450, by taking a hike or a bike ride in Hayden Butte Preserve Park. Visit the 16-mile South Mountain National Trail, which is great for mountain biking and hiking all year long. Explore the Papago Park Butte Loop for a scenic run to witness the lovely fauna. Jog along the 5.7-mile Tempe Town Lake Trail while taking in the breathtaking views of the lake.
The Historic Eisendrath House
The 1930s construction of Eisendrath House is recognized by the Historical Registry. Rose Eisendrath, the widow of Joseph N. Eisendrath, a rich Chicago glove manufacturer, had it constructed as her home during the Great Depression. Eisendrath's history is distinct since it goes beyond that of a typical abode structure constructed nearly a century ago. It exemplifies Rose Eisendrath's tenacious and motivating character, who was a force to be reckoned with, had no patience for intolerance, and had the power to act.
Big Surf Water Park
This wet attraction is America's first wave pool with 2.5 million gallons of water. There are lots of rafts, boogie boards, and surfboards to play with. All children under eight years should be accompanied by an adult, and youngsters under the height requirement of 48 inches must wear a free life vest. 
The ASU Gammage Auditorium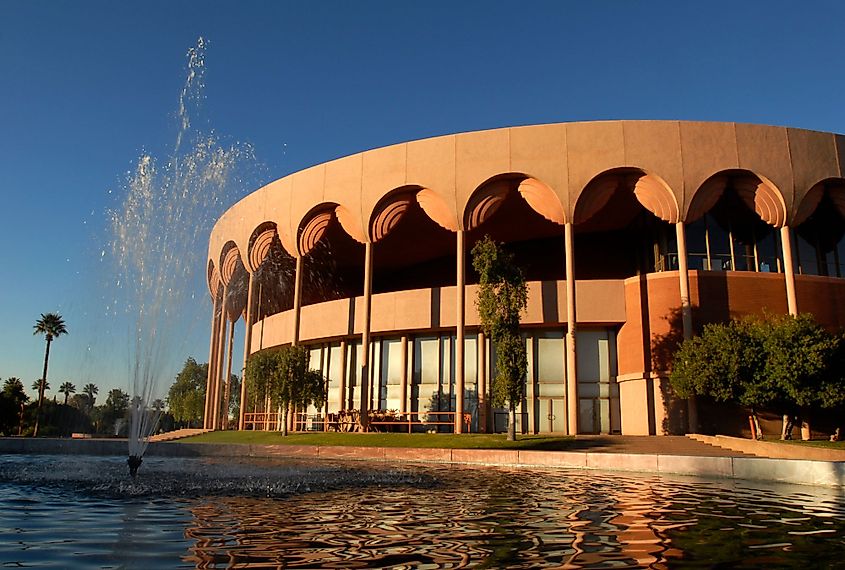 This magnificent theatre, which took 25 months to build, is regarded to be the last public project of architect Frank Lloyd Wright. As a result of its comfy seating, broad aisles, and excellent acoustics, it is a well-liked theatrical facility among both audience members and touring performers. The three lobby galleries, which showcase works of art and photographs by regional photographers, are also worth visiting. There are also official building tours offered. Additionally, Gammage Auditorium features an on-site café and bar that serves upscale sandwiches, snacks, and desserts in addition to alcoholic and non-alcoholic beverages.
No matter when you visit Tempe, you may have a great time there, but unless you appreciate the heat or just want to relax by the pool, you might want to avoid the hottest parts of the summer. Hotels will be busiest from late December through early April, which is the peak snowbird and spring training season. You must stay in Tempe, Arizona, for at least a few days, whether you're trying to escape the winter or are seeking a new place to visit.