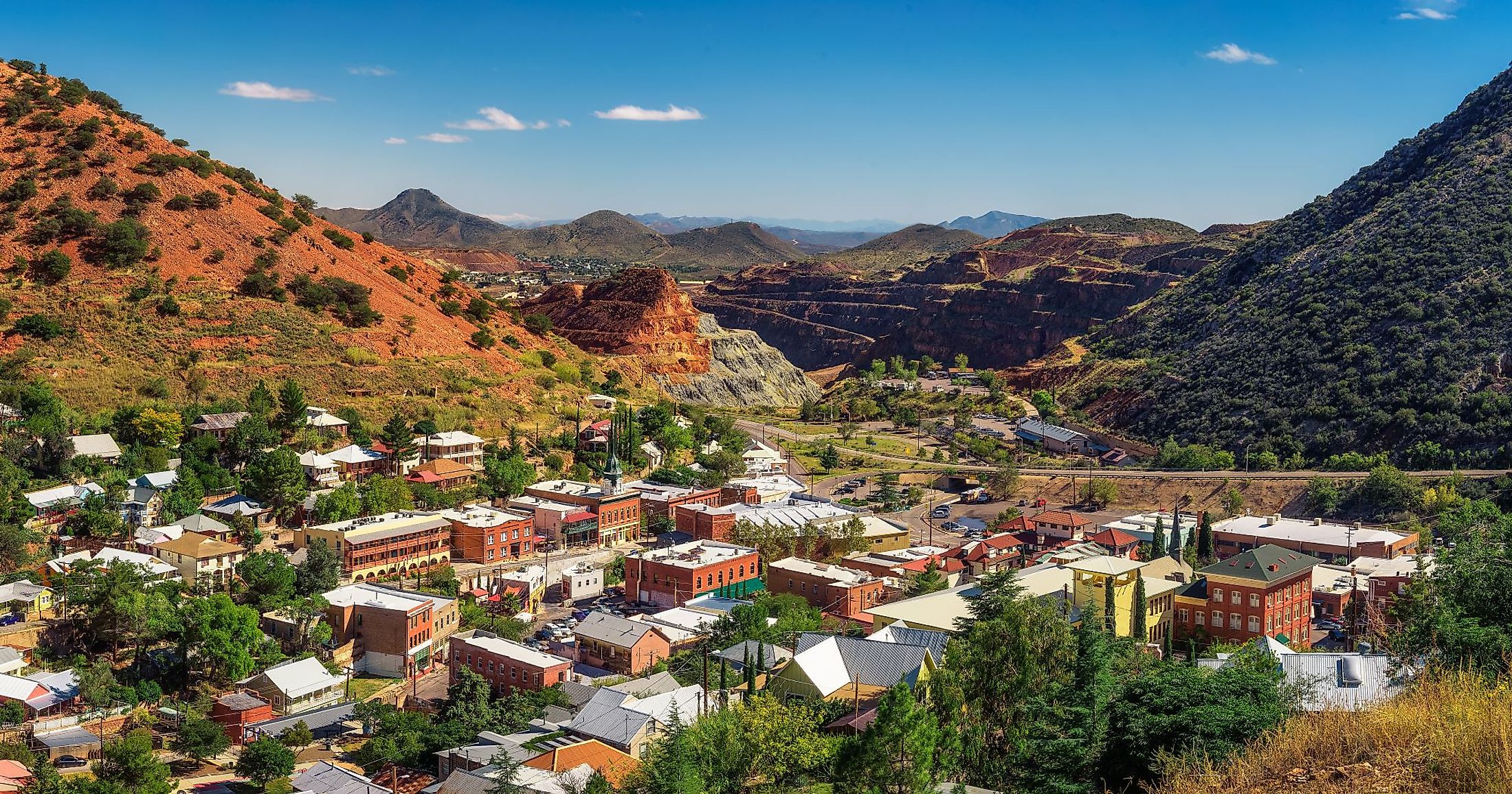 11 Most Charming Small Towns In Arizona
Arizona is a land filled with a wide array of stunningly beautiful places, but beyond the wonders of the Grand Canyon, the Sonoran Desert, and the exciting and vibrant cities of Phoenix and Tucson, small-town Arizona is too a gem of the United States' tourist scene. Although these mid-size towns may not be much well known, they offer everything a visitor could want, from outdoor activities to cultural experiences, all while under the Arizona sun! The 11 Most Charming Small Towns in Arizona have been discussed below. 
Camp Verde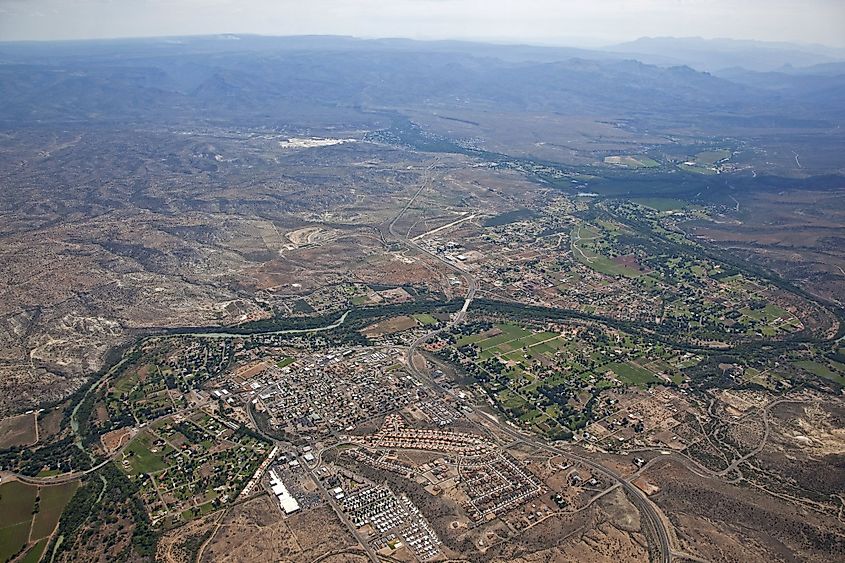 Located in Yavapai County, some 138 kilometers north of Phoenix, Camp Verde is the place for anyone looking for outdoor escapism. A tight-knit spot full of friendly residents, this town has many rural areas charm perfect for relaxing and leisurely excursions. Visitors can enjoy biking, hiking, camping, fishing, horseback riding, and even take some farm tours. And of course, the Montezuma Castle National Monument is surely not to be missed, while the annual July Corn Festival will definitely expand one's appreciation for the crop.
Payson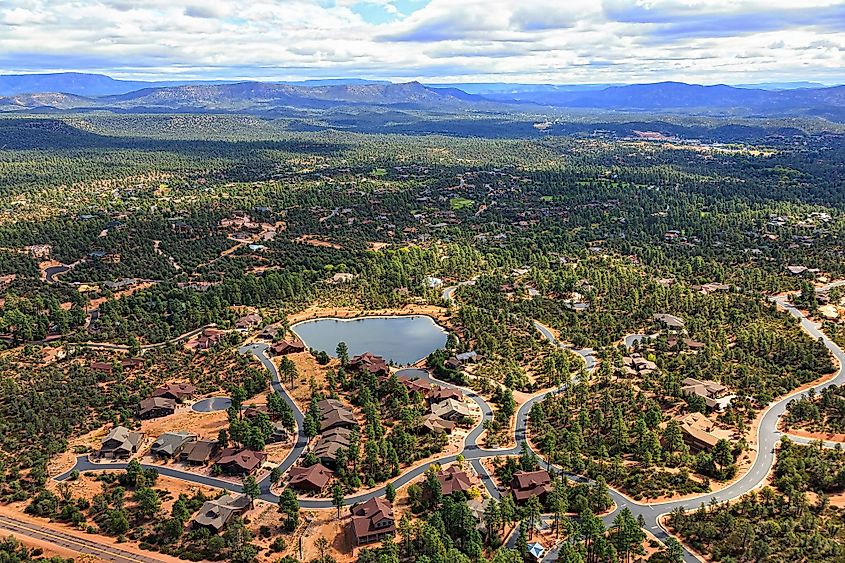 Affectionately called "The Heart of Arizona," Payson is geographically positioned right in the center of the State. Founded back in 1882, the vastness of the Tonto National Forest surrounds this small town. Residents and tourists alike are thus never more than a short distance away from stunning views, hiking and biking trails, and campsites. Or for the motorist, scenic drives are also available in abundance.
Winslow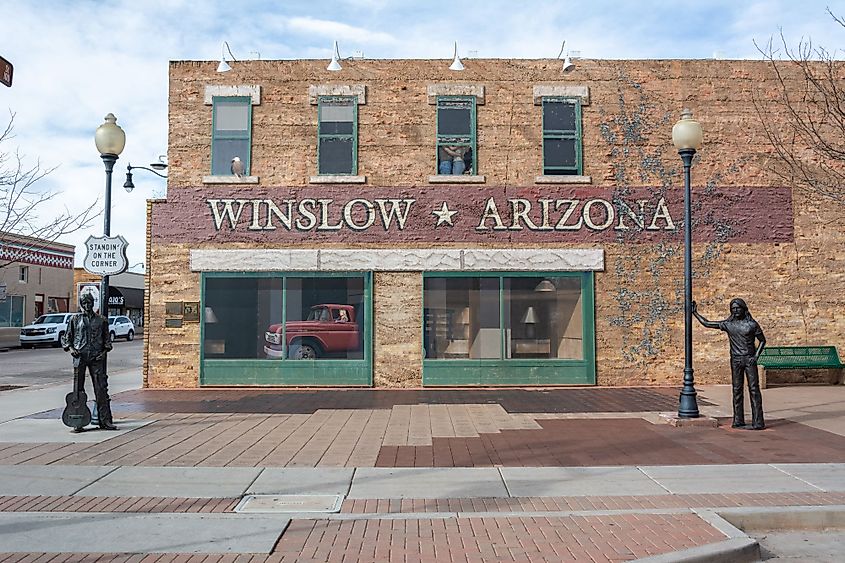 Forever immortalized in the 1972 Eagles song "Take It Easy" and its line "Standing on the corner in Winslow, Arizona," this small town has a variety of activities to choose from. From the Old Trails Museum (showcasing an assortment of Native American artifacts) to the Clear Creek Reservoir, Winslow is a charming stop for anyone driving along Route 66. Located in Navajo County, visitors will, of course, not want to miss the great photo opportunity at Standin' at the Corner Park, complete with a statue of a guitarist and a flatbed Ford truck.
Carefree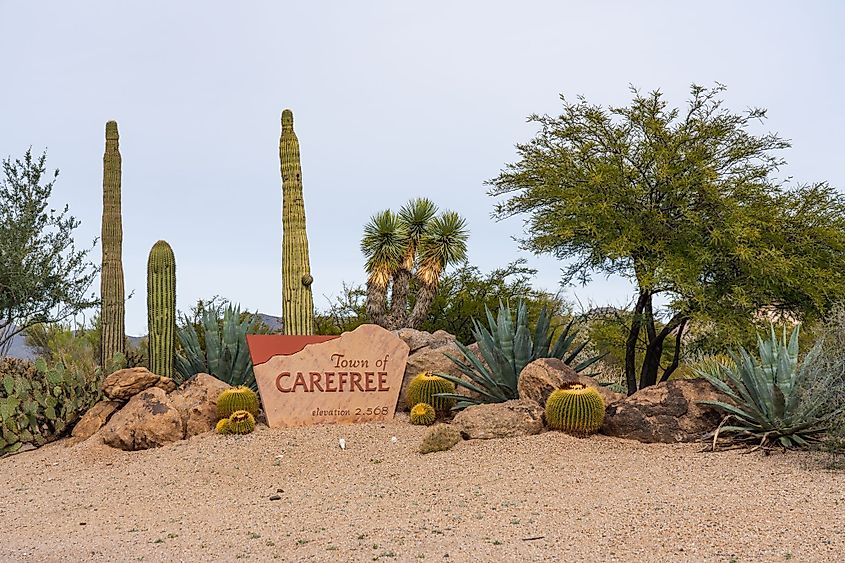 Having a population of more than 3,000 inhabitants, Carefree is a small town where the mantra is to relax and kickback. Situated about 48km north of Scottsdale, Carefree is a planned community first established in the 1950s. Several leisure activities can keep any visitor occupied, including relaxing spa sessions, gentle strolls along Easy Street, or a friendly game of tennis at a local court. It is a low-key escape from the bustling nearby metropolis of Phoenix and a place where one can truly be carefree.
Williams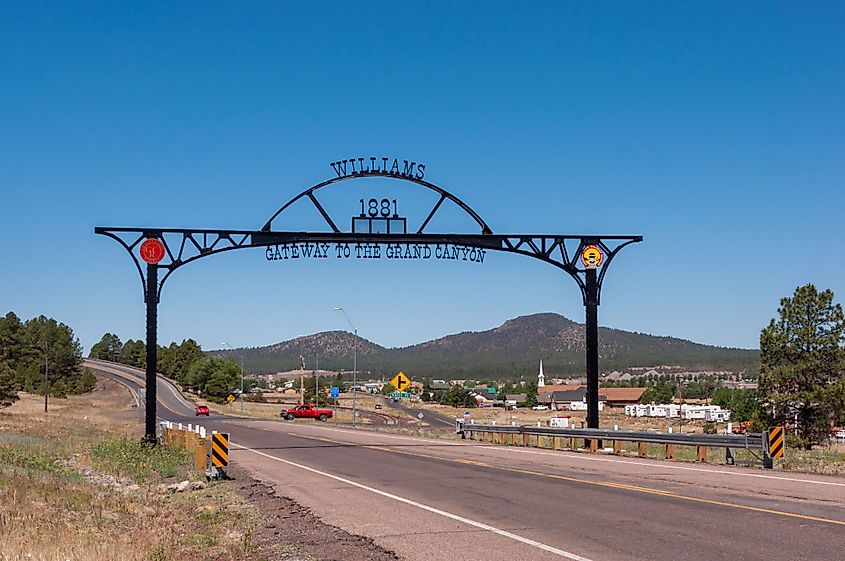 A town in Coconino County with a population of just 3,000, Williams is known as the "Gateway to the Grand Canyon." A stop on the historic Route 66 highway, the town has numerous motels, inns, novelty shops, and restaurants, all with a nostalgic feel for Americana. At the Williams Depot train station, the Grand Canyon Railway departs, giving tourists a unique view of the natural wonder. On the way out from town, be sure to also visit the Bearizona Wildlife Park for sights of local nature and animal life.
Tubac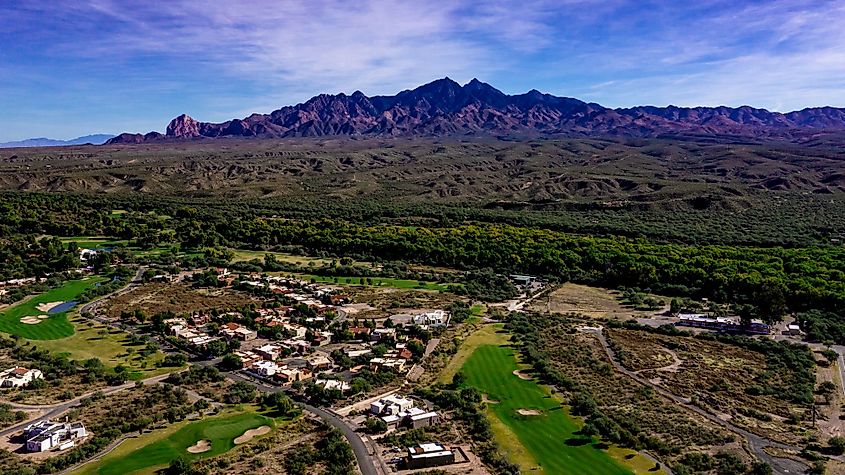 Just a 45-minute drive from the city of Tucson, the town of Tubac and its population of under 2,000 is known for its local arts scene celebrating southwestern décor. From art to jewelry and leather goods, Tubac is the right place to bring a piece of Arizona home with you. With more than 100 local shops and galleries, a unique and memorable gift is sure to be found! On the way out, tourists can enjoy some tasty local cuisine and visit the Tubac Presidio State Park, the oldest Spanish fort in Arizona, founded in the 18th century.
Arcosanti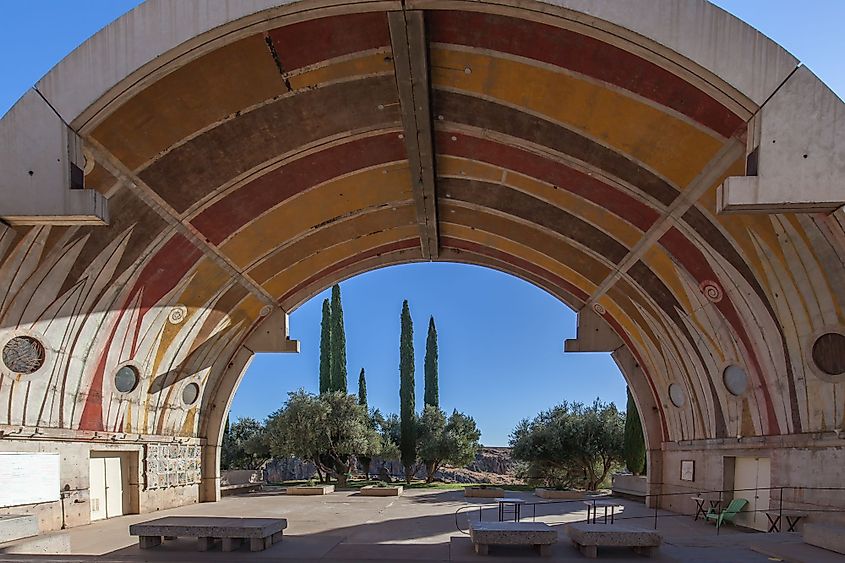 An "experimental" town, first proposed and designed by Italian architect Paolo Soleri in 1970, Arcosanti is billed as the world's first arcology (a combination of architecture and ecology) town, some 110km north of Phoenix. It is a sustainable urbanism project managed by a local foundation. Visitors to this town of the future will certainly experience a certain sci-fi feeling, with plenty of visually stunning and wonderfully odd architecture. Guided tours of the many buildings and ecological areas are always popular, while an overnight stay at an eco-friendly accommodation makes a stop in Arcosanti a truly fantastical excursion.  
Wickenburg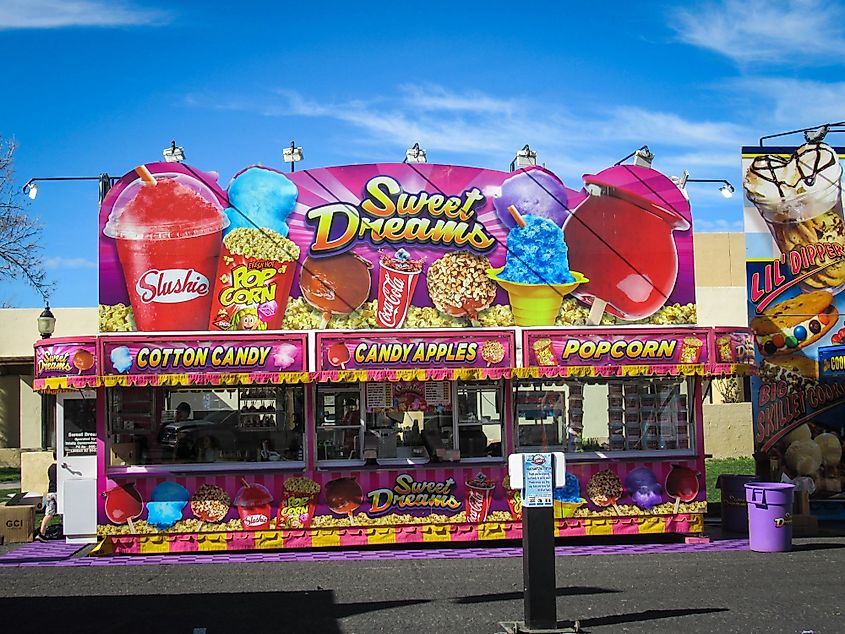 Known as Arizona's Dude Ranch capital, Wickenburg is an authentic destination for loads of old Wild West fun. With a downtown lined with numerous restored 19th-century buildings, walking into this town is like stepping back in time. Just a convenient hour's drive from Phoenix, tourists can see such sites like the infamous Jail Tree that used to shackle prisoners and the Vulture Gold Mine. The Mine was particularly important in the early economic development of the area and was the most productive mine in the history of Arizona. And, of course, tourists will not want to miss an opportunity to go horseback riding and even catch a local roping show or two.
Jerome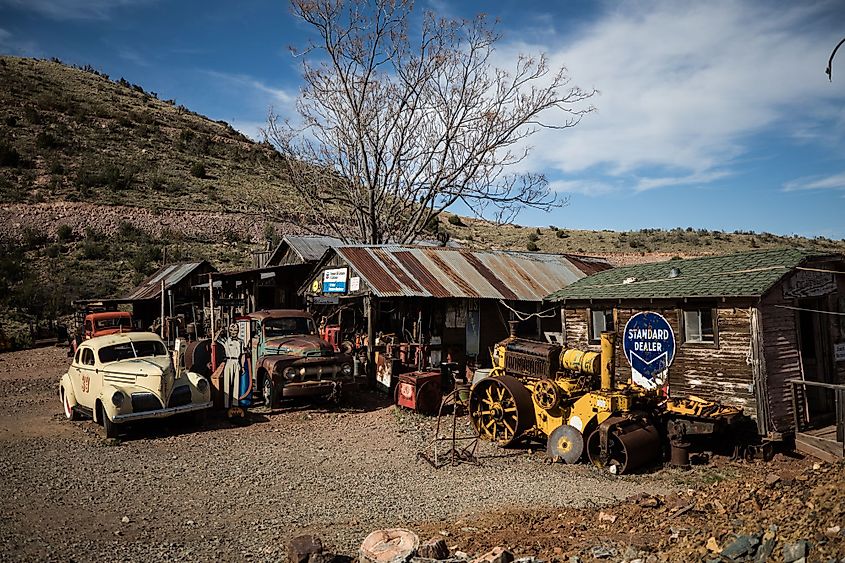 Some 5,000 feet above sea level and 160 kilometers north of Phoenix, Jerome is located in Yavapai County's Black Hills. Often referred to as the "Wickedest City in the West," Jerome was a hot spot for the mineral boom of the 1920s, but after the eventual bust period, this mining town was abandoned. Today it exists mainly as a ghost town, with approximately 460 permanent residents. Nevertheless, the tourist population keeps this town alive for most of the year. After earning National Historic Landmark status in 1967, tourism became the site's main economic driver. Today visitors can visit abandoned and spooky mines, take ghost tours, or visit any of the local restaurants and shops, all typically with a 19th and an early 20th-century mining theme.
Tombstone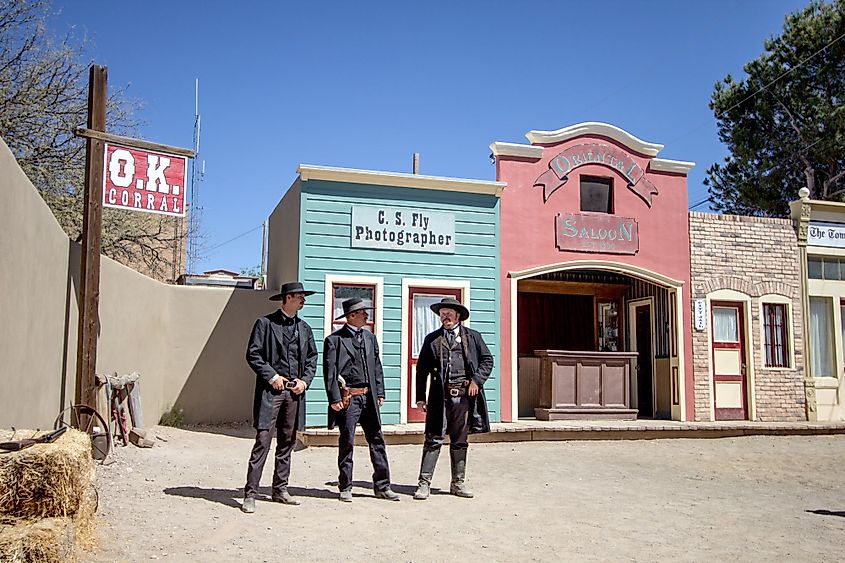 A historic city in Cochise County and a 70-minute drive from Tucson, visiting Tombstone is like entering a living museum or perhaps even a Western movie set. It is the site of the famous (or infamous) 1881 shootout at the O.K. Corral that included the gunfighters Doc Holliday and Wyatt Earp. Meanwhile, actors in period costumes fill the streets of this unique Arizona destination. A variety of restored saloons, Western-themed restaurants, and shops specializing in frontier memorabilia populate the town, while frequent recreations of brawls and duels round out the immersive experience.
Bisbee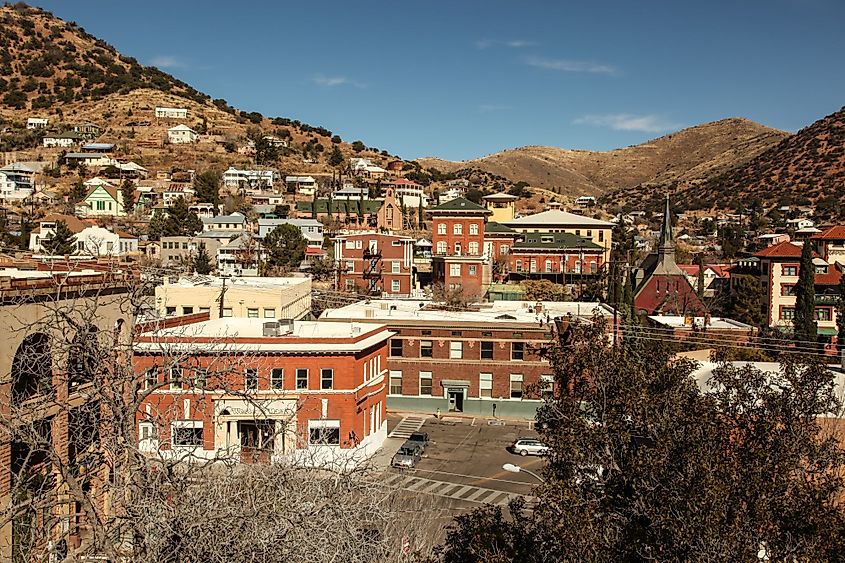 The county seat of Cochise County and located about 40 kilometers from Tombstone, Bisbee is a picturesque town in the heart of the Mule Mountains. Near the Mexican border, this town of under 5,000 inhabitants overflows with 19th-century architecture, including Victorian houses. The Bisbee 1000 Stair Climb will certainly prove to be a challenge for the physically inclined tourist. A five-kilometer run-through the town that passes 1,034 stairs, locals like to call it the "most unique physical fitness challenge in America." An annual Blues Festival will surely satisfy music lovers, while a visit to the Bisbee Mining and Historical Museum informs the visitors with its various unique exhibits.