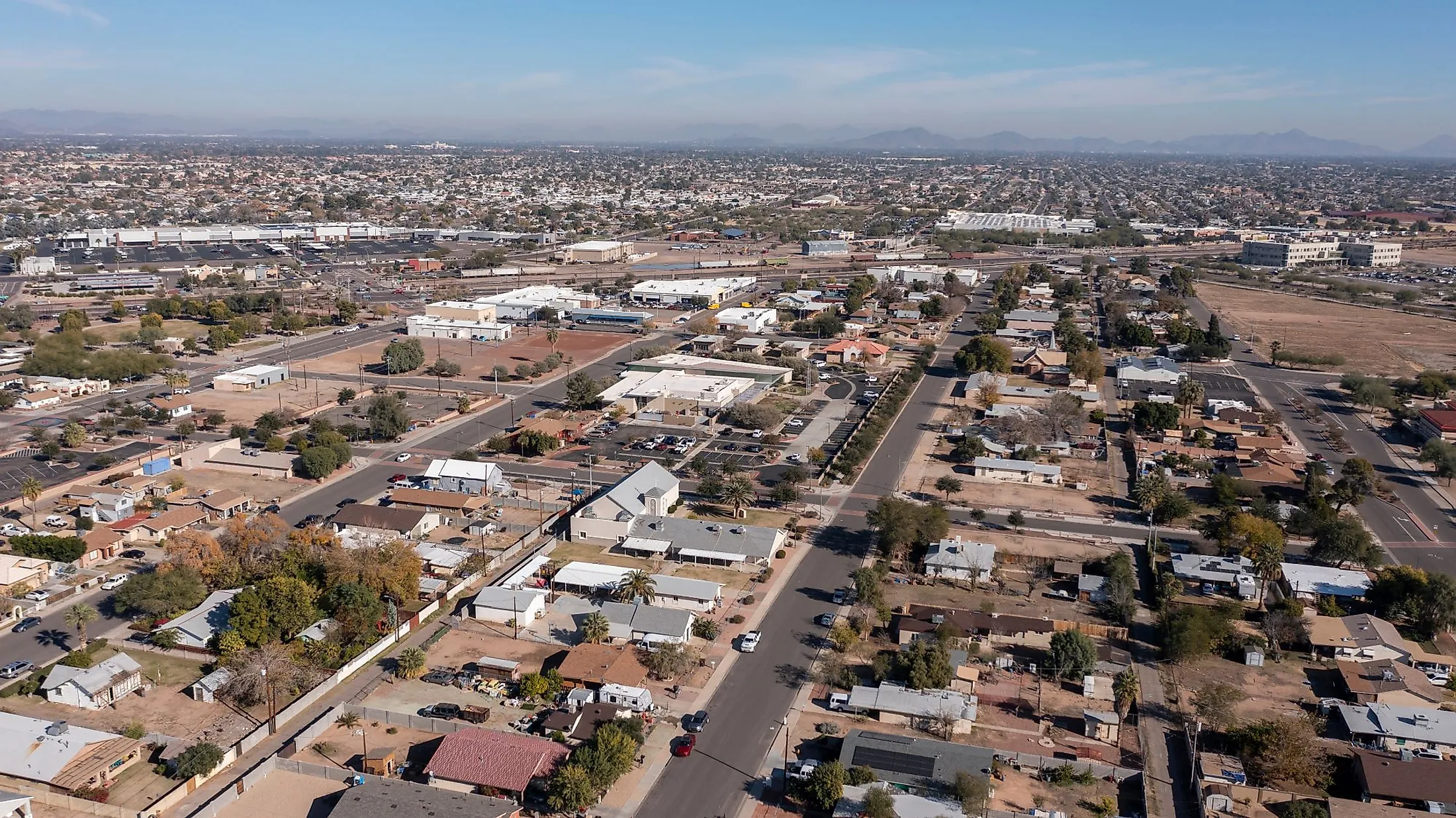 Peoria is a large suburb in the Salt River Valley of south-central Arizona, United States. By population, it is ranked as the state's ninth most populous city. Being a stone skip away from Phoenix, there is an overlap in much of the same culture, climate, and recreational activities that appeal to both visitors and locals alike. On a national stage, Peoria hosts the Major League Baseball (MLB) teams of the San Diego Padres and the Seattle Mariners for spring training. From canyons, buttes, mountains, and scenic waterways, one can easily get lost in the natural beauty that glorifies this tranquil desert resort-like city.
Geography And Climate Of Peoria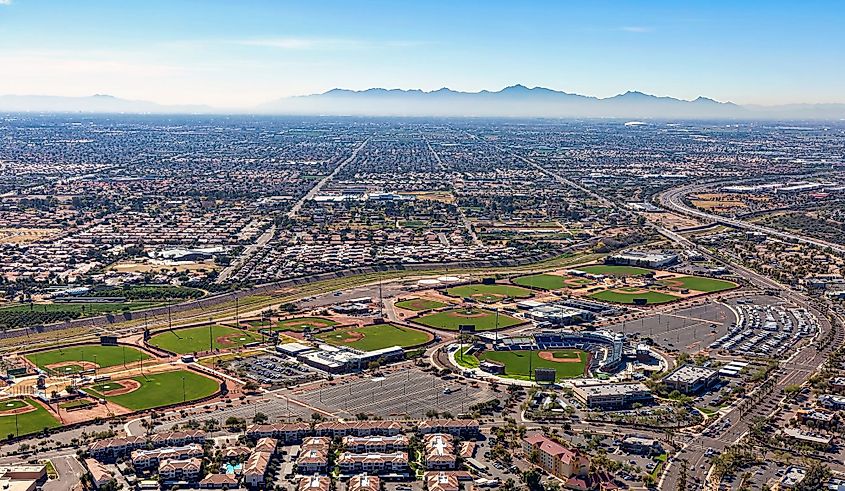 Peoria takes up residence in two counties, consisting of Maricopa and Yavapai Counties. It expands to a total area of 464.25 sq.km. To the north of Peoria are several mountains and buttes and the 10,000 acres of the artificial reservoir, Lake Pleasant, that contains the popular recreation area of the Black Canyon Trail. As for other bodies of water, the Agua Fria River flows from Lake Pleasant, concluding at the Gila River, southwest of Phoenix. Speaking of Phoenix, the capital city is only 13 miles southeast, with other nearby cities being Surprise, 9 miles northwest, and Glendale, about 5 miles southeast. There are numerous day trips from Peoria, including Flagstaff about 140 miles to the north, the ghost town of Jerome about 110 miles north, Old Tuscon about 132 miles southeast, and Lake Havasu City about 190 miles northwest. 
According to the Köppen Climate Classification, Peoria has a Hot Desert Climate. It experiences sweltering summers and cool winters. December is the coldest month that sees an average low of 46.8 °F, and July is the warmest month that sees an average high of 101.8 °F. Of the 31.9 days that produce precipitation, there is an annual rainfall total of 9.5 inches and annual snowfall of 0.1 inches. On average, there are 299 days of sunshine that contribute to a UV index of 6.4.
History Of Peoria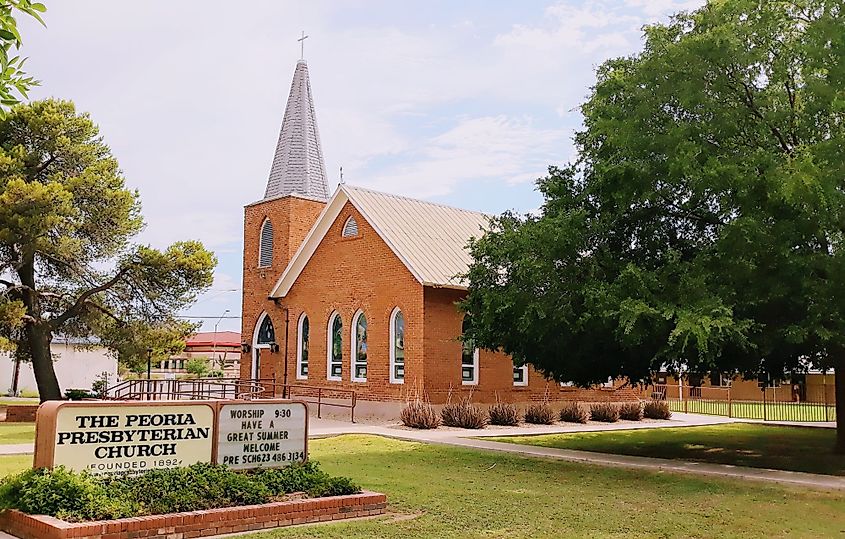 Peoria, Arizona, is often confused for Peoria, Illinois, and believe it or not, this is where the name originated from. Men were recruited to establish a community nearby, headed by William John Murphy, a worker on the Arizona Canal. Many of those recruited were from Peoria, Illinois. Although early residents established homes, the land was not plotted out until 1897, when the town would be deemed Peoria. By 1919, the chamber of commerce was formed, but Peoria was not incorporated until 1954. During the 1950s, a housing boom occurred with the invention of the air conditioner. Furthermore, with the occupation of the nearby Luke Air Force Base and the conclusion of World War II, Peoria became a booming and sought-after suburb just outside of Phoenix.
The Population And Economy Of Peoria
According to the latest US Census, Peoria has a population of 198,368 inhabitants. This is an increase of 3.87% since the last census in 2010, which saw a population of 190,985. With a land mass of 464.25 sq. km, the city has a population density of 418.78 people per sq. km. Of the population, the average age is 39.8 years old, with females accounting for 52% and males accounting for 48%. The median household income is $92,916, and the gross monthly rent is $1,340. Overall, 8.55% of the population lives below the poverty line. As for cultural/racial background: 79.97% identified as white, 5.58% were of two races or more, 5.57% were Asian, 4.85% were of another race, 3.16% were African American, 0.67 were Native American, and 0.21% were Native Hawaiian or Pacific Islander.
According to the June 2022 unemployment stats, Peoria has an unemployment rate of 4.8%. The primary industries that constitute the city's economy are retail trade at 14.5% overall, healthcare and social assistance at 14.4%, and educational services at 8.5%. The top-grossing jobs were in utilities which earned $87,279; mining, quarrying, gas, and oil extraction, which earned $61,875; and finance and insurance, $61,438. Of the 79,400 employed, 11,429 work in healthcare and social assistance, 10,703 work in retail trade, and 6,998 work in finance and insurance. 
Attractions In And Around Peoria
Old Town Peoria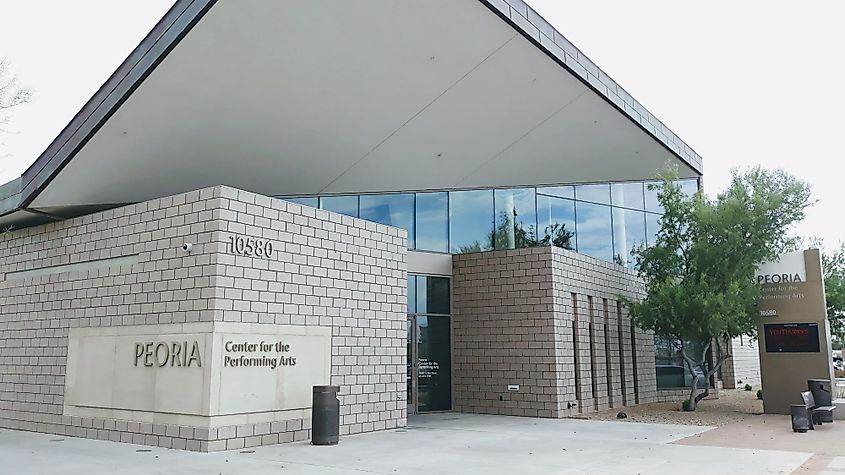 Downtown Peoria contains several historic buildings and green spaces. Dating back to the first residence of Peoria, Old Town invites all to come and enjoys a drink or bite out. It is also the center of the arts and culture district with live street performances, community happenings, and the Center for Performing Arts. One must always browse through the community calendar for the many events happening in Old Town.
Quintero Golf Course
Looking for an afternoon on the green, then look no further than the Quintero Golf Course. Voted by Golfadvisor as one of the top 40 US golf courses and Best Golf Course in 2017 by popular golf publications, this Rees Jones-designed course will delight all golf enthusiasts. The course is 18 holes consisting of 7,190 yards, with the longest hole being a par 72. Moreover, the course is played on Bermuda grass.
P83 Entertainment District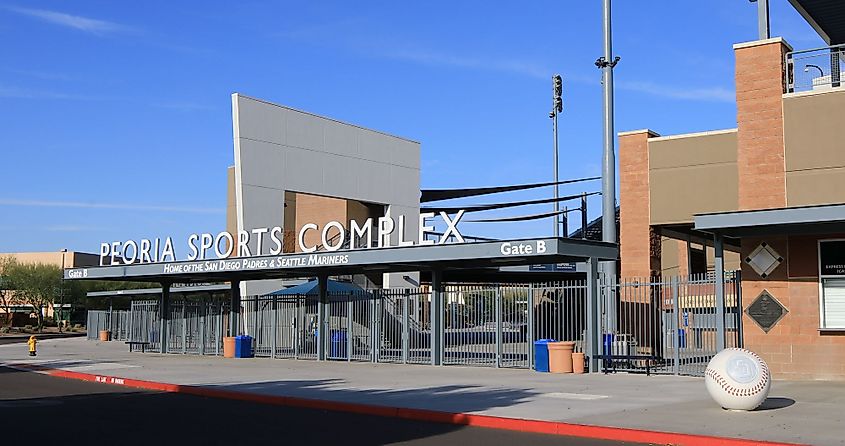 This multi-use entertainment area houses the MLB spring training at the Peoria Sports Complex, festivals, shopping, and many restaurants. When it comes to those with a diverse palate, there is a broad selection of food such as Teppanyaki, sushi, Mexican, and even deep-dish pizzas to please any foodie. It is easily accessible from the highway and caters to all shoppers looking to browse a boutique or name-brand stores at the Arrowhead Town Center.
Those who have traveled to Peoria may say it has an old-time and even resort-like feel. Currently, it is hashing out plans for more mixed neighborhoods of both residential and commercial buildings while still preserving its laid-back desert identity. With a rich history, sports, shopping, bustling nightlife, outdoor recreation, and live performances, there is a variety of activities for all in Peoria, Arizona.