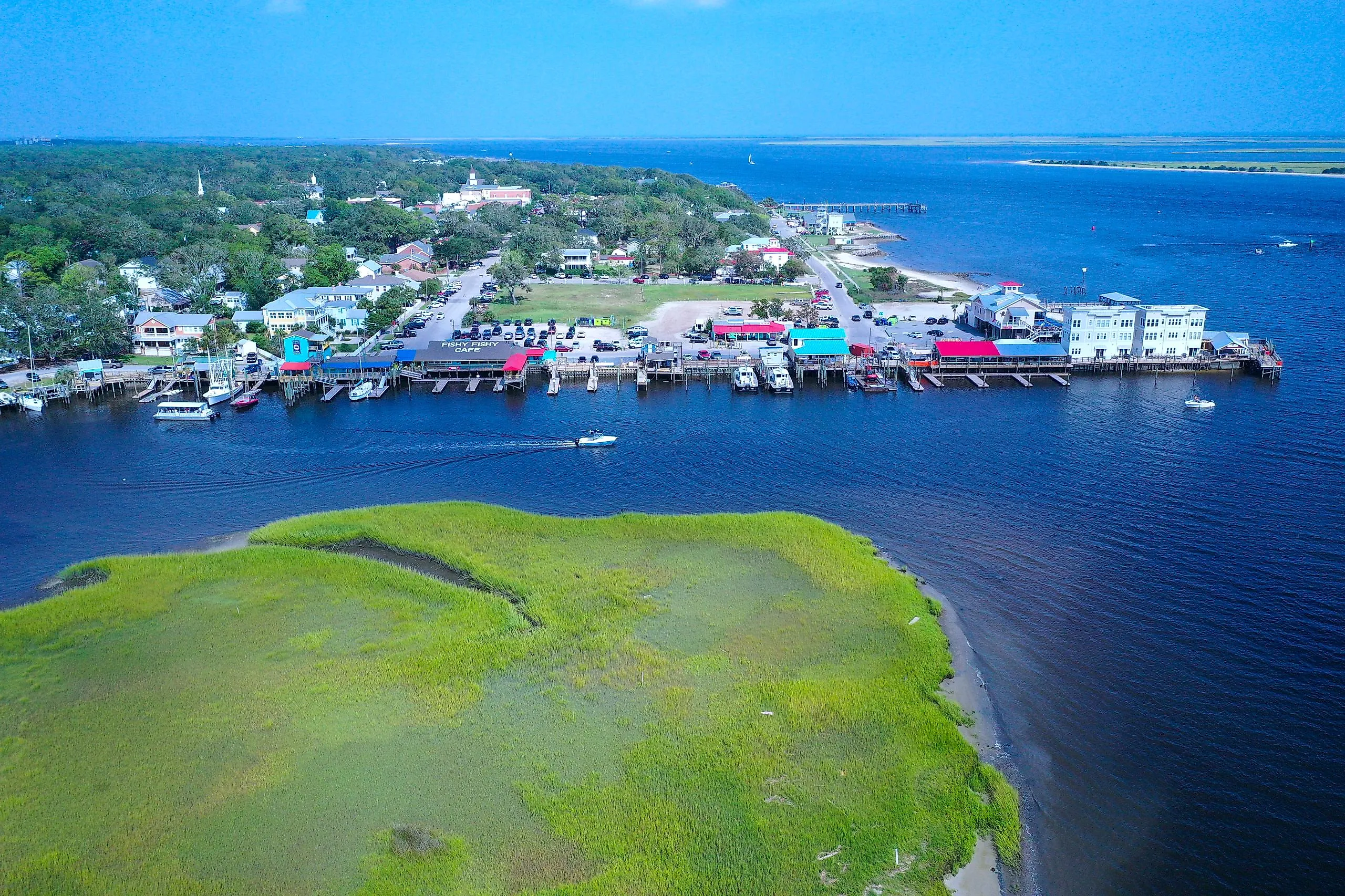 10 Adorable North Carolina Towns
Whether for the love of mountains such as the Appalachian, Blue Ridge, and Great Smoky Mountains or the chance to explore the seventh-longest coastline in America, a visit to North Carolina is among the most visually-rewarding one can ever take. From any spot in the state, for instance, you are often never more than three hours from the beach or the mountains. Aside from the delicious variety of the state's heart-ravishing vistas, where else can one find the tallest living sand dune system on the Atlantic coast? America's number one state for business — also does remarkably well as a vacation destination. Granted, North Carolina's weather can be uncomfortably humid. However, that's a small price for awesome parks that are mostly free, several award-winning beaches, and charming small towns like the ones mentioned below.
Little Switzerland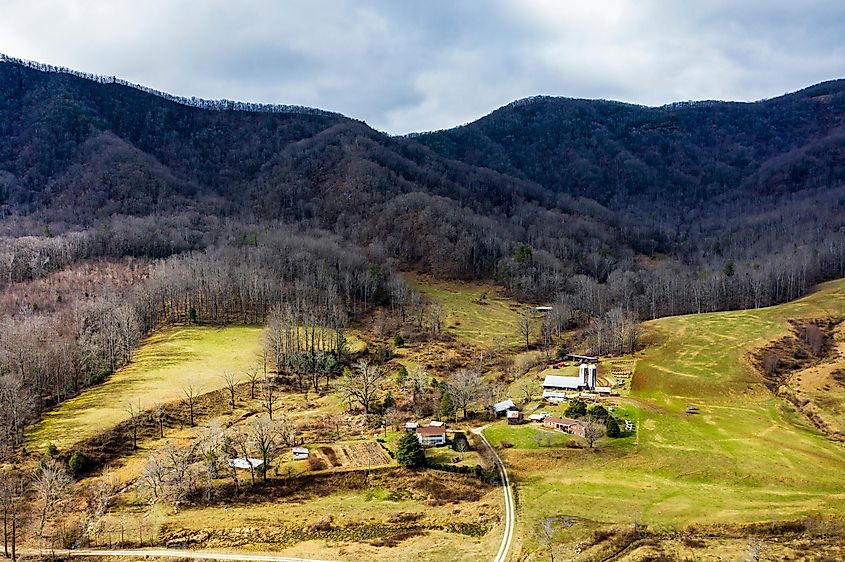 Few vacationers will pass up the chance to set foot in a town evocatively called "Little Switzerland." The tantalizing name brings to mind one of Europe's most stunning countries famous for its spellbinding mountains. Fortunately, the American namesake is not any different. Home to about 45,000 residents, North Carolina's Little Switzerland boasts a topography that is eerily similar to the Swiss Alps and which is framed by mountains such as Mount Mitchell and the Black Mountains — at their most grand. Styled as the "Jewel of the Blue Ridge Parkway," this North Carolina charmer boasts attractions such as Emerald Village, located about a 10-minute drive from town. Those blown away by the sparkling beauty of minerals and gems will find Emerald Village, a cluster of 12 real historic mines, an awesome treasure trove. But if you love the cascades of waterfalls, Linville and Crabtree Falls are both within easy reach. Still, in the rare event you'll love nothing at Litle Switzerland, the drive alone will be worth filling the tank for.
West Jefferson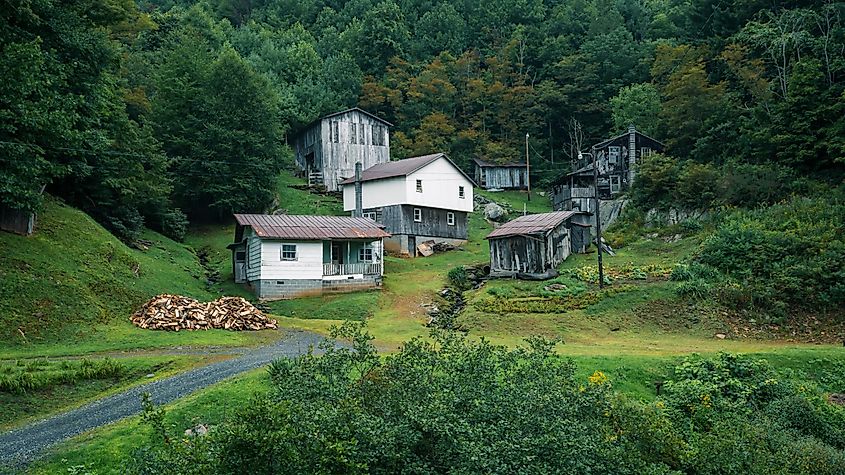 West Jefferson is a tiny town that is nestled within the majestic Blue Ridge Mountains in the northwest region of North Carolina. Art enthusiasts will particularly want to explore this North Carolina secret that has long been celebrated as an artist's mecca. The town's Arts District, for instance, quite a joy to stroll through, features splashes of art at almost every turn of the eye. Lined with several studios, galleries and boutiques, in addition to the abundance of colorful murals, there is never a dull moment at one of North Carolina's most artsy towns. But that said, even if art is not your kettle of tea, you will still find several outdoor pleasure spots where you can enjoy nature at its most pristine. Mount Jefferson State Natural Area, for instance, is home to picturesque overlooks that offer views as far away as Tennessee. Needless to say, this park features several scenic trails no hiker will want to miss.
Maggie Valley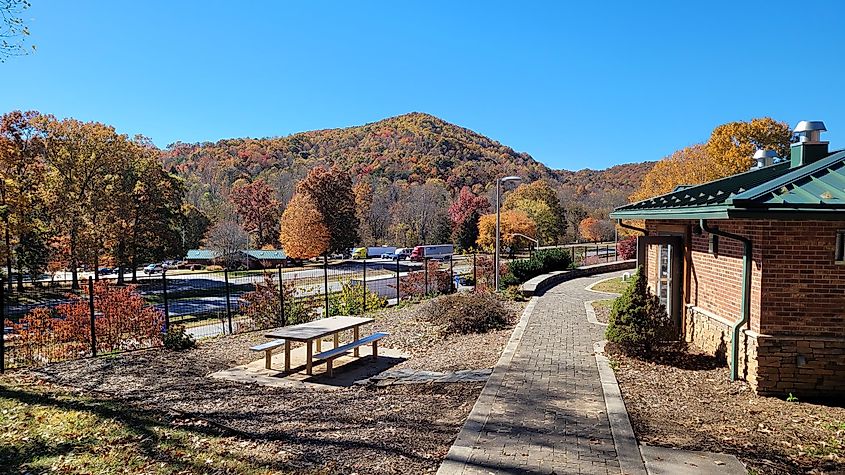 If you adore a mountain setting, the town of Maggie Valley, located right in the heart of the gorgeous Smoky Mountains, maybe what you are looking for. Also, since Maggie Valley is adjacent to the Great Smoky Mountain National Park, access to the woods and to its crisp air is guaranteed. If a quiet, scenic drive is all you crave, the drive along the Blue Ridge Parkway, also adjacent to this North Carolina stunner, is often a favorite pastime. Still, if all you want is a sunset that will stay eternally etched in your memory, you'll need to snake your way to Water Rock Knob, the highest peak in the Plott Balsams. As a heads-up, Water Rock Knob is about 9 miles from Maggie's Valley. However, if you are looking for some finely-prepared food and the chance to wash it down with craft beer, BearWaters Brewing Company, a three-time winner at the Great American Beer Festival (GABF), the largest beer competition in the United States, is just the place for you.
Southport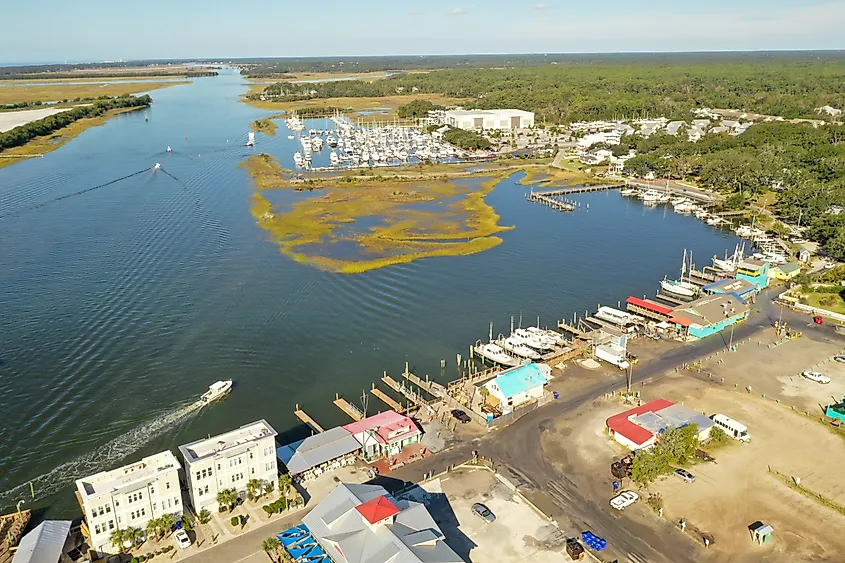 Home to about 4,300 residents, Southport may be small in size and population—but large in character and offerings. Conveniently located just 32 miles south of Wilmington, and hence part of the Wilmington Metropolitan Area, Southport looks like a picture plucked from an old Christmas card. A first-time visitor will have a blast strolling through the town's pier and riverwalk, sitting on the benches, or swinging on the seats. The views you will inhale here may just form the highlight of your tour. For history buffs, however, who will want to get enthused with the maritime history of the area, including a great diorama of native life, the North Carolina Maritime Museum should not miss on the itinerary. Besides, Southport's downtown area, a mix of southern architecture and laid-back ambiance, is among the most adorable in the state. Then again, at Southport, first-time visitors will get the chance to set foot in the oldest active-duty fort in the United States—the Fort Johnston Southport Museum.
Beaufort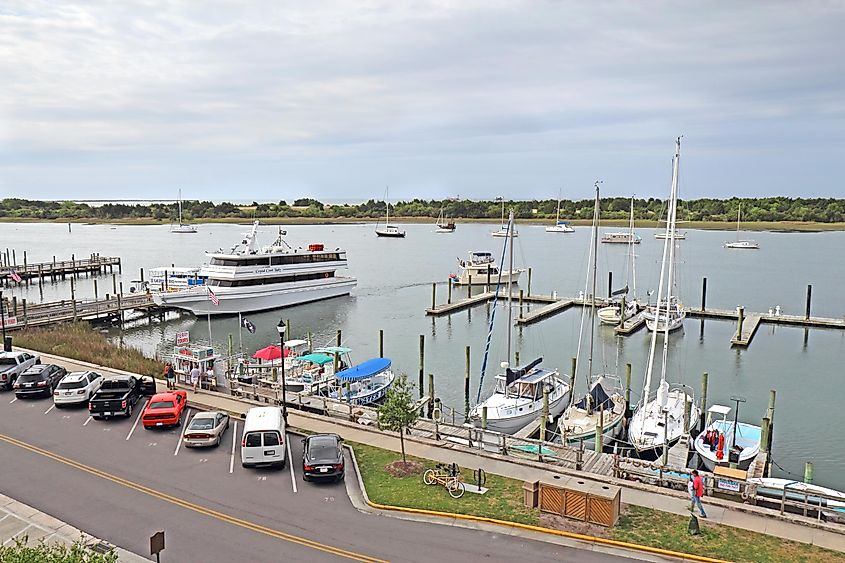 Styled "America's Favorite Town," Beaufort boasts all the adorable elements that will make it effortlessly charm its way to every vacationer's heart. The fourth-oldest town in North Carolina, and settled as early as 1709, Beaufort presents a rich repast to any history buff. Once called "Hungry Town," Beaufort will sate the cravings—whether for food, natural beauty, or just wanderlust — of any type of visitor. From walking from one charming boutique to the next to strolling through the glorious waterfront where you can steal a glimpse of the wild horses that roam Carrot Island, Beaufort offers several adventure options. Also, the Beaufort Historic Site, located right in the heart of town, offers guided walking tours that will feel like stepping back into history.
Hillsborough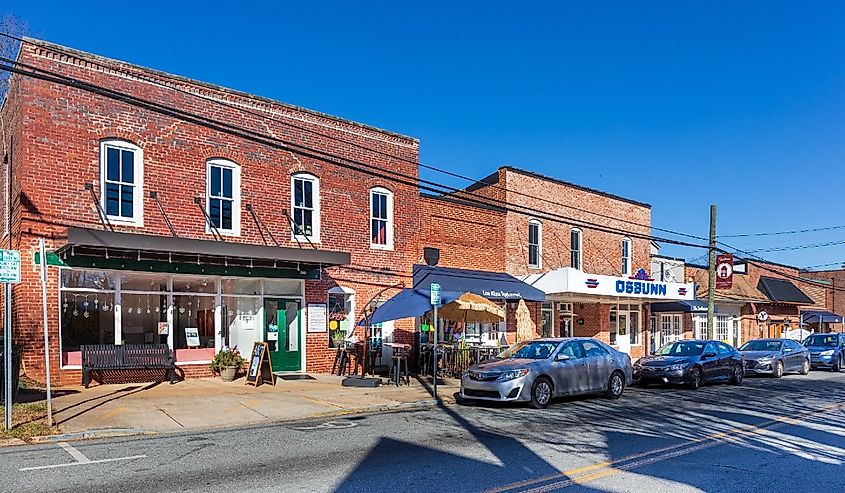 Whether you'll want to wander along the picturesque banks of the Eno River, steal some quiet moments at the Eno River State Park—amid awesome 360-degree views of gorgeous scenery—or just sample the numerous art galleries in this part of North Carolina, Hillsborough will check every box. Listed on the National Register of Historic Places, Hillsborough's downtown area features several buildings that have endured more than 300 winters. Among the historic buildings to check out within the town is the Visitors Center, where the largest of the Confederate armies surrendered. In September of every year, the town hosts the Hillsborough Hog Day BBQ Festival, a two-day festival featuring some of the best North Carolina pulled pork in the area.
Carrboro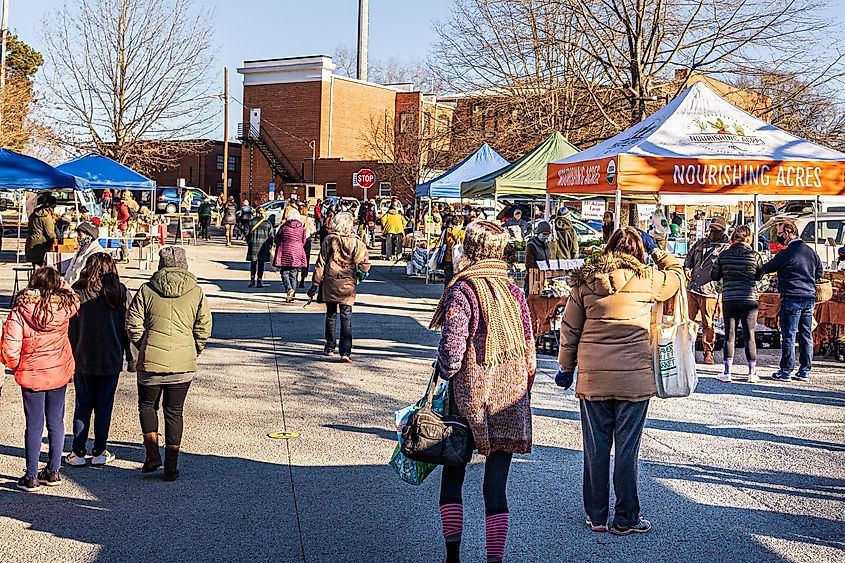 Home to about 21,000 residents, Carrboro is a vibrant town that is so full of charm and character. While food features at the top of Carrboro's offerings, art lovers will also be spoilt for choice. The town is secreted in the wooded Piedmont right in the middle of North Carolina. Affectionately referred to as "The Paris of the Piedmont," Carrboro strikes the sweet spot between a big-city culture—with a dash of progressiveness—and a charming, small-town feel. While food tourists will enjoy sampling the town's award-winning restaurants, Carrboro Farmers Market, sometimes called "Carrboro's front yard," is the place to go if you are looking for some fresh and tasty donuts. For art lovers, however, North Carolina Crafts Gallery is an awesome shopping and dining venue any first-time visitor will want to check out. Here, local artists display their specialty craft skills and make some unique and beautiful items. 
Oriental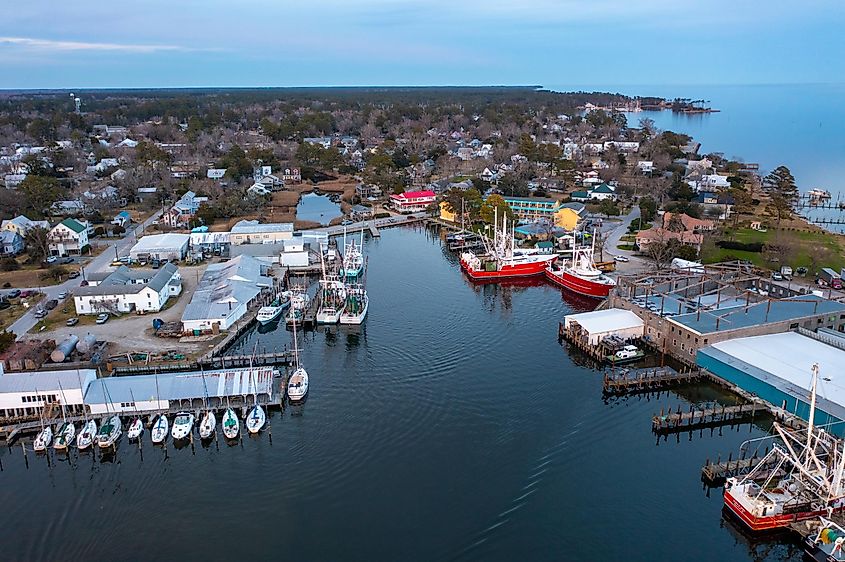 Along the beautiful Neuse River, within North Carolina's Inner Banks, lies Oriental, a speck of a town many may not have heard of. Content with its relative obscurity, however, Oriental is an adorable town where the boating season never completely comes to a stop. If one is craving a vacation that should feature some fun on the water, Oriental should be a consideration. One of the town's draws is its fishing pier, often regarded as among the last working fishing harbors in this part of the United States. Other attractions that make Oriental adorable is the riverfront Lou Mac Park, a place where one can sit on a dancing chair — and just listen to the sound of water as it laps the walls of the park. For even more water, John Bond Town Beach is a small, quiet place that overlooks a wide portion of the Neuse River — and boasts lots of sailboat activity.  
Atlantic Beach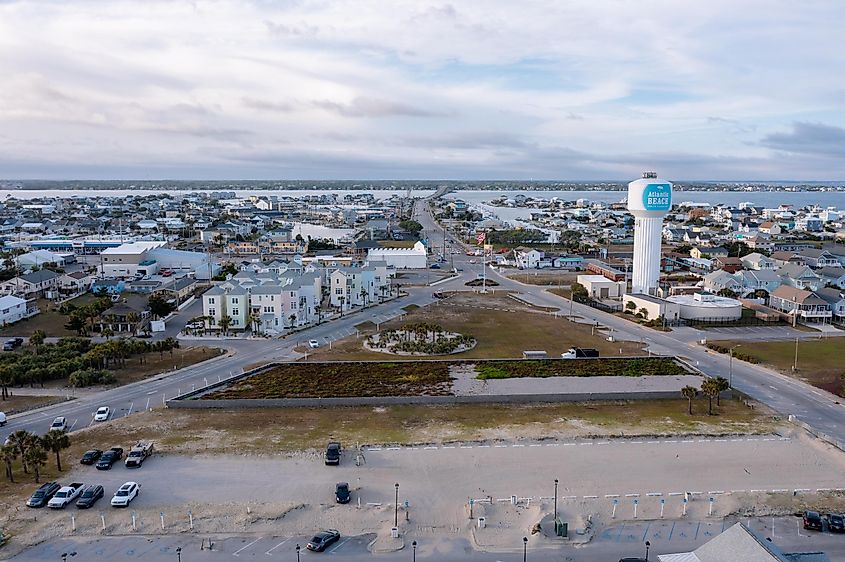 The oldest of the towns that make up the Bogue Banks, a 21-mile barrier island off the mainland of North Carolina, Atlantic Beach is North Carolina's quintessential beach town. Therefore, if a beach experience is a part of what makes a town adorable, Atlantic Beach will be a top contender. Still, while the town's sandy beaches often feature among the town's highlights, one of Atlantic Beach's top draws is Fort Macon State Park. While adults will enjoy the park's wonderful ocean views and sampling its fascinating exhibits, children will have fun with the canons and munitions inside the park—as well as the beach and the green lawns. History buffs will be intrigued to learn that Captain Blackbeard's ship, the Queen Anne's Revenge — sank right off the shore from this fort, one of North Carolina's most visited state parks.
Emerald Isle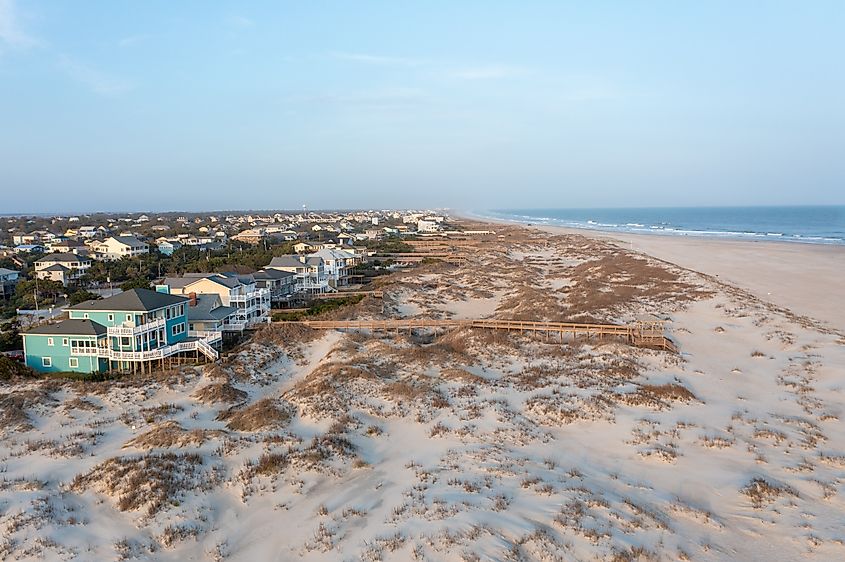 With the shimmering blue-green waters of the Atlantic on one side and a verdant maritime forest on the other, Emerald Isle should not miss on a list of North Carolina's adorable towns. Nestled on the Crystal Coast, a reference to the coast's clear waters, Emerald Isle is the kind of a town you can't appreciate in a rush. Yet, while the town boasts several attractions, its more than 10 miles of beaches are by far its most sought-after draw. And for those who will want to max out on a beach experience, The Point — located at the western edge —right where the coast tapers off into a sandbar, is the place to turn a car's windscreen towards. Then again, aside from fishing, surfing, or beach driving at The Point, many visitors love biking through town while taking in the heart-ravishing vistas around.
The Takeaway
Granted, North Carolina can be uncomfortably humid. However, with numberless award-winning beaches right at its doorstep, humidity should not be an excuse for missing the chance to explore one of the most beautiful states in the country. Yet, The Tar Heel State, as North Carolina is called, is not all about beaches. Beautiful mountain towns such as Little Switzerland and West Jefferson easily disprove that notion. Other adorable towns in North Carolina — whether on sea or mountain — include Emerald Isle, Oriental, and Atlantic Beach, the quintessential North Carolina beach town.