William McKinley, 25th U.S. President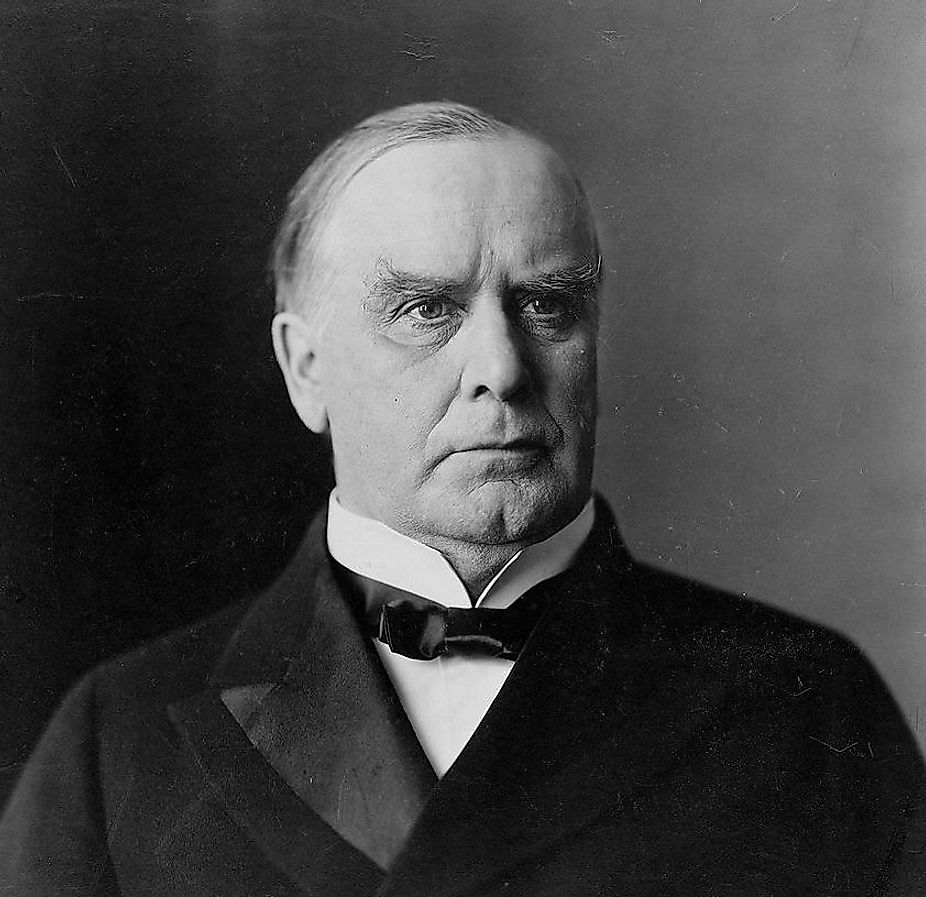 To be the US president is the riskiest job in the world since he is always at risk of assassination because of either their policies or hate from extremists or nations. As such the nation has over time taken necessary measures to ensure that the president is safe whether in public or during overseas trips. Specially trained army officers together with the secret service collaborate to secure the president. Four of US presidents have met their deaths through assassination while in office. One of the heads of state to be assassinated was William McKinley, the 25th president of US.
Early Life of William McKinley
William McKinley was born in 1843 in Ohio. He was William and Nancy's seventh born. His parents were of Scot-Irish origin who had settled in Western Pennsylvania at the beginning of 18th century. His father William moved to Ohio when McKinley was only seven, and they lived in New Lisbon. In 1852, McKinley together with his parents and siblings moved to Poland where he was finally admitted to a good school for his education. He graduated in1859 and immediately enrolled at Allegheny College where he had to cut short his studies due to illness. After his recovery, Mckinley was unable to go back to college because the family was facing financial strains because they had spent a lot of money on his health. Therefore, he took a teaching job in Ohio. In June 1861 he was enlisted in the Poland Guard together with his cousin William where together they participated in the civil war. After the war in 1865, he enrolled for the law at Albany Law School and was finally admitted to the bar in 1867. In 1871 McKinley married Ida Saxton and had two children though one died before turning one year.
William McKinley In Politics
William McKinley started engaging in politics in 1869 when he vied for prosecuting attorney's office, but he was defeated. After his defeat, he campaigned for his friend Rutherford Hayes, who was contesting as governor in 1875. In 1876 McKinley successfully battled for the Republican nomination to the Congressional District. His support for then President Rutherford raised his profile nationally. Subsequently, he was elected to various positions within the Republican Party serving with distinction. In 1891 William McKinley managed to capture Ohio governor's seat where he carefully handled issues related to labor and business. Backed by his friend Mark Hanna, McKinley began planning for presidential campaigns in 1895. Hanna met several Republic Party bosses to convince them of McKinley's chances of becoming the president. By June 1896, William McKinley had gathered enough delegates to win him the nomination. The following year McKinley won the presidential election and assumed office on March 4, 1897. April 20, 1898, would mark a significant day in the presidency of McKinley as the Congress voted to send the US to with Spain after the explosion of Maine
The Final Years
As president, McKinley's popularity continued to grow especially among the Republicans. He was successfully nominated by his party to contest for the presidency again. He picked Theodore Roosevelt as his Vice-President. He won that year's election and was sworn into office the following year on March 4, 1901. William McKinley was shot twice in the abdomen on September 6th, 1901 by Leon Czolgosz while addressing the public. He died nine days later, and Theodore took over as the president
William McKinley, 25th U.S. President
| Party Affiliation | Republican |
| --- | --- |
| Birthplace | Niles, Ohio |
| Date of Birth | January 29th, 1843 |
| Date of Death | September 14th, 1901 |
| Start of Term | March 4th, 1897 |
| End of Term | September 14th, 1901 |
| Vice Presidents | Garret Hobart; Theodore Roosevelt |
| Major Conflicts Involved In | Spanish-American War |
| Preceded by | Grover Cleveland |
| Succeeded by | Theodore Roosevelt |
| First Lady | Ida Saxton McKinley |