Fort Sumter is most famous as the location of the beginning of the American Civil War. The building of this special fort started in 1829, and the idea was conceived right after the War of 1812 (the war between the United States and the United Kingdom).
The events of the first battle prompted Abraham Lincoln to issue a call for volunteers in the battle against the rebellion, and several states (who at that time had no allegiance) choose to side with the Confederates. The good news is that no Union troops had been killed in the attack!
The Importance Of The Charleston Harbor And Fort Sumter
Why was Fort Sumter a likely place for an attack? It commanded the Charleston harbor, the place where fort artillery could fire at the ships traveling in and out of the harbor. Because of this reason, the Confederacy considered it a dangerous location. However, Fort Sumter was incomplete (delays and budget cuts left it about 90% finished) and it did not have nearly enough firepower to be considered a threat in the first place.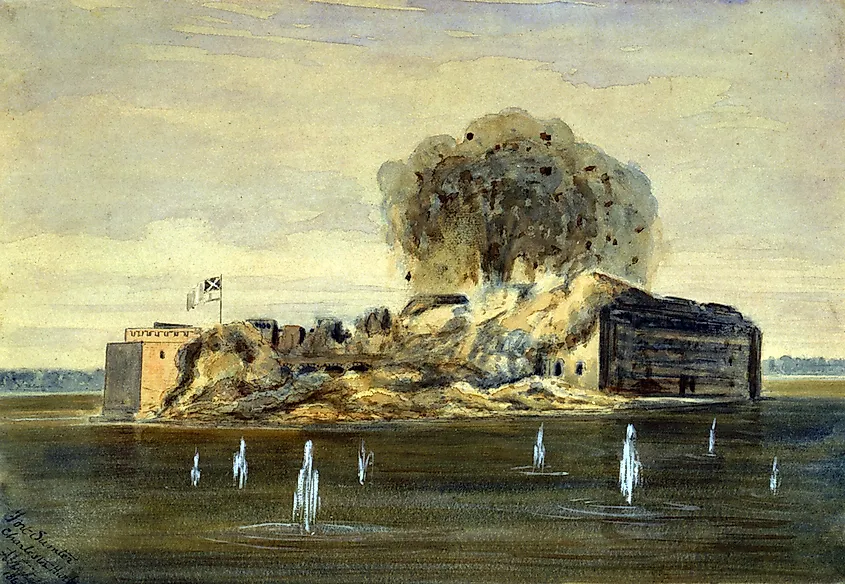 Due to its architecture and the condition it was in, the fort could not sustain an attack with modern weapons and there was no reason for the Confederate States of America to consider it a major threat. The real reason for its importance lies in its symbolic value and the fact that the fort was in command by the Union even though it was in the territory of the main harbor (which was in control by the Confederates). This scenario made the Confederates look weak and not in control of their territory, and they needed to attack Fort Sumter to prove that they are in control.
How Did The Battle Of Fort Sumter Start?
Following the inauguration of Abraham Lincoln on March 4, 1861, it was reported that there are less than six weeks of rations remaining at Fort Sumter and Lincoln was not sure how to help and reinforce the fort. Both Lincoln and the Confederate States of America were reluctant to take actions on this matter due to the threat of war, and it also meant that whoever was perceived as the aggressor would lose the support of the border states (states which at that time have not yet determined their allegiance to either side).
Major Robert Anderson was the main commander and representative of the North and the leader of the Southern forces was General P.T. Beauregard. The Southern forces were hoping that Major Anderson and his men would leave the premises without a fight but unfortunately, he refused to leave Fort Sumter even though they were running short on supplies. Beauregard sent him a message, threatening with open fire unless he surrendered. There was no surrender from Anderson and the battle started, as well as the first step towards the American Civil War.