Politics
Who is the Prime Minister of the United Kingdom?
Theresa May is the Prime Minister of the United Kingdom.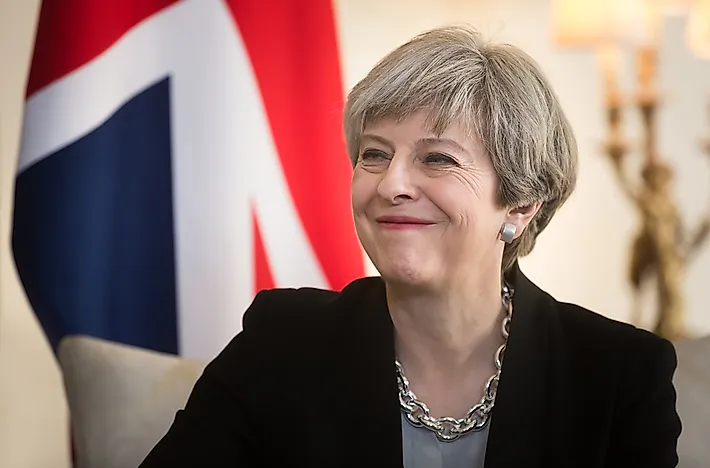 Theresa May
Theresa May is the current Prime Minister of United Kingdom. She came into office in 2016 after being a Member of Parliament (MP). May worked at the Association for Payment Clearing Services between 1977 and 1983 before proceeding to the Bank of England where she stayed until 1983. Although May ran in the 1992 election and failed, in 1994 she became Maidenhead's MP. May held various positions in Britain's government until 2010 when she was picked to be the Minister for Women and Equalities Home Secretary. She advocated for different policies, the abolition of khat for example, and the establishment of National Crime Agency.
Early Life
Theresa May was born on October 1, 1959, in Sussex to Zaidee Mary and Hubert Braiser. Her father was the clergyman while her mother was an ardent Conservative Party supporter. May attended Heythrop Primary School before joining St. Juliana's Convent School, an independent Catholic Roman school located in Begbroke. She also attended Holton Park Girl's Grammar School. After high school, she enrolled at University of Oxford for Bachelor of Arts specializing in geography and graduated in 1977.
Early Career Life
May was the financial consultant at the Association for Payment Clearing Services between 1985 and 1997 after working at the Bank of England from 1977 to 1983. Her parents died before May was elected to Parliament and later remarked that she was "sorry they never saw me elected as a Member of Parliament." May became the Durnsford Ward's councilor between 1986 and 1994 and held the positions of Chairman of Education, Deputy Group Leader, and Housing Spokesman before her failed attempt to be elected to the North West Durham's seat. Her opportunity to make it into Parliament came during the 1997 election where she was picked to be Maidenhead's Conservative representative, a position that resulted from the creation of a new seat from sections of Wokingham and Windsor, and Maidenhead.
Political Journey
May held many positions such Schools' Shadow Spokesman, and a member of William Hague Opposition group after her entry to Parliament. After her appointment in 1999 to Shadow Cabinet, she made history as the first woman among the 1997 Members of Parliament to hold a position in the cabinet when she was named the Shadow Education and Employment Secretary. On May 12, 2010, May was the Home Secretary, the highest state office to have served before her appointment as the United Kingdom Prime Minister.
Prime Minister
On June 30, 2016, May made her plans to become the leader of the Conservative Party public. This announcement was in preparation to replace David Cameron who had stepped down after suffering defeat during the referendum that determined the membership of the United Kingdom in regards to European Union (EU). Although she had campaigned against leaving EU, May made it clear that there will be no repeat of the referendum, asserting in her own words that "The campaign was fought…and the public gave their verdict. There must be no attempts to remain inside the EU, no attempts to rejoin it through the back door…Brexit means Brexit".
Activism and Awards
May has on many occasions advocated for policies affecting her constituency and the country. She once spoke at the Fawcett Society in support of gender equality. After this speech and many other campaigns, she was nominated among other women in Guardian's series '2006 Society's Inspiring Women'. She also holds the patron position of Reading University Conservative Association.