Which Countries Still Have The Death Penalty?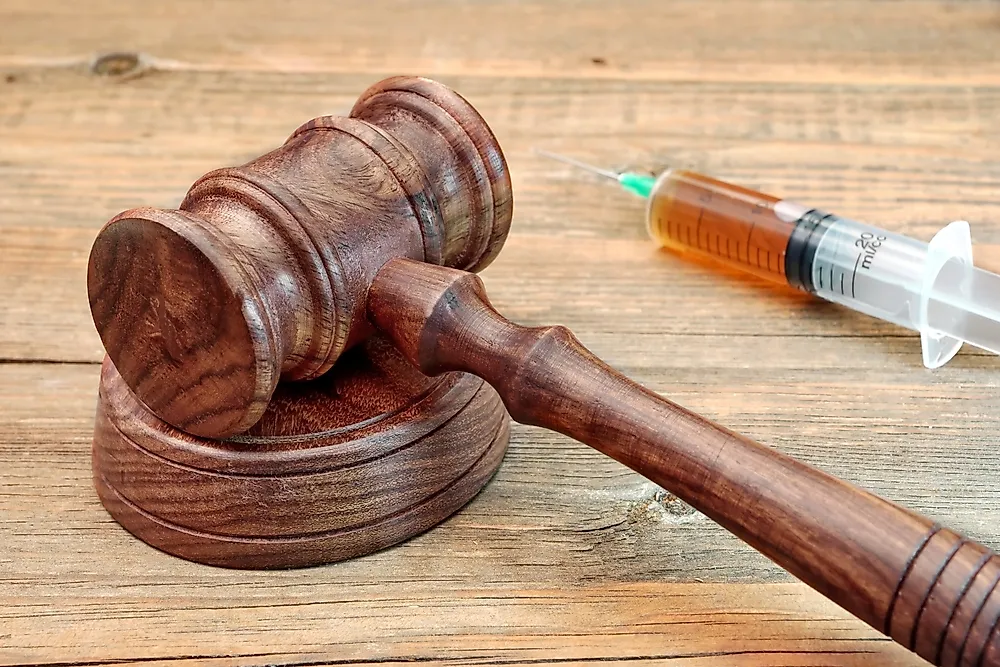 A death penalty is a form of punishment that has been around since medieval times. Today, most countries in the world have abolished the punishment in favor of other forms. However, there are still certain nations that have the death penalty as part of the law. Crimes that warrant a death penalty vary from one country to another. For example, engaging in sexual intercourse with certain people can earn someone the death penalty in some states. Other crimes that could warrant the penalty include terror and murder. In some states, if at the time of the crime the offender is below eighteen years old, the death penalty can still be used and will be executed once they turn eighteen. Execution methods around the world today include beheading, hanging, lethal injections, death by a firing squad, or electrocution.
Countries That Still Have The Death Penalty
As per current data, there are 58 countries around the world that still use death as a form of punishment. The list has grown considerably shorter since many countries decided to abolish the punishment. In 2016, two countries, Guinea and Nauru, abolished the penalty. Congo, Fiji, and Suriname did so in 2015 while Madagascar and Latvia made a similar resolution in 2012. Gabon abolished the death penalty in 2010. Ever since Amnesty International began to campaign against the punishment in 1977, 141 states have heeded the call.
Statistics from Amnesty International indicate that a total of 25 countries executed at least 1,630 people in 2015. Of these people, the biggest percentage is accounted for by the Middle East with Iran having at least 900 executions, Pakistan having at least 300, and Saudi Arabia having at least 150 executions. Egypt (at least 22) and Somalia (at least 25) topped the charts for Africa. The USA also had a high number (28) since some states have not outlawed the penalty.
In 2016, the figures are somewhat unclear. Amnesty International estimates that around 3,117 people from 55 states were executed in 2016. If the figure is correct, then 2016 had the highest number of recorded executions. However, this data is unclear on the number of executions done in China. China is secretive about the figures, but estimates place it at thousands of executions. In fact, Amnesty International names China as the world's leading executioner.
Executions In 2016
The actual number of recorded executions is 2016 was 1,032 people, excluding China and North Korea. The recorded figure marked a drop of 37% compared to that of 2015. Again, 90% of these executions come from only four countries namely Pakistan, Iran, Saudi Arabia, and Iraq. Countries such as Bangladesh and Egypt had more than double figures in 2016 compared to 2015. The US had a greater reduction in the number of executions which can be attributed to factors such as legal battles against the penalty. As of 2016, only Belarus still had the penalty with every other European state voting it out. At least 12 people have been executed in the last seven years in Belarus.
Which Countries Still Have The Death Penalty?
| Rank | Country |
| --- | --- |
| 1 | Botswana |
| 2 | Chad |
| 3 | Comoros |
| 4 | Democratic Republic of the Congo |
| 5 | Egypt |
| 6 | Equatorial Guinea |
| 7 | Ethiopia |
| 8 | Gambia |
| 9 | Lesotho |
| 10 | Libya |
| 11 | Nigeria |
| 12 | Somalia |
| 13 | Somaliland |
| 14 | South Sudan |
| 15 | Sudan |
| 16 | Uganda |
| 17 | Zimbabwe |
| 18 | Antigua and Barbuda |
| 19 | Bahamas |
| 20 | Barbados |
| 21 | Belize |
| 22 | Cuba |
| 23 | Dominica |
| 24 | Guatemala |
| 25 | Guyana |
| 26 | Jamaica |
| 27 | Saint Kitts and Nevis |
| 28 | Saint Lucia |
| 29 | Saint Vincent and the Grenadines |
| 30 | Trinidad and Tobago |
| 31 | United States |
| 32 | Afghanistan |
| 33 | Bahrain |
| 34 | Bangladesh |
| 35 | China |
| 36 | India |
| 37 | Indonesia |
| 38 | Iran |
| 39 | Iraq |
| 40 | Japan |
| 41 | Jordan |
| 42 | North Korea |
| 43 | Kuwait |
| 44 | Lebanon |
| 45 | Malaysia |
| 46 | Oman |
| 47 | Pakistan |
| 48 | Palestinian Territories |
| 49 | Qatar |
| 50 | Saudi Arabia |
| 51 | Singapore |
| 52 | Syria |
| 53 | Taiwan |
| 54 | Thailand |
| 55 | UAE |
| 56 | Vietnam |
| 57 | Yemen |
| 58 | Belarus |