World Facts
Which City Was Formerly Called Bombay?
The Indian city of Mumbai was formerly named Bombay.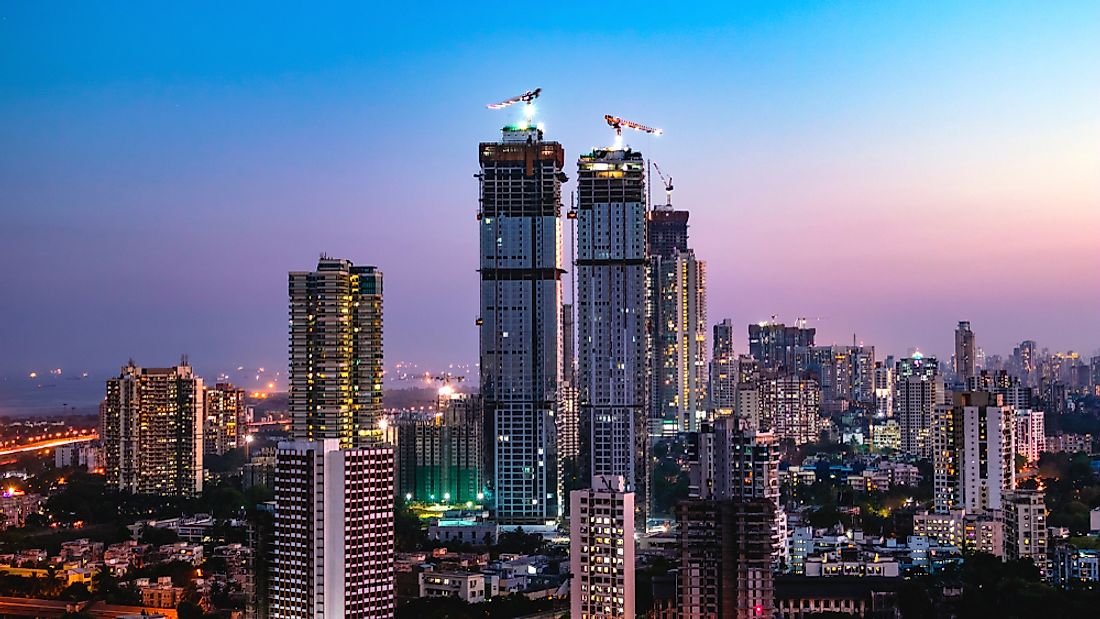 Mumbai, which was known as Bombay prior to the year 1995, is made up of seven islands; Mazagaon, Old Woman's Island, Mahim, Colaba, Isle of Bombay, Worli, and Parel. It is situated along the west coast of India, particularly at the Konkan coast. It is the capital city of Mahashtra State. The name Bombay is believed to have been an English corruption of the name Mumbai. Before its use, the names Galajunkja and Kakamuchee were used before the middle ages while Manbai was the name of the city after the middle ages. Several Bombay variations that were in use include Bombayn, Bombain, Boon Bay and Bambaye.
History Of Mumbai
Mumbai, as is the rest of India, was under European colonial rule. Between 1535 and 1661, the city was under Portuguese rule. From 1661 to 1947, the British took over control of the city of Mumbai. When India gained her independence from the British in the year 1947, there was a growing need for an Indian identity in the name of the city. Political evolvement in 1980s and 1990s saw an inclusion of the idea of change of the city's name into political campaigns. Shiv Sena, a Hindu Nationalist Party won a commanding majority in the state assembly in 1995 and succeeded in officially adopting the name Mumbai. Partly this was cited as a return to India's heritage and past. It was also a way of paying respect to the native koli community's goddess, Mumbadevi.
An Account Of Mumbai
The city of Mumbai lies on 233 square miles of land on the Konkan region at the mouth of Ulhas River. It experiences a tropical dry and wet climate. Annual precipitation is about 2167 mm while annual temperatures are around 27.2 degrees Celsius. The city is broadly subdivided into two regions; the Mumbai suburban district and the Mumbai city district which is also referred to as South Mumbai. The whole city is governed by the Municipal Council of Greater Mumbai whose head is a mayor. Majority of the residents of Mumbai are Maharashtrians who make up about 42% of people. The other notable group is Gujaratis making up 19%. Marathi language with its dialects is the widely spoken language while Hindu is the widely practiced religion in Mumbai.
Significance Of Mumbai
Mumbai is considered an Alpha World City due to its prowess in the commercial and financial world stage, where, in terms of global financial flow, Mumbai happens to be in the top ten centers of commerce. In India, it is the wealthiest contributing 25% of industrial output, 6.16% of India's GDP 70% of capital transactions and 70% of maritime trade. This status is contributed to by a well developed and managed infrastructure systems like transportation through ports and roads.
It is also a leading city in tourism considering that it is home to three UNESCO World Heritage Sites; the city's distinctive ensemble of Victorian and Art Deco buildings, Elephanta Caves and the Chhatrapati Shivaji Maharaj Terminus. It is considered India's entertainment capital hosting Marathi Cinema and Bollywood industries. Due to its ability to attract people from all over the world, Mumbai is a conglomerate of diverse cultures which further contributes to tourism and economic growth.
This page was last updated on May 24, 2019.
Citations
Your MLA Citation
Your APA Citation
Your Chicago Citation
Your Harvard Citation
Remember to italicize the title of this article in your Harvard citation.