The Most Populous Districts In England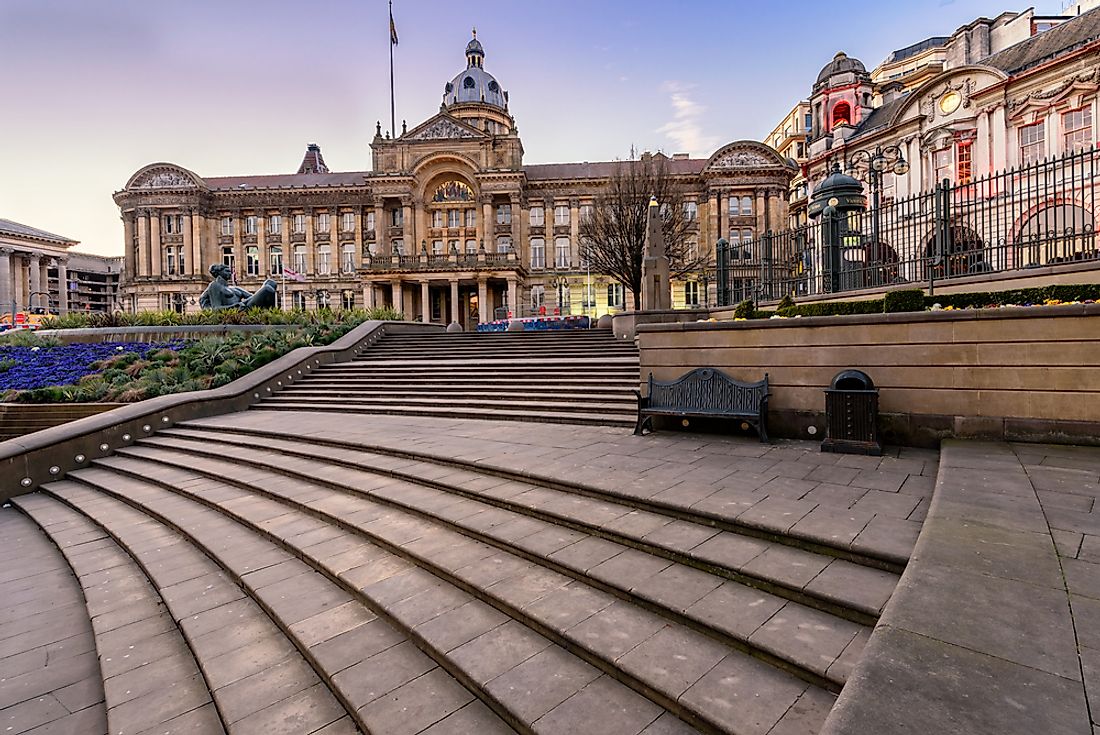 England is subdivided into two categories of non-administrative divisions and a hierarchy of administrative divisions. Generally, England is divided into nine regions and 48 ceremonial counties also known as the lieutenancy areas of England. However, the lieutenancy areas of England play a small role with matters of public policy. For the purposes of local government administration, England is subdivided into counties, districts, and parishes. Counties and districts form a two-tier administrative division in some areas while in others they are joined to form a unitary authority whereas Parishes in England only cover a part of the country.
The Three Most Populous Districts In England
There are seven districts in England that have a population of more than 500,000 people making them the most populous districts. Birmingham is the most populated with a population of 1,111,307 followed by Leeds and Sheffield with a population of 774,060 and 569,737 respectively.
Birmingham
Birmingham, located in West Midlands, England is the largest and most populous district in England with a population of 1,111,307. The population density of Birmingham was around 10,391 inhabitants per square mile during the last census of 2011. The population of Birmingham is projected to reach 1,160,100 in 2021, which is an increase of about 8.0%. Initially, Birmingham rose to eminence as an engineering and manufacturing center, however, at present its economy is monopolized by the service sector. In 2012 the service sector was responsible for 88% of Birmingham's employment making it the biggest center in Great Britain for employment in the sectors of health, education, and public administration and the second largest center after Leeds for employment in the financial sector and other business services outside London. Birmingham is ranked third in England after London and Manchester and the second largest economy in the UK with GDP of $121.1 billion.
Leeds
The City of Leeds is located in West Yorkshire, England and is a local government district with both the status of a metropolitan borough and city. At present the population of Leeds is estimated at 774,060 making it the second most populous city in England. Leeds comprises of a diversified economy however its service sector dominates over the traditional manufacturing industries. Outside of London, Leeds is the focal point of one the largest financial centers in England. The emergence of tertiary industries such as media, call centers, retail, and offices have highly contributed to an unexpected growth of the economy of Leeds.
Sheffield
Located in South Yorkshire, England is Sheffield which is both a city and a metropolitan Borough. It is the third most populous district in England with a population of 569,737. Due to the topographical factors surrounding Sheffield there has been a restriction in urban spread thus reducing mobility and ensuring a stable size in population. Despite the economy of Sheffield suffering years of decline, it continues to go through an extensive revival. According to a survey done by Knight Frank in the second half of 2004, Sheffield was believed to be the fastest growing district located outside of London for the renting of residential and office spaces.
The economic growth of Sheffield can be attributed to the current flood of redevelopments like St Paul's Place, Velocity Living, Peace Gardens, Millennium Galleries, Winter Gardens, City Lofts Tower, and other projects under the district's redevelopment agency known as Sheffield One. In 2008, the United Kingdom Cities Monitor listed Sheffield among the top ten cities to locate a business and taking positions three and four for best office location and best new location for call centre respectively. Sheffield was also listed as number three in terms of the greenest reputation and number two in the availability of financial incentives.
Which Are The Most Populous Districts In England?
| Rank | District | Population | Type | Ceremonial Country | English Region |
| --- | --- | --- | --- | --- | --- |
| 1 | Birmingham | 1,111,307 | Metropolitan borough, City 1889 | West Midlands | West Midlands |
| 2 | Leeds | 774,060 | Metropolitan borough, City 1893 | West Yorkshire | Yorkshire and the Humber |
| 3 | Sheffield | 569,737 | Metropolitan borough, City 1893 | South Yorkshire | Yorkshire and the Humber |
| 4 | Cornwall | 549,404 | Unitary authority | Cornwall | South West |
| 5 | Bradford | 531,176 | Metropolitan borough, City 1897 | West Yorkshire | Yorkshire and the Humber |
| 6 | Manchester | 530,292 | Metropolitan borough, City 1853 | Greater Manchester | North West |
| 7 | Co. Durham | 519,695 | Unitary authority | County Durham | North East |