World Facts
Happiest Countries Of The World, 2016
Denmark, Switzerland, and Iceland ranked as the top three happiest countries in the world in the 2016 World Happiness Report.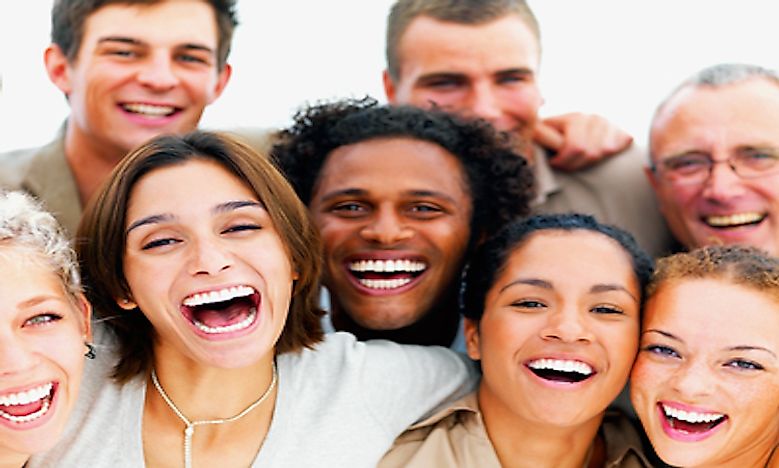 World Happiness Report, 2016
Denmark, Switzerland, and Iceland are ranked as the top three happiest countries in the world. Since 2012, the World Happiness Report has surveyed the state of global happiness. The report engages experts from various fields who measure the well-being in countries across the world. The index is determined from data collected from people by access to necessary material resources, GDP per capita, individual freedom, stable social networks, healthy life expectancy, good governance, perceptions of corruption, and decent working conditions. The level of happiness is increasingly regarded as a measure of a nation's progress.
The 5 Happiest Countries Of 2016
Denmark
Denmark was ranked as the top happiest country with a score of 7.526, a -0.401 change from 2015. Denmark is one of the world's most prosperous countries, with a GDP per capita of $59,831.70. Workers in Denmark enjoy strong union rights, and the minimum wage in the country is $20. The life expectancy of the country is 80 years, and the government pays medical care services for all its citizens. Social life is treasured in Denmark, and Danes enjoy the social support and intimate social gatherings. Progressive government policies ensure corrupt-free governance and an enviable welfare system.
Switzerland
Switzerland recorded a happiness score of 7.509, a 0.035 change from 2015. Citizens in Switzerland enjoy direct democracy, where they take active positions in governance. With a GDP per capita averaged at $58,000, the Swiss are some of the wealthiest people in the world. The citizens work an average of 35.2 hours per week, and the rest of the time is spent in social circles. The citizens are also healthy, with a mean life expectancy of 82.8 years and a low obesity rate. The country also has progressive healthcare and education systems. Swiss citizens are also multilingual, speaking German, English, French, and Italian.
Iceland
Iceland recorded a happiness score of 7.501 as in 2015. Iceland's literacy rate is nearly 100%, and the country has a rich literary culture. The nation has low crime rates, high trust levels, and no active military. Iceland is also blessed with spectacular scenery, from hot springs, northern lights, volcanoes, glaciers, to lava flows. Pollution levels are low in Iceland, and the citizens plant more trees than in other nations in the world. Healthcare services are affordable in the country, and the citizens mainly consume organic food.
Norway
Norway registered a happiness index of 7.498, a 0.082 change from 2015. Norway is also ranked as a highly prosperous country, with a GDP per capita of $54,000. Norway is characterized by green spaces and natural landscapes such as fjords, lakes, northern lights, islands, coastline, mountains, and midnight sun. Norway has a low crime rate, a high Human Development Index, and low pollution levels. The citizens work for about 34 hours a week and spend the rest of the time on social relationships.
Finland
Finland was ranked as the fifth happiest country, with a 7.413 score, a -0.259 change from 2015. Maternity leave in Finland is given for four months with pay, and it also ranks low on maternal death. Gender equality is enshrined in Finland and women in the national government account for 42.5% of the total workers. Finland also has a low corruption index and unemployment rate.
Other Happy Countries Of The World
Other European countries and their happiness scores are Netherlands (7.339); Sweden (7.291); Austria (7.119); Germany (6.994); Belgium (6.929); Ireland (6.907) and Luxembourg (6.871). The USA scored 7.087 while Canada scored 7.404. The happiness index for New Zealand was 7.334 while that of Australia was 7.313. Israel scored 7.104 while South America was represented by Puerto Rico (7.0390; Brazil (6.952), and Mexico (6.778).
Which Are 2016's Happiest Countries Of The World?
| Rank | Country | Score | Change Over Prior Year |
| --- | --- | --- | --- |
| 1 | Denmark | 7.526 | -0.401 |
| 2 | Switzerland | 7.509 | 0.035 |
| 3 | Iceland | 7.501 | 0.000 |
| 4 | Norway | 7.498 | 0.082 |
| 5 | Finland | 7.413 | -0.259 |
| 6 | Canada | 7.404 | -0.041 |
| 7 | Netherlands | 7.339 | -0.119 |
| 8 | New Zealand | 7.334 | -0.097 |
| 9 | Australia | 7.313 | 0.002 |
| 10 | Sweden | 7.291 | -0.017 |
| 11 | Austria | 7.119 | -0.003 |
| 12 | Israel | 7.104 | -0.261 |
| 13 | United States | 7.087 | -0.171 |
| 14 | Puerto Rico | 7.039 | 0.446 |
| 15 | Germany | 6.994 | 0.486 |
| 16 | Brazil | 6.952 | 0.474 |
| 17 | Belgium | 6.929 | -0.311 |
| 18 | Ireland | 6.907 | -0.238 |
| 19 | Luxembourg | 6.871 | 0.000 |
| 20 | Mexico | 6.778 | 0.225 |