Where Is The Headquarters Of The Emirates Group?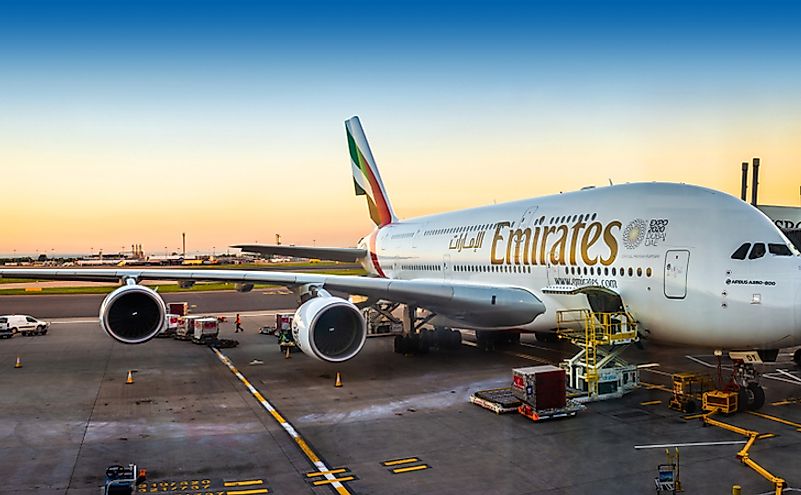 The Emirates Group is a holding company with its headquarters in Dubai. The company consists of cargo handling services, Dnata, and Emirates Airlines, which is the largest in the Middle East. Dnata provides cargo handling services in more than 78 airports while the airlines fly to more than 160 destinations across the globe. As of 2019, the airline operated over 250 aircraft with a further 170 on order. Emirates group employs over 100,000 people and has a turnover of about US$28 billion, ranking it among the largest firms in the region by turnover and employees. The Government of Dubai wholly owns the company.
Headquarters Of Emirates
Emirates has its headquarters at the Emirates Group building in Dubai. It is located along Airport Road opposite the Emirates engineering facility and connects to the Dubai Airport via a tunnel. The building was constructed between 2004 and 2007 at the cost of $191 million. Before its completion, the company's headquarters were located at the Airline Center in Dubai.
Corporate Structure
The Government of Dubai owns the Emirates Group through the Investment Corporation of Dubai. The company records net profits every year, which doubles in three to four years. Although the government wholly owns the airline, it neither interferes with its management nor invest further capital, but lets it run as a separate entity capable of making a profit or loss. Since 2009, the government has been receiving dividends. The group has diversified into airline-related industries such as aviation engineering, airport services, tour operations, catering, and event organization.
History Of The Emirates Group
After the British left Dubai in the 1950s, the government declared an open trade, open seas, and open skies policy meant to spur development. Dubai's leader Sheikh Saeed bin Maktoum al Maktoum declared government agencies as profit-making organizations to eliminate the dependence on oil. During this period, the aviation industry in Dubai consisted of airport services that catered to foreign airlines. In 1985, the Royal Family established Emirates and provided two aircraft from the Dubai Royal Air Wing. The family invested about $10 million as initial capital. On October 25, 1985, the Emirates made its maiden flight to Karachi. After just nine months in operation, it became profitable, and one year later, its routes grew to include Colombo, Amman, Cairo, and Dhaka. However, the Gulf War during its second year of operation saw the company register its only loss since inceptions as passenger and goods traffic declined. As of January 2019, the airline had grown its fleet to more than 256 aircraft flying to 161 destinations across the world.