World Facts
Where Is Cathay Pacific Airlines Headquartered?
The headquarters of Cathay Pacific Airways is located in Cathay City, within Hong Kong International Airport.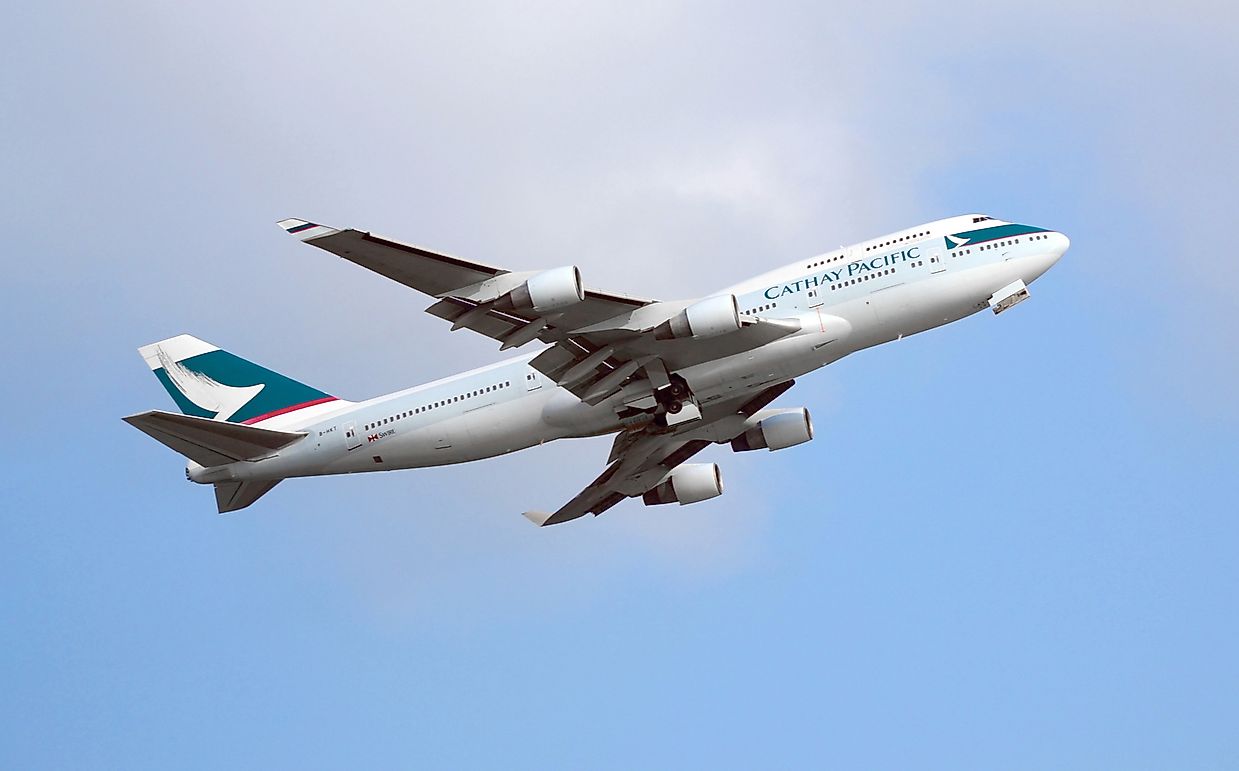 Cathay Pacific is an airline and flagship carrier of Hong Kong. Its headquarters and central hub are located at Hong Kong International Airport. The airline and its subsidiaries fly passengers and cargo to more than 190 destinations in over 60 countries worldwide, and operates a fleet of more than 130 aircraft. Cathay Pacific was founded in 1946 by American Roy Farrell and Australian Sydney Kantzow, but as of 2018 its majority shareholder was Swire Pacific. The airline is a member of the Oneworld alliance and employs more than 32,400 staff. Subsidiaries of Cathay Pacific include Air Hong Kong, Cathay Dragon, and HK Express.
Corporate Headquarters
The head offices of Cathay Pacific are located at Cathay City, within Hong Kong International Airport. The facility was built in 1998 to replace the company's previous head offices, which were located at the Swire House in Central Hong Kong. Cathay Pacific has diversified its activities to include aviation engineering, ground handling, and inflight catering.
Destinations
Cathay Pacific operates passenger and cargo aircraft to over 190 destinations across five continents. Its primary routes fly within Asia, Europe, and North America. The airline makes connections with its codeshare and Oneworld partners British Airways and American Airlines via London, England, and Los Angeles, United States, respectively. Its subsidiary Cathay Dragon operates in Asia.
Airline Transformation
In 2017, the airline sought to transform its business culture after reporting losses in consecutive years by seeking new sources of revenue and delivering more value to customers, while improving productivity and efficiency. Part of the restructuring involved faster decision-making and the launch of thirteen new routes. In July 2019, the airline acquired HK Express in an attempt to enhance competitiveness in Asia. Cathay Pacific also revamped its passenger travel experience by reintroducing hot meals and popular menu items, improved customer service, and better cargo handling.
Hong Kong Protests
Employees of Cathay Pacific participated in the Hong Kong anti-extradition protests that began in March 2019. The Chinese government, which is a shareholder of Cathay Pacific, ordered the airline to suspend employees who participated in the protests, but the airline chairman declined, citing freedom of expression. However, after much pressure from the Chinese government, the airline suspended a pilot who had been arrested while protesting and announced that those who protested could be fired. The airline's chairman and chief customer and commercial officer both later resigned, throwing the company into a panic. A culture of fear spread across Cathay Pacific, prompting many employees to seek other jobs.
About the Author
Victor Kiprop is a writer from Kenya. When he's not writing he spends time watching soccer and documentaries, visiting friends, or working in the farm. 
This page was last updated on December 24, 2019.
Citations
Your MLA Citation
Your APA Citation
Your Chicago Citation
Your Harvard Citation
Remember to italicize the title of this article in your Harvard citation.