Society
When Is World AIDS Day?
World AIDS Day is observed on December 1st of each year.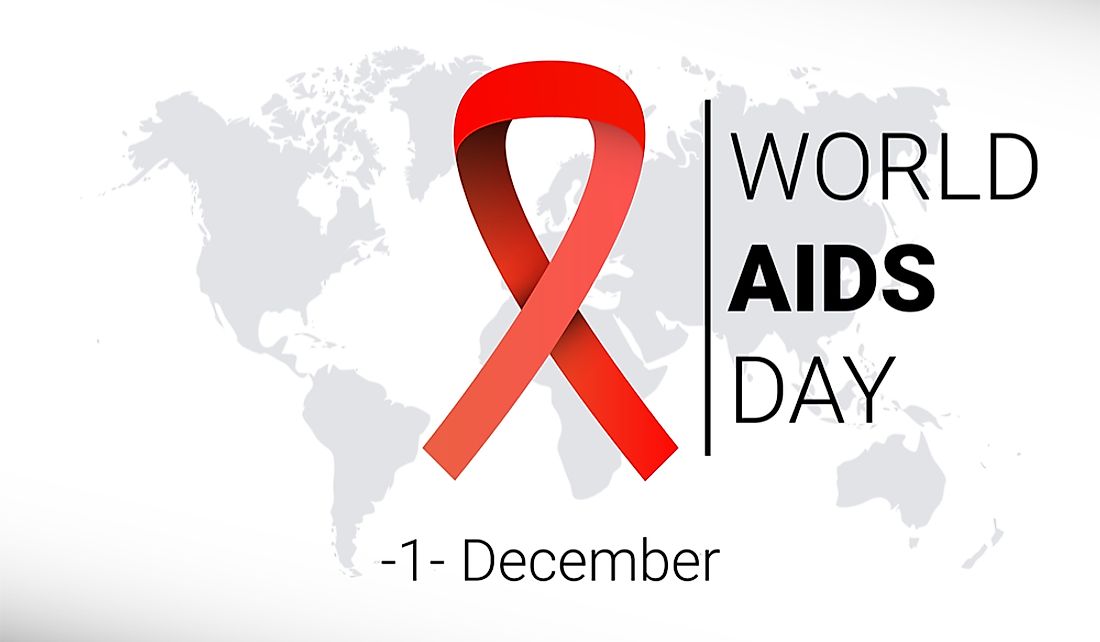 World AIDS Day is observed each year on December 1st. Established in 1988, the day provides an opportunity for the world to show unity in the fight against the HIV/AIDS pandemic that causes millions of deaths each year. The day also serves as a time to remember those individuals who lost their lives to the disease.
What Is HIV/AIDS?
The human immunodeficiency viruses (HIV) cause HIV infection and eventually the acquired immune deficiency syndrome (AIDS), which attacks the immune system, leaving affected individuals prone to various infections and cancers. The disease was first officially discovered in the United States (US) in 1981. Initially, most cases of HIV/AIDS were observed in homosexual men and injection drug users, who showed signs of a rare disease, pneumocystis jirovecii pneumonia (PJP), that occurs due of extremely weak immune systems. Another early sign of HIV infection was the rare Kaposi's sarcoma (KS), which is a form of skin cancer. As the two diseases became more common, a taskforce was established in 1981. The media initially referred to the disease as the "gay-related immune deficiency (GRID)." Soon after, the US Centers for Disease Control and Prevention (CDC) named the disease "the 4H disease," as it was disproportionately identified in four communities: homosexuals, Haitians, hemophiliacs, and heroin users. The CDC then established "AIDS" as a more appropriate name for the disease in July 1982.
AIDS Around the World
Data from 2016 shows that approximately 36.7 million individuals throughout the world live with the virus and that it led to the deaths of about one million people that year. Compared to 2015, the number of infected individiuals in 2016 had increased by 300,000. Data also shows that most infected individuals reside in sub-Saharan Africa with Swaziland, Lesotho, and Botswana having the highest rates of HIV/AIDs. Sadly, since its relatively recent discovery in the early 1980s, about 35 million people around the world have succumbed to the disease. This figure makes HIV/AIDS one of the most significant pandemics in human history.
Despite major leaps in scientific discovery, a cure for the disease remains elusive, although medications to mitigate its symptoms are now available. In most countries, there are now laws and regulations that protect individuals living with the virus, as well as preventing its spread. For example, there are sensitization programs that educate the masses on the disease, such as how it is spread, how to prevent its spread, and how to live with HIV/AIDS.
The virus is spread through contact of bodily fluids such as during unprotected sexual relations, infected blood transfusions, from mother to infant during pregnancy, and through hypodermic needles. As noted above, there are medications to manage symptoms of HIV/AIDS, which allow individuals to live a relatively full normal life. However, without medication, the average survival time is approximately 11 years. World AIDS Day helps the world to remember these facts.
Marking the Day
One of the most common ways of marking the day is by wearing a red ribbon. Another way is to raise money to helps those living with the virus. Beyond World AIDS Day, there are organizations throughout the world that actively work towards these goals throughout the year.
About the Author
Ferdinand graduated in 2016 with a Bsc. Project Planning and Management. He enjoys writing about pretty much anything and has a soft spot for technology and advocating for world peace.
This page was last updated on March 25, 2019.
Citations
Your MLA Citation
Your APA Citation
Your Chicago Citation
Your Harvard Citation
Remember to italicize the title of this article in your Harvard citation.