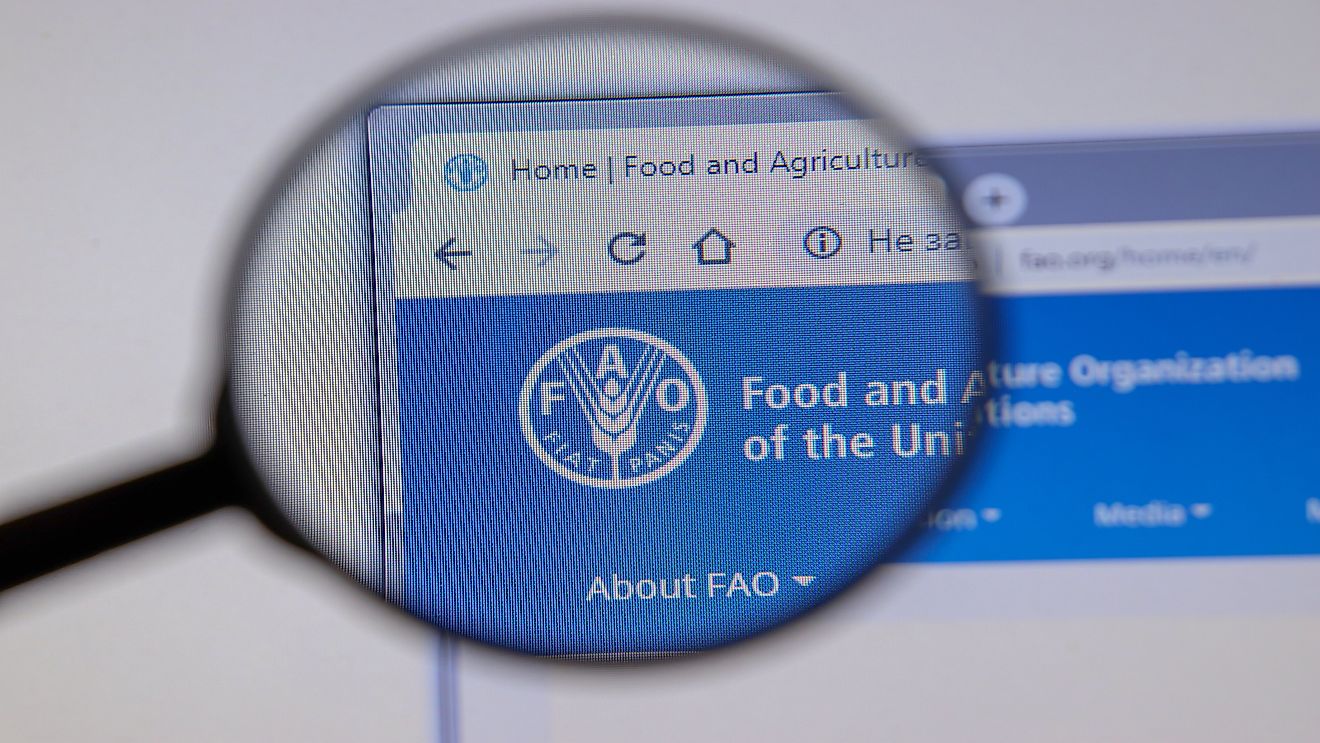 The Food and Agriculture Organization (FAO) is an agency of the United Nations that advocates for international efforts to defeat hunger and to create food sustainability. Headquartered in Rome, Italy, the agency works with local authorities in both developed and developing states to ensure they produce enough food and have sustainable forms of agriculture. It also offers a neutral forum for countries to debate policies related to food production and sustainability. The FAO provides a body of knowledge that members can draw on for information about the transition, improvement, and modernization of agriculture, fisheries, and forestry to ensure food security and nutrition for the general population. As of August 2019, the FAO has 197 members, which includes 194 member countries, the European Union (EU), which is classified as a member organization, and two associate members. Additionally, the FAO is represented in over 130 states and employs more than 11,500 people.
History
The idea of establishing an international organization related to food and agriculture emerged in the late 19th and early 20th century when world leaders realized that inadequate food supply was a global problem. American agriculturalist David Lubin led the campaign, and in 1905 King Victor Emmanuel III of Italy created the International Institute of Agriculture (IIA). In 1943, US President Franklin Roosevelt gathered an international conference of 44 governments to formulate policy on food security during the peak of the Second World War, and the members committed to founding a permanent international organization to lead the world in food and agriculture. As a result, the Food and Agricultural Organization was established and its constitution drafted on October 16, 1945. The FAO initially focused on supporting agricultural research and providing technical support to member states in order to improve food production and create self-sufficient countries.
Structure and Finance
The headquarters of the newly established organization were moved from Washington, D.C., United States, to Rome, Italy, in 1951. The agency is supervised by the Conference of Member Nations that meets every two years to draft a budget for the next period and assess completed work. A council of 49 member states is elected to serve a three-year rotating term as the governing body, and the agency consists of eight departments. In 1994, the FAO was restructured to decentralize operations to members states in an attempt to streamline procedures, improve effectiveness, and reduce costs. Member countries fund the budget through recurrent contributions as set out by the Constitution of the Food and Agriculture Organization. The budget covers technical work, advocacy and policy, knowledge exchange, security and governance, administration, and cooperation programs. The total budget for the 2018-19 period was set at approximately USD 2.6 billion. About 40% of this total was contributed by the funding obligations of members, while 60% came from voluntary contributions.
Activities of FAO
The FAO is present in more than 30 countries and works with local authorities and governments to improve food production and sustainability. The agency educates both commercial and subsistence farmers on improved methods of farming, as well as technical support. In addition to food production, the organization also help farmers construct irrigation systems, food storage facilities, as well as a market for their produce.