What Is The African Renaissance Monument?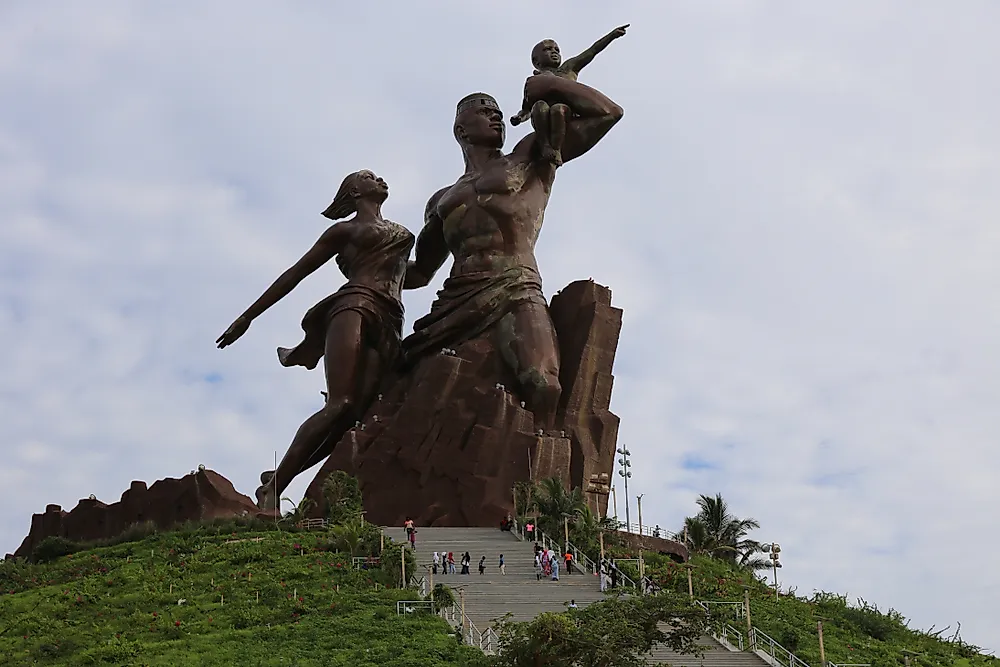 The African Renaissance Monument in Dakar, Senegal is the tallest statue in the African continent. It was constructed at a cost of US$ 27 million. The 160-feet bronze statue stands on the peak of the Collines des Mamelles hills in the Senegalese capital, Dakar. Pierre Goudiaby of Senegal designed it based on the ideas of President Wade. The monument was constructed by a North Korean company named Mansudae Overseas Projects. Site preparation began in 2006 on the 330 foot hill but the construction of the statue began on April 3, 2008. It was scheduled to be complete by December 2009, but due to delays the construction ended in early 2010. It was formally dedicated on April 4, 2010 the country's "National Day." April 4, 2010 marked 50 years of self-rule since Senegal gained independence.
Construction
A 4.7-inch thick metallic sheet was the main material used during construction. The monument was designed to depict family emerging from the mountaintop; a man, a woman, and a child held on the man's left hand face the sea. After the North Korean company completed its construction, it was officially launched by the President Wade who stated that it symbolized a new dawn in Africa.
Unveiling
The monument was officially unveiled On April 3, 2010. Its unveiling was attended by nineteen presidents including the presidents of Malawi; Mbigu Mutharika who was the then Chairman of the African Union. Other heads of state in attendance included the presidents of Cape Verde, Mali, Mauritania, Gambia, Ivory Coast, and several others. A delegation of North Korean officials was also present alongside American Musician of Senegalese descent, Akon. The Senegalese president stated that the statue brought life to the African destiny and that Africa was ready to take shape its destiny. President Mutharika noted that the monument belonged to Africa as a continent.
Criticism
Thousands marched on the streets of Dakar criticizing the government for erecting the statue despite the stringent economic problems facing the country. The protestors clashed for several hours with the antiriot police. The opposition described the statue as a financial circus that would lead the nation to an economic downhill. The statue was also criticized for failing to present the true picture of the African heritage despite the huge cost. The country's opposition leaders described the statue as cartoon-like and said it lacked the features of Africa. Others claimed the monument symbolized chauvinism of African leaders. More controversies marked the statue after the international community revealed that an architect from Romania had designed the statue and not a Senegalese as stated earlier. The local religious leaders stated that the statue idolatrous and portrayed Africans in despair because of the nude figures of the man and the woman.