What Continent Is Croatia In?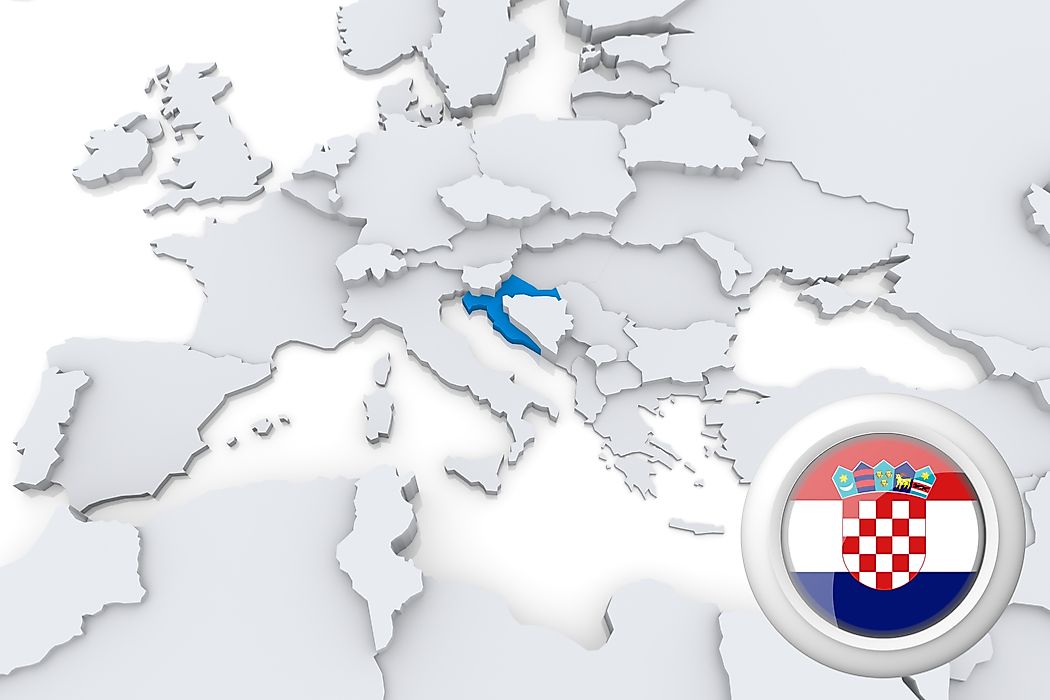 Croatia is a country located in central and southeast Europe. It borders Hungary to the northeast, Bosnia and Herzegovina to the south East, Serbia to the East, Montenegro to the southeast, Adriatic sea to the southwest, and Slovenia to the northwest. It lies between latitudes 42° and 47° North and longitudes 13° and 20° East. Croatia is the 124th largest country in the world with an area of 21,851 square miles. The country has a population of 4.1 million and a population density of 196.3 square miles. Croatia's capital and largest city is Zagreb.
Climate
Croatia's climate is characterized by a moderately warm and rainy continental climate, with mean monthly temperatures ranging between 27°F in January and 64°F in July. The coldest places are Lika and Gorski Kotur, while the warmest areas are along the Adriatic coast, especially the immediate hinterland which is characterized by the Mediterranean climate.
Origin
Croatia is believed to have been inhabited around the 7th century, and had already been established as a kingdom by 925. There are two theories explaining the origin of Croatia's ethnic groups. The Slavic theory is the most widely known, and it proposes that white Croats migrated from white Croatia during the migration period. The other theory, Iranian theory, proposes Iranian origin and derives evidence from the Tanais tablets containing Greek inscriptions and their interpretation as anthroponyms of Croatian people.
Population
Croatian population is the most homogenous of the former Yugoslavian countries with 90.4% Croats, 4.4% Serbs, and 5.9% Romani, Italians, and others. In 2012, the average life expectancy at birth was 78 years. Croatia's fertility rate is the lowest in the world, with 1.5 children per mother. According to a UN report, Croatia's natural growth rate is negative. Croatia's population decrease is as a result of Croatia's war for independence, where thousands of Croatians were either killed or displaced from their homes, increasing emigration. It is also estimated that Croatia's population may shrink by 2051. Croatia has no official religion, but the majority of its citizens are Roman Catholics. Few Croats claim to have no religion while a majority claim to be Christians. Followers of the Muslim faith only account for 1.47%.
Independence and Government
Croatia declared its independence from Yugoslavia on June 25 1991, but was not implemented until October 8 the same year. Croatia's war for independence ended in August 1995, after its diplomatic recognition by both the European Economic Community and the United Nations.
Croatia is governed under a parliamentary system. The Parliament, also known as sabor, have from 100 to 160 members, who are all elected by a popular vote to serve four year terms. Their sessions take place from January 15 to July 15, and September 15 to December 15. Croatian government powers are divided into legislative, executive, and judiciary powers. The president is elected to a five year term, and is limited to two terms according to the constitution. The president, who is also the Head of State and the Commander in Chief of Croatia's armed forces, has the procedural duty of appointing the prime minister with the Parliament's consent.
The prime minister is the head of the government, and has 4 deputy prime ministers and 16 ministers in charge of different sectors. The current president, Kolinda Grabar-Kitarovic was elected on January 11, 2015, and took an oath of office on February 15, 2015. The current prime minister, Andrej Plenkovic has been in office since October 19, 2016.
Economy
Croatia has a developed economy with a high human development index. Croatia's economy is classified as a high income economy, with a nominal GDP of $51.945 billion and $12,405 per capita. It is ranked 81st and 57th in the world respectively. Croatia also has a purchasing power parity GDP per capita of $24,405 and a total of $100.006 billion annually.
Croatia is famous for its beautiful tourist destinations which attracts over 11 million tourists a year. Croatia's tourism business contribute up to 20% of the total GDP.