What Are The Major Natural Resources Of Tuvalu?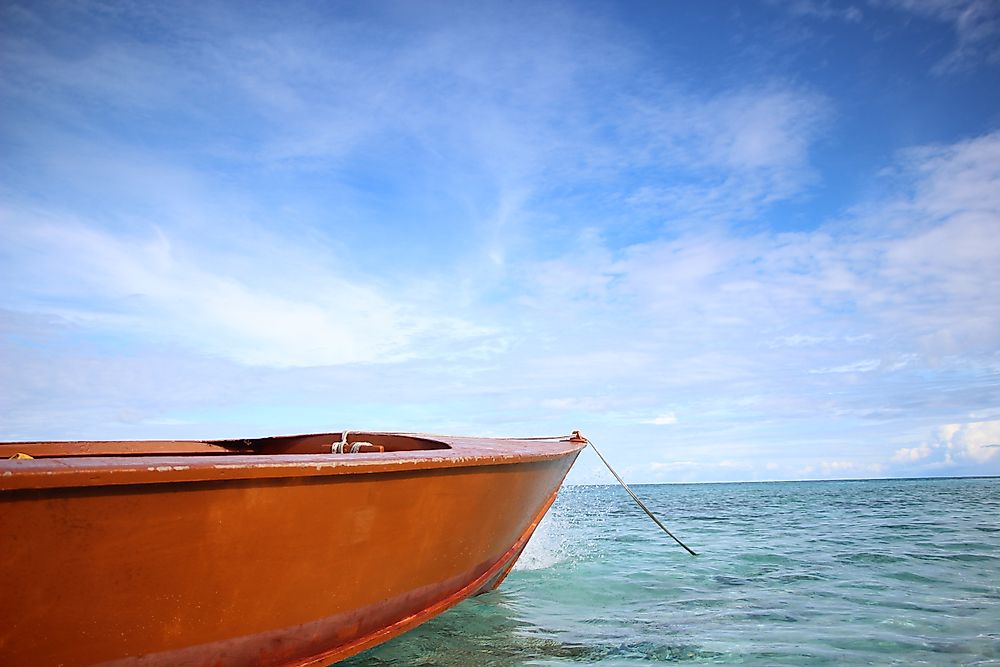 Tuvalu is an island country in the Pacific Ocean, located roughly midway between Australia and the US state of Hawaii. It is bordered by the Santa Cruz Islands, Nauru, Samoa, Kiribati, and Tokelau. The island country is composed of three reefs and six atolls, and has a total land area of approximately 10 square miles (26 sq km). It had a population of approximately 11,192 people (2017), making it the 196th most populous country in the world. Tuvalu's economy is limited by its remote location and lack of economies of scale. 
Fisheries
Tuvalu's small land area limits the potential of terrestrial economic development activities such as agriculture. Therefore, the country's economic activity is closely linked to fishing resources, which are contained within its large exclusive economic zone (EEZ) that covers approximately 900,000 square kilometers. Tuvalu's economy, livelihood, dietary health, and food security depend largely on marine resources. About 42% of the population is directly involved in fishing activities at various levels. The gross value of fishing is estimated at US$ 44 million (2007). Fishing access and license fees paid by vessels catching tuna within Tuvalu's EEZ are a main source of non-aid revenue to the government. Commercial fishing in Tuvalu consists of longline tuna fisheries, and is usually conducted by foreign vessels that operate under the access agreement. Domestic fishing is still small in scale and dominated by subsistence activities.
Agricultural Land
Tuvalu has a total area of approximately 26 square kilometers. Despite its small land size, agriculture still remains a major economic activity. The majority of Tuvalu's population are involved in traditional agriculture and fishing. In fact, about 75% are engaged in agricultural production, as subsistence farming is the country's main source of food and income. Copra production, which is part of the coconut, provides the country's only true export. Agriculture accounts for about 20% of Tuvalu's GDP, but is limited by the size and poor quality of the land. 
Marine Region
Although Tuvalu is a small country, covering an area of only 26 square kilometers, it has one of the largest marine regions in Oceania. Also referred to as an exclusive economic zone (EEZ), Tuvalu's marine region covers an area of approximately 900,000 square kilometers of ocean, which is almost 34,000 times larger than the size of its land area. An EEZ is a zone within the sea prescribed by the UN Convention on the Law of the Sea, over which a country has rights in terms of exploration and use of marine resources. Tuvalu's EEZ is the 38th largest in the world (France has the largest). Additionally, Tuvalu's EEZ contains its largest economic resource, fishing, which is a major source of revenue for the government. Foreign states and corporations pay access and fishing fees to allow their vessels to catch tuna within the EEZ. The government, through the Fisheries Department, acts as the custodian and manager of the country's EEZ.
Beaches
According to the United Nations World Tourism Organization (UNWTO), Tuvalu was the world's least visited country in 2016, receiving less than 2,000 visitors. Although tourism is not significant in Tuvalu because of its remote location, the country is an ideal getaway in South Pacific. The overlooked island country has some of the most beautiful beaches in the Pacific. The golden beaches of Tuvalu are often less crowded and have crystal clear waters that are ideal for sport and recreation. Some of the long beaches in Tuvalu are located near Nakufetau, in the eastern part of the country. However, the rising Pacific Ocean, frequency of cyclones, and El Nino have made these beaches more dangerous to visit.
Climate
The climate of Tuvalu is characterized by two distinct seasons: dry and wet. The dry season runs from May until October, while the wet season lasts from November until April. The island country receives heavy rains between October and March, a period known as "Tau-o-lalo." It also experiences the effects of La Nina and El Nino, which are caused by changes in ocean temperature. The effects of El Nino can cause tropical storms and cyclones, while La Nina can lead to severe drought. Tuvalu receives a monthly mean rainfall of between 8 to 16 inches. In 2011, a weak La Nina event caused a major drought, leading to rationing of fresh water in Nukulaelae and Funafuti.