Economics
What Are The Major Natural Resources Of Haiti?
Oil and natural gas are some of the natural resources of Haiti.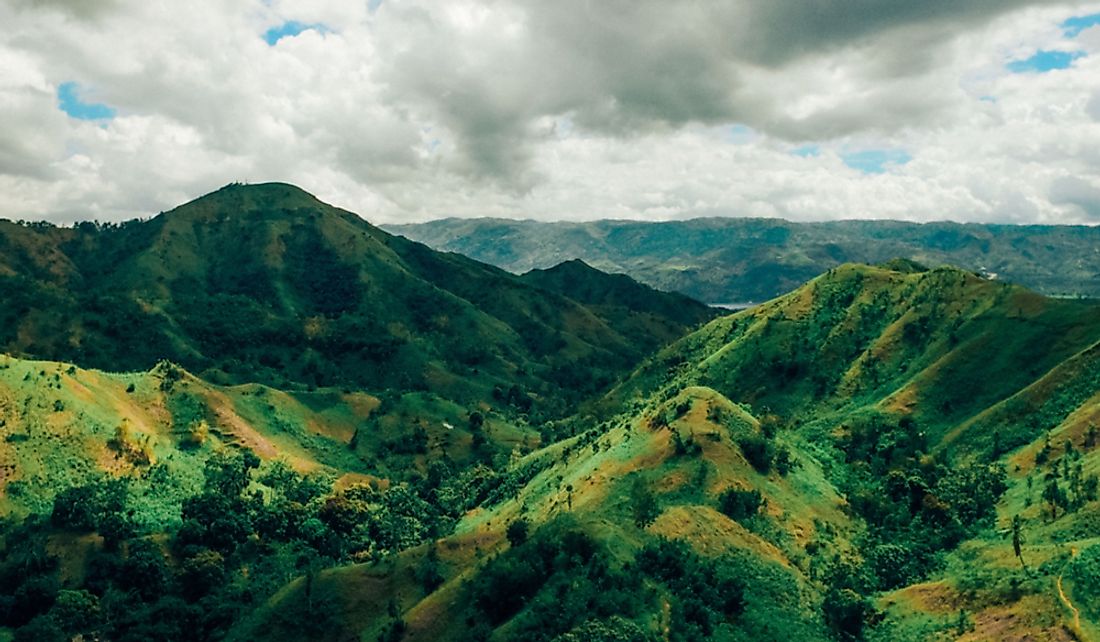 Haiti is a Caribbean nation located in the Greater Antilles archipelago. The nation shares the island of Hispaniola with a counterpart Caribbean nation of the Dominican Republic. The country occupies an area of 10,714 square miles and has a population of 10.8 million inhabitants. The country is regarded as a free market economy and has a preferential trade agreement with the US which allows for tariff-free access to its exports to its larger northern neighbor. The country has a GDP of $19.93 billion (PPP) and a GDP per capita of $1,800. The services sector contributes an overwhelming 57.3% to the total GDP while agriculture and industry contribute 21.9% and 20.8% respectively. The nation mainly exports essential oils, apparel, coffee, cocoa, bitter oranges, and mangoes. The mining sector remains largely untapped.
Haiti's Natural Resources
Oil and Natural Gas
A recent finding has shown that the nation of Haiti might have some of the largest oil reserves in the world. The oil reserves are estimated that they could be larger than those of Venezuela. Nations that are found close to the Greater Antilles such as Puerto Rico, Cuba, Dominican Republic, and Haiti are estimated to be sitting on natural gas of about 159 billion cubic feet and oil of about 142 million barrels. It is also estimated that undiscovered reserves could hold as much as 941 million barrel of crude oil and natural gas thought to be about 1.2 trillion cubic feet. Areas thought to be rich in oil include the Central Plateau, the bay of Port-Au -Prince, Thomond, and the Cul-de-sac plain. Daniel Mathurin, a French scientist has compared Haiti's oil reserves to a swimming pool compared to those of Venezuela which he likened to a glass of water.
Twenty oil sites have been already identified for potential drilling with 5 of them being considered crucial. Scientists have supported the likely hood of massive oil reserves in Haiti since it has been found that areas where tectonic plates meet in the ocean often hold huge amounts of hydrocarbons ready for exploitation. It is thought that the earthquake that shook the nation recently could have allowed oil to seep into the fault lines. Scientists from various companies are currently studying the fault line from Port-au-Prince onwards to try and find areas with unexploited deposits that are ripe for drilling. At least 3 million barrels have been discovered in what is regarded as shallow formations just off the nation's shores. The Oil Trade Journal of 1919, however, suggests that oil was discovered in the nation of Haiti long before the current oil rush in the nation. The journal indicates that oil seepages were noticed coupled with natural gas seepages that often amazed local natives. The oil deposits are expected to boost the nation's economy and improve the living standards of the nation's population which still has to suffer through poverty.
Gold
The nation of Haiti is thought to have gold deposits worth about $20 billion. Companies such as Majescor Resources from Canada have already bought rights to prospect 173 square miles of the island for gold. Initial sample results have shown that there are areas with high gold concentrations. The nation's vulnerability to geological events such as earthquakes also means that the nation and its neighbors in the region where massive tectonic plates fault lines form deposits for gold veins which are presumably pushed up from the earth inner layers during geological events. This theory is supported by finding in Chile where massive copper deposits are found. Geologists have also observed borders covered with an oxidized blue-green copper coating which indicates that there might be deposits of precious metals such as copper held in deeper layers.
At a site in Trou du Nord, samples taken from 160 feet below the surface shows that the rocks are peppered with gold. Gold was initially mined on the island in the 1500s by the Spanish following its discovery of the rare metal on the island by Christopher Columbus. Later the Spanish moved to richer deposits in Mexico. The United Nations had also indicated that the nation had significant gold deposits in 1970, but foreign investors were wary of investing in exploration due to an unfavorable political climate and corruption in the nation. Following foreign donation, the government has been put on the global spotlight, therefore, allowing investors to invest in gold mining. Reports from two sites have revealed at least 1 million ounces of gold. So far only SOMINE Company has full concessions to exploit the resources.
Copper
The Meme copper mine was exploited in the 1960s and produced at least 2 million metric tons of 2% copper. Studies in 1987 by the Eurasian Minerals company in the areas near the Meme mine indicated that the area had 1.5 million metric tons of 2% copper. Areas in the northwest trending zone of the formation are also considered to have substantial copper deposits from three small intrusions. The Grand Bois property also returned results indicating significant 0.44% copper deposits. A 2.3 mile wide and 6.2 mile long northwest trending copper corridor was also discovered by the Canadian Majescor company. The corridor lies in areas that have the Blondin and Douvray gold and copper deposits as well as the Faille B gold prospect. Other copper deposits have also been found on the South West extension. Samples from the Dos Rada indicate deposits with 18% copper. The Ti-toro copper bearing which measures 1,148 feet wide and 1,968 feet long was also discovered by the same company. Other deposits that have been discovered include the Grosse Viene which has deposits with 5.8% copper.
Concerns About the Impending Mining Boom
Haiti has considerable deposits of limestone and marble. The nation is home to the Cervicos limestone formation which dates back to the Paleogene period. These resources, however, are not fully tapped as the nation still imports building material such as cement for domestic use. Various stakeholders have voiced their concern over the impending displacement of locals from their land to pave way for mining activities by foreign companies. Other concerns that have been raised include environmental degradation as a result of mining activities. Experts are also concerned that the nation's weak mining laws will allow exploitation of resources with little benefit to the nation's population.
.
What Are The Major Natural Resources Of Haiti?
Haiti is rich in natural resources including arable land, oil, natural gas, gold, and copper.
About the Author
Benjamin Elisha Sawe holds a Bachelor of Arts in Economics and Statistics and an MBA in Strategic Management. He is a frequent World Atlas contributor. 
This page was last updated on January 17, 2019.
Citations
Your MLA Citation
Your APA Citation
Your Chicago Citation
Your Harvard Citation
Remember to italicize the title of this article in your Harvard citation.