What Is the Capital of Texas?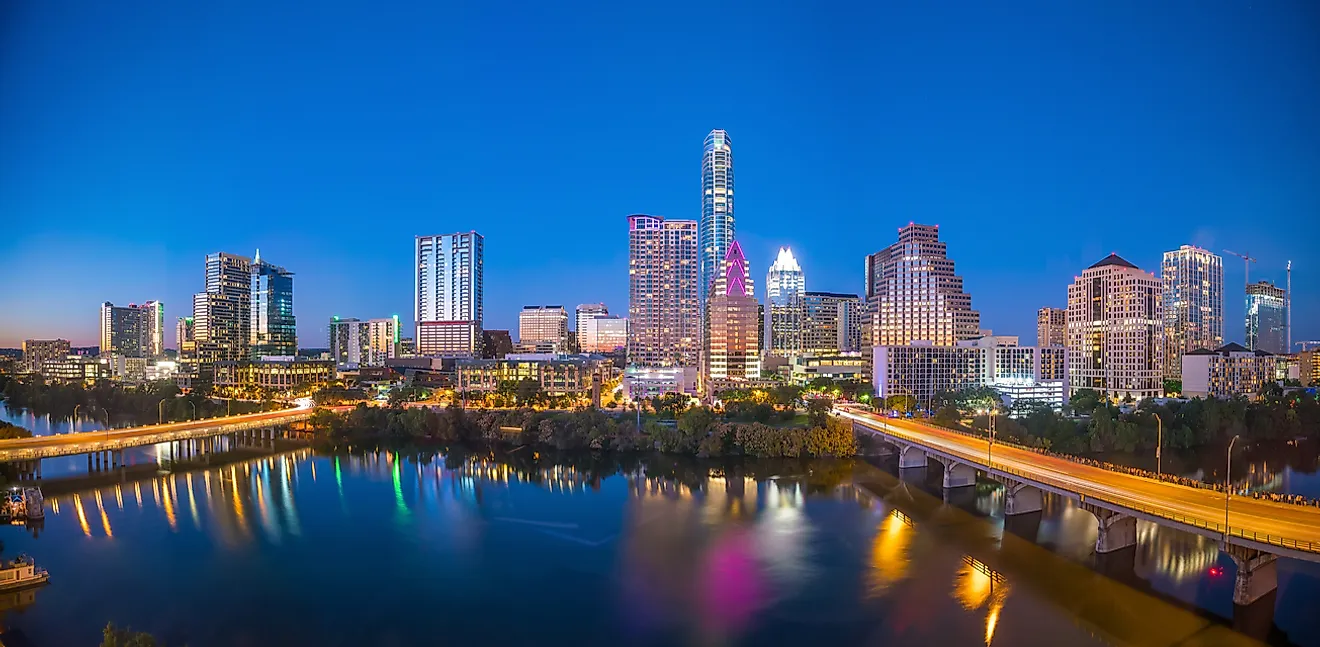 Texas is a state in the southern United States, and it is the second-largest state in the country by population and land area. Texas occupies a total area of 268,820 square miles and has a population of 27,862,596 people according to the most recent 2016 census. Austin is the state capital of Texas and serves as the seat of Travis County. The Austin-Round Rock metropolitan area has a total population of 2,056,405, which ranks fourth highest in the state. Texas has previously had many other state capitals prior to Austin.
History of the State Capital of Texas
Texas gained its independence from Mexico in 1836 and became an independent Republic. It became the 28th state of the US, and it has since had many capitals. Prior to independence, state capitals have included Monclova Coahulia, Los Adae, San Antonio, San Felipe de Austin, Harrisburg, New Washington, and Velasco. In 1836, Columbia became the first capital of the elected government of the Republic of Texas. From 1837 to 1839, Houston was named state capital. Since 1839, Austin has served as the capital of Texas.
Austin
The city of Austin was named after Stephen F. Austin, who is also known as the father of Texas. It is the second largest state capital in terms of population, after Phoenix, Arizona. Austin is located in the central part of the state, in the foothills of Texas Hill Country. The city developed due to the many rivers, lakes, and waterways in the region, which include Lake Austin, Ladybird Lake, Lake Marble Falls, Lake Georgetown, Canyon Lake, Devil's core at Lake Travis, Plugerville Lake, Quarry Lake, and Lake Buchanan. The city is a home to 947,890 people, and is the fastest growing large city in the United States. The city of Austin is home to the headquarters or regional offices of many Fortune 500 companies, including eBay, Cisco, Apple, IBM, Amazon, Google, PayPal, 3M, Oracle Corporation, Intel, Cisco, and Texas Instruments. The global headquarters of Dell is located in the suburbs of Austin.
Cultural Significance of Austin
The city has many museums and cultural centers including George Washington Carver Museum and Cultural Center, which receives millions of visitors every year. Other museums include Henry Museum and Susanna Dickinson Museum which celebrate Texas's historical heritage by providing educational programs to the citizens of Austin. Austin holds cultural events and festivals almost every month of the year, as the city refers to itself as the Live Music Capital of the World. A great example of this is Austin's annual South by Southwest (SXSW) music festival.
Notable Sites in Austin
The city has many famous sites, museums, lakes, and hotels. The University of Texas at Austin is an education center and has beautiful sights and landmarks.
The university includes the Texas Memorial Museum, which has historical monuments and galleries that offers historical education to the students.