What and Where Is the Fort Pulaski National Monument?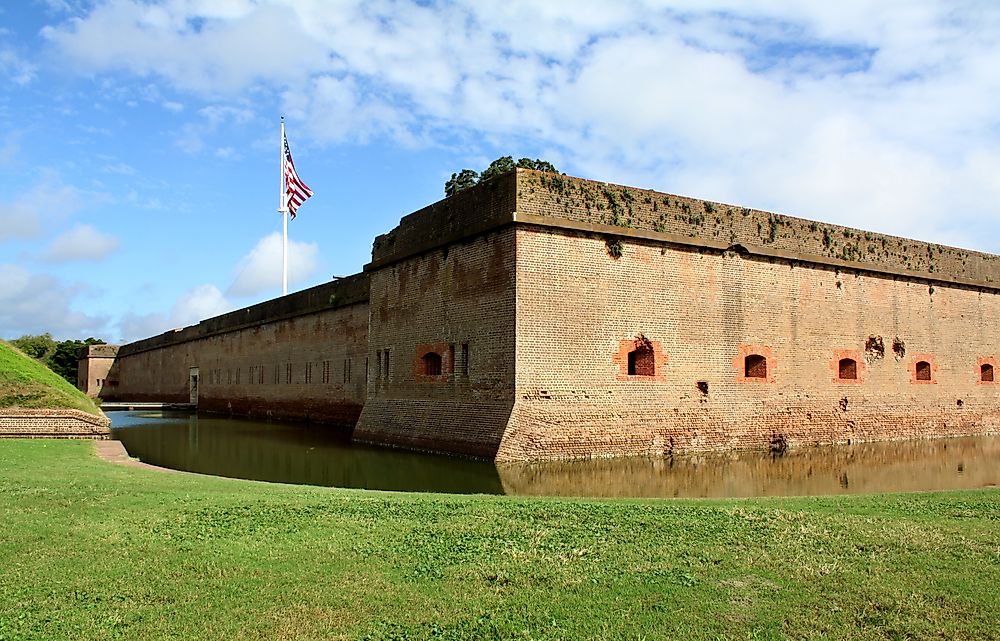 Fort Pulaski National Monument is located on Cockspur Island in Savannah, Georgia, US. The monument preserves Fort Pulaski which played a significant role during the American Civil War in 1862. First, the fort was a prisoner-of-war camp. Secondly, the Union Army tested the rifled cannon on the fort which turned out to be very successful. Consequently, brick fortifications commonly used at the time were rendered obsolete. Fort Pulaski National Monument includes a significant portion of the Cockspur Island and McQueen's Island. It covers 5.623 acres of land area and is governed by the National Park Service.
Construction of Fort Pulaski
The construction of Fort Pulaski started in 1829 following an order by President James Madison. The purpose of having the fort was to protect the US, specifically the port of Savannah, from overseas enemies. It was built under the direct supervision of Major General Babcock and Second Lieutenant Robert Lee. The fort was named after a seasoned cavalryman known as Kazimierz Pulaski. Mr. Pulaski was a Polish soldier who fought the American Revolution. Constructed according to the Third System, Fort Pulaski was among the strongest fortifications that existed at the time.
The Civil War
Fort Pulaski was a Confederate prison camp from 1861-1862. It had been taken over by the state of Georgia which joined the Confederate States of America in 1861. On April 10, 1862, the Union Forces asked Colonel Charles Olmstead to surrender Fort Pulaski. However, the colonel refused to surrender leading to a bombardment of the fort that lasted 30 hours. The Union troops used newly devised rifles that were larger and more efficient than the cannonballs used previously in war. Led by Quincy Gilmore, the attack by the Union forces destroyed the Fort Pulaski's brick walls. Colonel Olmstead finally surrendered; a decision that he regretted for the rest of his life. In fact, the loss of the Savannah crippled the Southern war effort. In the end, they were defeated by the Union forces. After the Civil War, Fort Pulaski remained a political and military prison for some time. The siege of Fort Pulaski was a landmark experiment with regards to military science and innovation.
National Monument
During the 20th century, the state of the fort was ugly due to lack of repair. Consequently, President Calvin Coolidge pronounced that the fort would be a national monument. Subsequently, Fort Pulaski was transferred from the War Department to the US National Park Service. Repairs and rehabilitation of the fort went on from August 10, 1933. Fort Pulaski was opened to the public shortly before the World War II and later on in the 1980s.
Use in Film Production
The Fort Pulaski has been used to shoot two movies. The first movie shot was Robert Redford's movie called "The Conspirator." It was filmed in November 2009. The second movie was produced in 2012 and was titled "Abraham Lincoln vs. Zombies."