US States With The Most Publicly Owned Land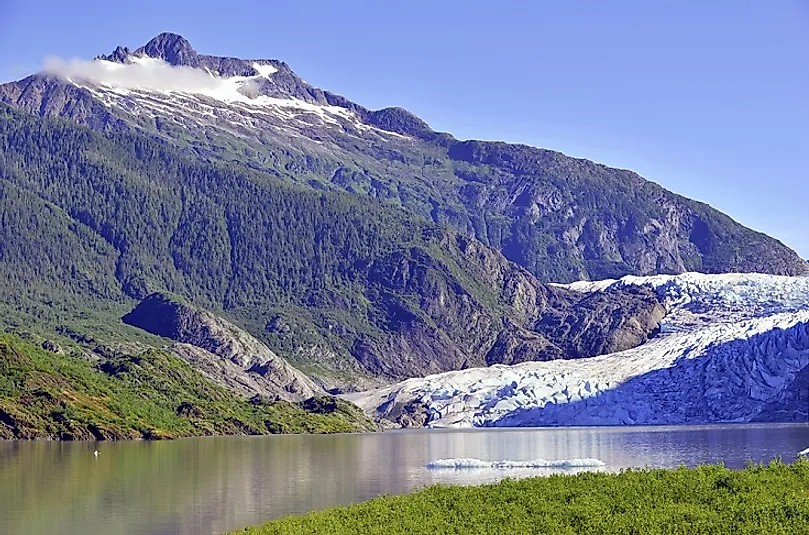 10. New York - 11,174,550
The state of New York encompasses an area of 54,555 square miles, and is home to a population of almost 20 million people. Depending on the particular site therein, publicly owned land in New York is managed by either federal, state, or municipal governments. The Department of Environmental Conservation is responsible for the majority of New York's public land, and this authroity operates at the Federal level. About four million acres of the state's land is devoted to providing citizens with opportunities to immerse themselves in nature. Residents can utilize these areas for recreational activities such as hiking, hunting, camping, and bird watching. In the popular Adirondack and Catskill Parks, for example, the Federal government manages 52 campgrounds. Publicly owned land in New York has also been set aside for the purpose of wildlife management, which aims to conserve and protect local forest areas.
9. Colorado - 26,458,890
Colorado is well known for its snowy mountains, skiing, and luxurious resorts. Beyond these, the state also boasts of having a large number of publicly owned nature parks and recreation areas. A large portion of this public land has been set aside to facilitate the hunting of native game, such as deer, black bears, elk, moose, and mountain lions. The state's parks are governed by Colorado's Parks and Wildlife, which hosts a large variety of events and festivals, including the Bald Eagle Festival in Barr Lake State Park, Big Horn Sheep Day in Colorado Springs, and the Yampa Valley Crane Festival in Steamboat Springs. Publicly owned parks not only serve to preserve nature in Colorado, but also to educate citizens and provide scientists with opportunities to conduct valuable research.
8. New Mexico - 31,554,720
New Mexico is located in the Southwestern United States, and has been nicknamed the "Land of Enchantment". Its history is steeped in Native American (particularly the Navajo, Apache, and Pueblo tribes) as well as Hispanic cultures. Information concerning the state's 300 plus publicly owned land sites can be accessed through the New Mexico Public Lands Information Center, which is located in Santa Fe. Areas such as canyons, deserts, lava flows, badlands, monuments, and conservation lands are managed by the Federal Bureau of Land Management. The most popular trails in New Mexico, including the Continental Divide, Old Spanish, and El Camino Trails, serve to highlight the state's diverse environment and rich cultural legacies.
7. California - 42,288,380
California is known as the "Golden State", and is home to more people than any other state in the country.The state's most visited national monument areas include Fort Ord, the Headwaters Forest Reserve, and the King Range Conservation Area. Besides park lands, the Bureau of Land Management is responsible for managing and protecting the state's wild horses and burros. Special herd areas have been set aside in order to protect them and ensure their survival. There are also more than 24,000 abandoned mine sites on California's publicly owned lands, most of which date back to the days of the mid-19th Century Gold Rush. The environmental and safety hazards posed by these mines are managed by the state's Abandoned Mine Land Program.
6. Arizona - 38,978,890
The Southwestern U.S. state of Arizona officially became a full state in the U.S. in 1912. Its rich array of publicly owned land includes the tourist mecca of the Grand Canyon, as well as a diversity of forests, mesas, volcanic mountains, and deserts. Public land has been set aside as a means to conserve and protect Arizona's natural environment, as well as to provide areas where species such as big horn sheep, Mexican wolves, and even jaguars can roam freely. Land is also used to provide local citizens and visitors alike with plenty of open space in which to participate in outdoor recreational activities, such as hiking, fishing, and camping. Public parks and monuments are valuable assets in terms of the state's economy, due to the important role they play in Arizona's vital tourism industry.
5. Wyoming - 33,964,230
Wyoming ranks as the least populous of all the U.S. states, with approximately 586,000 people calling the "Equality State" their home. Wyoming's publicly owned land is managed by the Bureau of Land Management, which also oversees the Plant Conservation Program that aims to preserve and protect the state's unique ecosystems and native plant life. Wyoming's National Landscape Conservation System is responsible for maintaining some of the region's most noteworthy sites. Wyoming's public lands are also used to accommodate the state's population of wild horses, some of which are even available for private adoption. Other organizations, such as the Deerwood Ranch Wild Horse Ecosanctuary, are sponsored by the Bureau of Land Management. Deerwood serves to care for some 300 feral horses that once roamed freely throughout the state.
4. Idaho - 35,244,800
The mountainous state of Idaho encompasses an area of about 83,571 square miles. Its natural landscape includes an array of grasslands, hot springs, forests, lakes, and rivers. Among the most popular publicly owned areas include the Craters of the Moon National Monument and Preserve, the Hagerman Fossil Beds National Monument, and parts of Yellowstone National Park. The Morely Nelson Snake River Birds of Prey National Conservation Area is managed by the Bureau of Land Management, and serves as a protected sanctuary for such bird as prairie falcons, a variety of raptors, and golden eagles. Among the animal species which flourish in the state's parks and conservation areas include fish such as bass, salmon, and trout, as well as mammals such as elk, bears, moose, coyotes, and mountain lions.
3. Utah - 37,019,770
Utah occupies an area of 84,899 square miles with a population of almost three million people. In 2012, the Utah Transfer of Public Lands Act was passed, which requires the Federal U.S. government to hand over the majority of its nationally owned land back to the state after 2014. Presently, however, this legislation has been met with a good deal of controversy, and has yet to result in all of the disputed property being transferred over to state ownership. The residents of Utah have a reputation for being avid participants in numerous outdoor recreational activities. These include skiing, biking, whitewater rafting, fishing, and bird watching. Some of the most popular public sites in the state involve natural historic attractions, like the Cleveland Lloyd Dinosaur Quarry and the Utah Field House of Natural History.
2. Nevada - 56,972,280
Nevada, officially nicknamed the "Silver State" due to its own mining history, is famous for its gambling casinos and high end resorts. It's also home to some of the most picturesque desert landscapes in the entire U.S. The Federal government manages such sites as the Pony Express National Historic Trail, Death Valley National Park, and Red Rock Canyon National Conservation Area. Nevada is also home to 24 state-owned and -operated parks which provide residents and visitors alike with opportunities to bask in the great outdoors, as well as take part in a variety of recreational activities. In terms of land ownership, Federal property is managed by agencies such as the Bureau of Land Management, the Forest Service, and the Fish and Wildlife Service, as well as the National Parks Service.
1. Alaska - 325,700,000
Alaska is located west of the Canadian province of British Columbia. It holds the distinction of being the largest of all the states in terms of land area, and yet also being the least densely populated in the entire country. Alaska officially became a state in 1959, and was once part of the Russian Empire before then becoming an American Territory prior to statehood. Essential to the operation of public lands there are the Alaska Public Lands Information Centers, which assist, enhance, and educate citizens on the state's parks and natural resources. Key to the establishment of Alaska's public land is the Alaska Natural Interest Lands Conservation Act, which was passed by Congress in 1980. Aside from ensuring that select areas were legally preserved in order to protect the natural ecosystems therein, the act also designated some 50 million acres of land to be officially allocated as "wilderness area".