Dairy Production In The US
The US has a thriving dairy business. The market size of dairy production in the US is $41 billion, with industry employment of just under 140,000 people, working in 39,617 businesses, to produce raw milk for supply. 37,000 of these are farms, which is significantly less than the 3.6 million farms, back in 1930. California, Wisconsin, and Idaho have the highest number of milk cows in the country.
In 2019, the total production of milk in the world amounted to 513.22 million metric tons, with the US being the second biggest producer, at over 99 million metric tonnes - a 0.4% increase from its 2018 total. Of those, California and Wisconsin provided 70 million metric tonnes alone. US exports 14.5% of the milk it produces, with Mexico, Southeast Asia and Canada as the biggest consumers of its dairy products.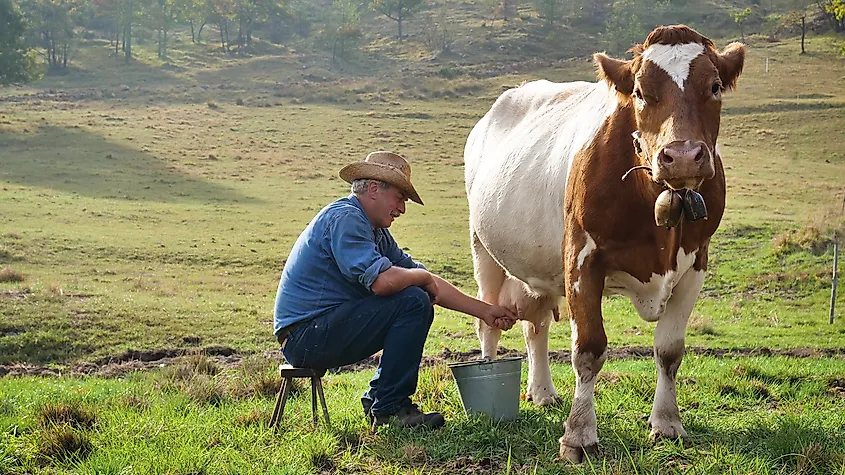 Milk Cows
Also called dairy cattle or dairy cows, they are bred for the ability to produce large volumes of milk for dairy goods and raw milk for sale. Cows are gentle and intelligent creatures, known to produce up to 5% more milk - which equals to an additional litre a day, or extra 258 litres a year - if they are called by their names. However, with fewer dairy farms than before and an abundance of modern-age technologies such as artificial insemination and milking regimes, as well as hormones and even drugs, the cows nowadays produce 4x the amount of milk than the cows milked naturally in 1950.
It is evident, that dairy farming is a competitive and demanding business, also seen in the struggles faced by the top three states in the milk production industry, in the US. As demonstrated below, being top in this industry can come at a high cost, in all senses of that word. 
The Top Three
1. California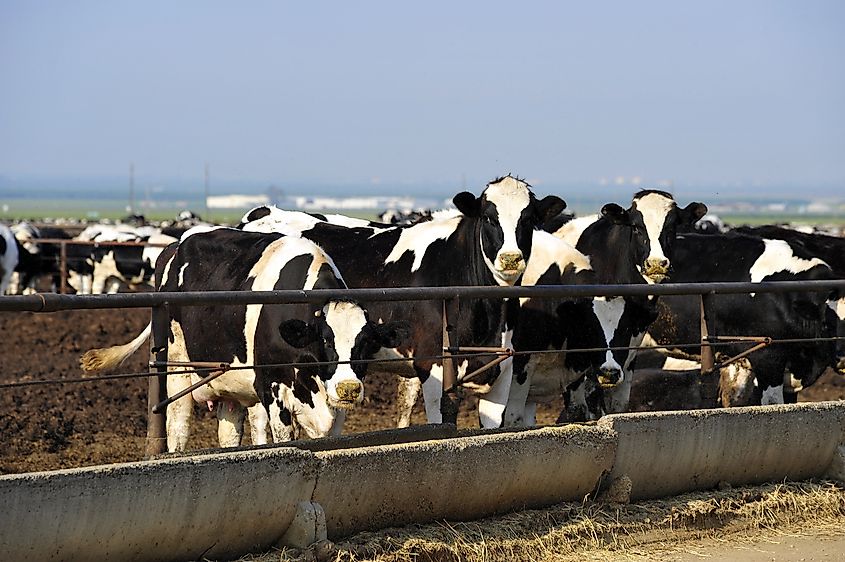 The fact that most milk cattle in California are managed by nearly 1,500 family farms that care about the well-being of each cow, explains why "Happy cows come from California" - all 1,725,000 of them, or just about every fifth milk cow in the US. About 40% of US' dairy exports come from California, while cheese is made from the 45% of California's total milk supply.
Although open pastures and year-round warm weather in this state, ensure abundant grazing for the cattle, there is scientific proof that overexposure to heat causes damage to the lives and the milk production of those cows' future generations. More specifically, the calves of cows that grazed extensively in high temperatures throughout their gestation period are smaller, produce less milk and have shorter lifespans.
2. Wisconsin
Wisconsin is known as America's Dairyland, with over 7,000 farms and 1,263,000,000 milk cows. It is still recovering from when the economic forces caused the milk prices to fall in 2018 in all of the US, due to an over-production of milk. Consequently, this caused some of the struggling farms to shut-down due to inability to withstand the cost-benefit imbalance. This is no surprise, since a farm with (only) 100 milk cows can cost over $600,000 per year to maintain, while the profit may not even reach $20,000.
The costs noted above, incorporate food for the cattle, paid labor (all cows must be milked twice a day), transporting the milk to retailers, and essential repairs to the machinery and the buildings. However, without that investment, which, unfortunately, became the choice for some farmers to deem the farm dysfunctional and seek a change in lifestyle, exiting the industry and finding a new job.
3. Idaho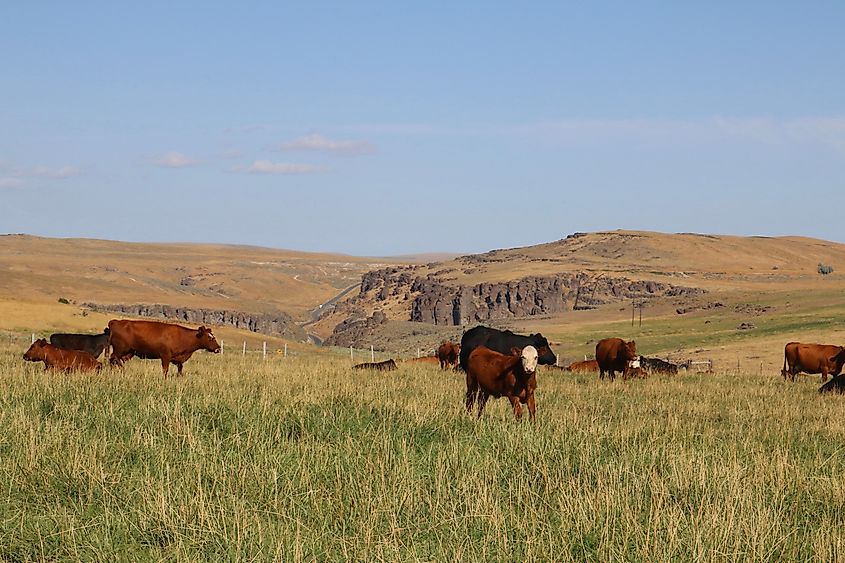 The dairy production in Idaho is divided into three milk-sheds looking after all 635,000 of the state's milk cows: The Magic Valley, The Treasure Valley, and The Eastern Idaho, with the first one managing around 3/5 of all the state's dairies and 3/4 of all its milk cows. As of this May, Idaho produced 1,410 million pounds of milk, a 4.8% increase from the same time, last year. It is also one of the top US producers of cheese, consistently producing over 700,000,000 pounds of cheese a year.
Although third in US' dairy industry by milk cows, Idaho is proud of the fact that its dairy farming provides more than 37,000 jobs, with 85-90% being held by foreign-born workers. However, of those, only about 8,000 are in dairy production, while 4,000 are in processing, and the rest are in supporting businesses.
A Stressful Business
Many farmers do not know how much money they will make until the milk is actually sold, which can take up to a few weeks after it is transported from the farm. Some of them must choose to put off repairs, and attempt to produce even higher amounts of milk - stressing the cows, or using the above-mentioned methods for increased milk production.
At the same time, a surplus of milk has a major drawback - with milk prices dropping, farmers receive an even lower return, while working much harder. Even the well-off farmers are cautiously rethinking their lifestyle choices, as the prediction currently holds that the economic market for dairy will not improve fast enough to meet the multiplying demands of dairy farm-keeping.
Future Of US' Dairy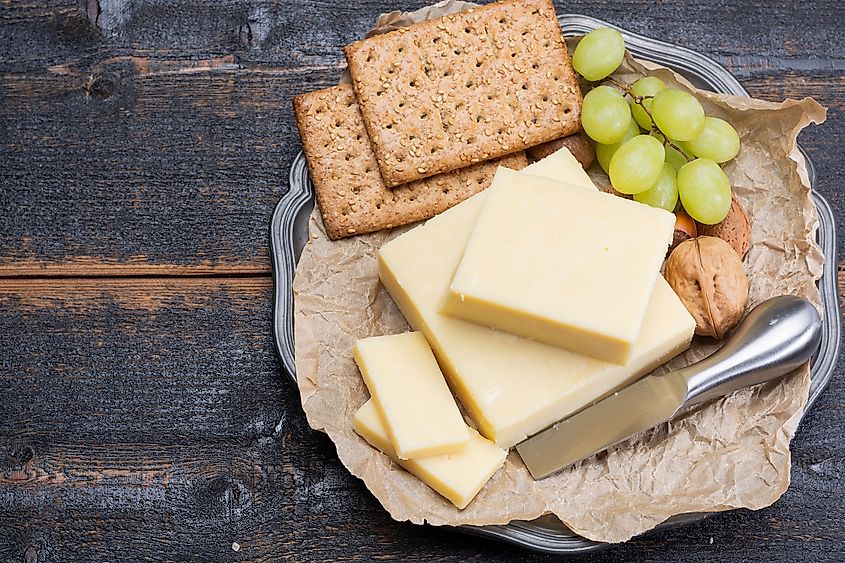 In 2010, the per capita consumption of milk was sitting at 194.9 pounds a year. It is predicted that by 2028, an average person would consume about 40 pounds less. In part, this is due to other milk options being widely available at similar - if not cheaper - prices, as well as, more convenient protein food choice sitting readily on the shelves of most retailers in the US. Nevertheless, cheese, Nestle products, and whole milk jugs remain the most demanded dairy products in the US. Nestle US, Dean Foods - a large competitive retailer of dairy products in the US, and Saputo, are the key market players of the dairy industry, demand for whom, is projected not to seize.