US States By Population Of Hindus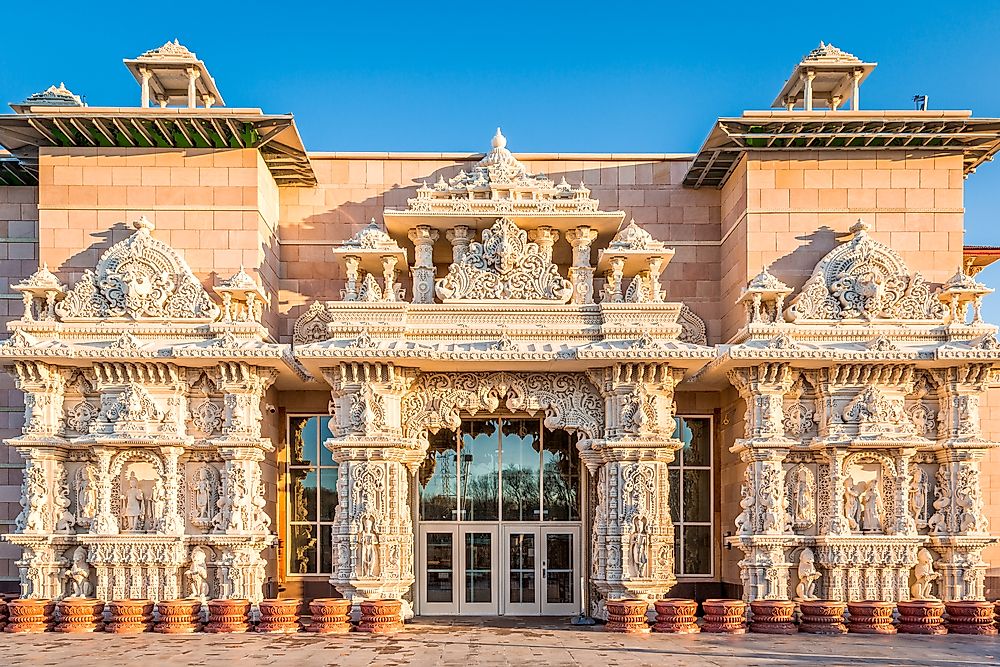 Hinduism is considered a minority religion in the United States. American Hindus account for an estimated 0.7% of the total US population. A majority of American Hindus are immigrants from the South Asian countries of India, Bangladesh, Sri Lanka, Nepal, Pakistan, and Bhutan. Other American Hindu immigrants hail from Indonesia, the Caribbean, Fiji, as well as Southern and Eastern Africa. According to the PEW Research Center, 91% of those who identify as Hindus also identify as Asian. New Jersey has the highest percentage of Hindus at 3% of the state's population followed by California and Delaware both at 2%. The remaining states have Hindu population accounting for 1% or less of the state's total population.
Hinduism in New Jersey
New Jersey has the largest Hindu population by percentage of any US state. The Hindu population accounts for 3% of New Jersey's total population. 
New Jersey is home to the world's largest Hindu Temple, the BAPS Shri Swaminarayan Mandir Temple located in Robbinsville. The spiritual leader and President of the BAPS Shri Swaminarayan Mandir Temple holds the Guinness World Record for creating and consecrating the most temples. His Holiness Pramukh Swami Maharaj has consecrated over 700 temples between 1971 and 2007. The temple is astonishingly large at 133 ft in length, 87 ft in width, and 42 ft in height and covering 162 acres. 
Demographics of American Hindus
The Hindu population in the US is categorized as being the 8th largest in the world. According to the PEW Research Center, American Hindus have the highest rates of household income among all religions in the US. 36% of Hindus in the US reported a household income of $100,000 or more. This can be attributed to the favorable immigration policies accorded to educated Hindus. Hindus are the most educated religious group in the US with 77% having attained a college degree while 48% of the Hindu population has acquired a post-graduate degree.
US States By Population of Hindus
| Rank | State | % of Population Identifying as Hindu (Source: PEW) |
| --- | --- | --- |
| 1 | New Jersey | 3% |
| 2 | California | 2% |
| 3 | Delaware | 2% |
| 4 | Arizona | 1% |
| 5 | Connecticut | 1% |
| 6 | District of Columbia | 1% |
| 7 | Illinois | 1% |
| 8 | Maryland | 1% |
| 9 | Massachusetts | 1% |
| 10 | Nebraska | 1% |
| 11 | New York | 1% |
| 12 | Pennsylvania | 1% |
| 13 | Rhode Island | 1% |
| 14 | Vermont | 1% |
| 15 | Washington | 1% |
| 16 | Alabama | < 1% |
| 17 | Alaska | < 1% |
| 18 | Arkansas | < 1% |
| 19 | Colorado | < 1% |
| 20 | Florida | < 1% |
| 21 | Georgia | < 1% |
| 22 | Hawaii | < 1% |
| 23 | Idaho | < 1% |
| 24 | Indiana | < 1% |
| 25 | Iowa | < 1% |
| 26 | Kansas | < 1% |
| 27 | Kentucky | < 1% |
| 28 | Louisiana | < 1% |
| 29 | Maine | < 1% |
| 30 | Michigan | < 1% |
| 31 | Minnesota | < 1% |
| 32 | Mississippi | < 1% |
| 33 | Missouri | < 1% |
| 34 | Montana | < 1% |
| 35 | Nevada | < 1% |
| 36 | New Hampshire | < 1% |
| 37 | New Mexico | < 1% |
| 38 | North Carolina | < 1% |
| 39 | North Dakota | < 1% |
| 40 | Ohio | < 1% |
| 41 | Oklahoma | < 1% |
| 42 | Oregon | < 1% |
| 43 | South Carolina | < 1% |
| 44 | South Dakota | < 1% |
| 45 | Tennessee | < 1% |
| 46 | Texas | < 1% |
| 47 | Utah | < 1% |
| 48 | Virginia | < 1% |
| 49 | West Virginia | < 1% |
| 50 | Wisconsin | < 1% |