Society
US Cities With the Highest Rates of Public Transit Ridership
According to data provided by the American Community Survey, these cities see the most residents using public transit to get to and from work.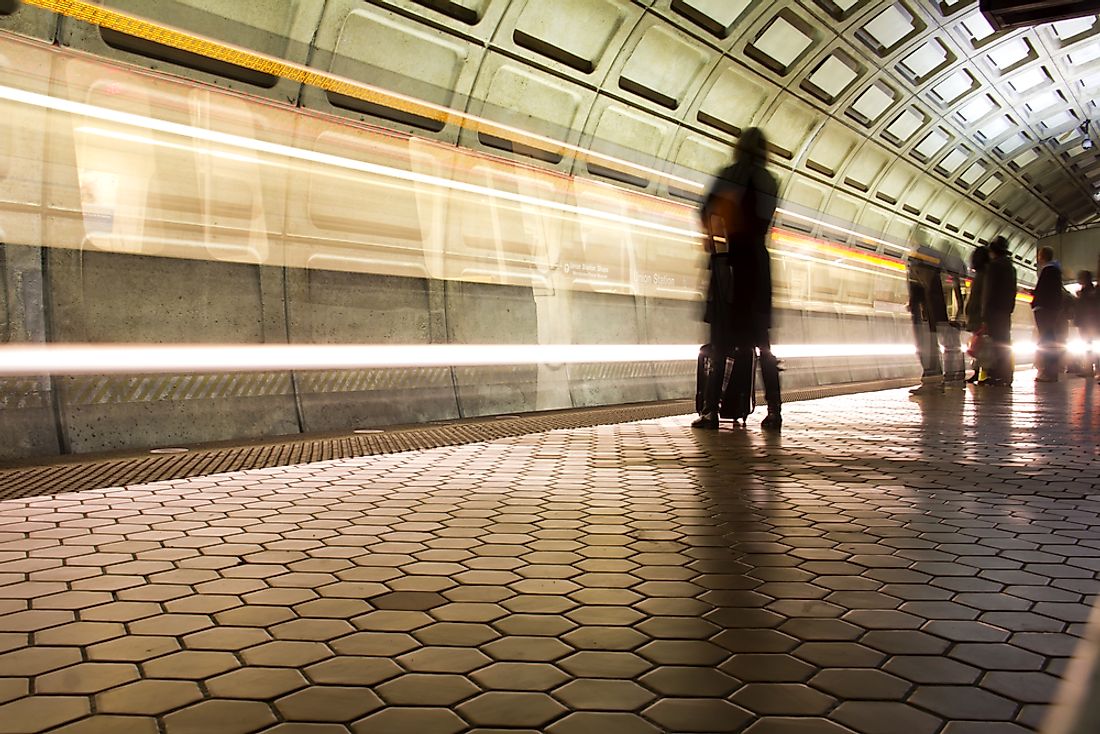 A good and convenient public transport often plays a role in influencing people to move into particular cities. Most individuals look at the availability of public transport before deciding to move into their city of choice. In the United States, public transport is popular and serves many who do not own automobiles or those who wants to save on their expenditure.
Some cities of the United States have displayed a high percentage of public commuters than the rest. Some reasons have caused many to use public transport in these cities. The analysis below shows the cities with the highest percentage of public commuters.
Top 4 Cities For Public Transit Ridership In The US
New York, NY
New York City has the highest population in the United States that amounts to 8,550,405 people. The city has a complex and extensive transport system. Mass transit in the city runs for 24 hours a day and accounts for most of its transport. New York has the largest and the most iconic New York City Subway. This subway is the busiest rail transit in the country, and in 2015; it recorded 1.76 billion passenger rides. New York City has the largest bus fleet in North America. The main bus terminal serves 200,000 commuters and 7,000 buses daily. Public transport is important in New York as in the year 2005, 54.6% of people commuted by mass transit. In New York, 52% of households do not have cars. Hence they spend less on transport compared to other US cities.
Jersey City, NJ
Jersey City is found in Hudson County, New Jersey. It is ranked second regarding population in New Jersey. 46% of commuters in Jersey City use public transport and this represents the second highest percentage after New York City. 40.67% of Jersey City does not own automobiles. The city has 13 stations of the 24 stations of Hudson-Bergen Light Rail and that's the reason rail transport is the most popular in the city. The city has a network of transport by water such as the NY Waterway ferries and the liberty water taxi. Jersey City also has an extensive bus network that has terminals in different points in the city. The cause of the extensive use of public transport is because the majority of households does not own cars and also because the mass transit represents a cheaper option than owning an automobile.
Philadelphia, PA
Philadelphia has a population of 1,567,442 and is the largest city in Pennsylvania. The city is the anchor or culture and economy in the Delaware Valley. The Southeastern Pennsylvania Transport Authority (SEPTA) operates trains, buses, and rapid transit that serve the city. The Greyhound Line is a bus service that provides that operates 24 hours a day offering most of the public transport.Philadelphia has been home for many rail companies over the years that are today under SEPTA. This extensive rail transport provides a majority of the public transport and that is the reason the Philadelphia comes third with 39.19% of commuters using public transport.
Other countries that are also has a high percentage of public transport include San Francisco, Boston, and Arlington who have over 28% of their commuters using public transport.
Conclusion
According to numerous researchers, households near public transport outperform those that are far from it. Also, the use of public transport represents a cheaper way of transport unlike owning a car that could be expensive to purchase and maintain. It is also evident from the above analysis that a good and extensive public transport is a big contributor to a city's economy as in the case of New York City. Public transport also helps reduce the level of dangerous smoke emitted to our environment because it reduces the number of cars out there. It is, therefore, important for a city to embrace the development of a good and extensive public transport.
Which City Has the Highest Rate of Public Transit Ridership in the US?
New York rides public transit more than any other city in the US. In New York, 52% of households do not have cars.
US Cities With the Highest Rates of Public Transit Ridership
| Rank | City | Public Transit Use (%) |
| --- | --- | --- |
| 1 | New York, NY | 55.66 |
| 2 | Jersey City, NJ | 45.82 |
| 3 | Philadelphia, PA | 39.19 |
| 4 | San Francisco, CA | 34.05 |
| 5 | Boston, MA | 32.82 |
| 6 | Arlington, VA | 28.54 |
| 7 | Washington, D.C. | 26.61 |
| 8 | Cambridge, MA | 26.6 |
| 9 | Newark, NJ | 26.5 |
| 10 | Chicago, IL | 26.5 |
| 11 | Yonkers, NY | 24.95 |
| 12 | Daly City, CA | 21.45 |
| 13 | Hartford, CT | 21.19 |
| 14 | Alexandria, VA | 21.12 |
| 15 | Seattle, WA | 18.19 |
This page was last updated on August 1, 2017.
Citations
Your MLA Citation
Your APA Citation
Your Chicago Citation
Your Harvard Citation
Remember to italicize the title of this article in your Harvard citation.