Society
U.S. States Where Marijuana Is Legal
Eight U.S. states and the District of Columbia have legalized the use and/or possession of cannabis to varying degrees.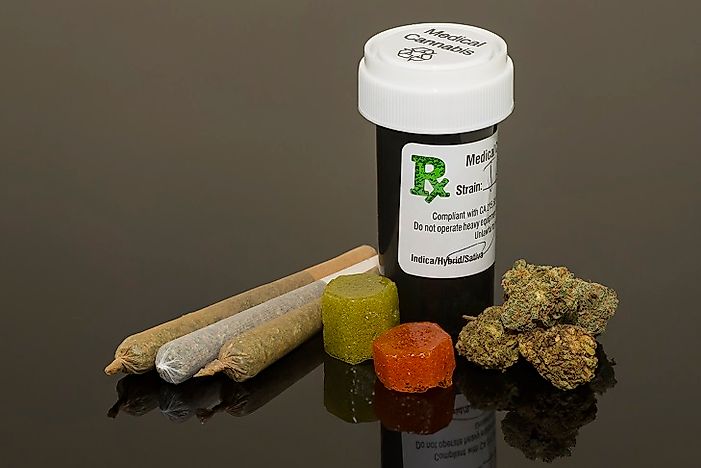 10. Alaska -
On November 4, 2014, Alaskan voters passed Measure 2, which legalized marijuana in the state. This measure came after a State Supreme Court decision made cannabis legal for in-home, personal use in 1975. The 1975 ruling protected non-commercial use, whereas Measure 2 legalized the production, sale, and distribution of recreational and medical cannabis. In Alaska, it is now legal to carry up to 1 ounce and to grow up to 24 plants for personal use. A license is required for commercial distribution.
9. California -
California began its move toward legalization in 1975 with a law that decriminalized marijuana possession. This state has been a pioneer in legalization efforts and became the first state to legalize medical marijuana in 1996. Possession of 1 ounce or less was further decriminalized in 2010, and the punishment was established as a fine set at $100 or less. On November 8, 2016, the state's voters chose to completely legalize recreational use.

8. Colorado -
The history of Colorado's marijuana legalization efforts began in 1975 when the law made possession of one ounce or less punishable with a $100 fine. In 2005, the city of Denver legalized possession for adults over 21 years of age. Amendment 64 was passed in November 2012, legalizing the production, sale, distribution, possession, use, and cultivation of cannabis. Stores selling marijuana can be found in this state. However, because under federal law it is still illegal, the state ruled in 2015 that employers may fire medical marijuana users.

7. District of Columbia -
Recreational use of marijuana became decriminalized in the nation's capital on March 4, 2014. The penalty replaced jail time with a fine of $25 for possession under 1 ounce. Shortly after, in November of the same year, citizens voted to increase possession to 2 ounces and further legalized cultivation of up to 6 plants at home. Cannabis was made completely legal on February 26, 2015.
6. Oregon -
Oregon became the first state in the country to decriminalize the possession of marijuana in 1973. This landmark law enacted a fine of between $500 and $1,000 for possession of 1 ounce or less. In 1998, two years after California, voters decided to legalize medical marijuana. In 2013, the state legislature increased eligibility for medical cannabis, paved the way for medicinal marijuana dispensaries, and reduced the fines for possession. Measure 91 passed in November of 2014, legalizing recreational sale and use.

5. Maine -
Medical marijuana became legal in Maine in November of 1999. Nearly a decade later, the state decriminalized possession of 2.5 ounces or less. This amount was later legalized by voters in November of 2013. Just two years later, voters in the state fully legalized possession of recreational marijuana of up to 2.5 ounces and cultivation of up to 6 plants in the home for personal use. A license is required for commercial distribution.

4. Massachusetts -
Massachusetts joined the cannabis legalization movement in 2008, when the majority of voters decided to decriminalize recreational possession. This law made possession of 1 ounce or less punishable by a $100 fine. Medical marijuana became available in November of 2012. Four year later, the ballot to legalize recreational use was passed. This latest law allows for personal possession of up to 1 ounce in public places and personal possession of up to 10 ounces inside the home. Residents of Massachusetts may also grow up to 6 plants for personal use.

3. Nevada -
Residents of Nevada voted to legalize medical marijuana in November of 2007. In 2016, the state further acted by legalizing cannabis for personal use, without requiring a medical prescription.

2. Washington -
In 2003, voters in Seattle, Washington passed Initiative 75, which made marijuana possession the lowest priority for Seattle police officials. The city of Tacoma passed the same directive in 2011. In November of 2012, voters chose to legalize recreational use of cannabis. This initiative allows adults over 21 years of age to possess up to 1 ounce, 16 ounces of a solid marijuana-infused product, and 72 ounces of a liquid marijuana-infused product. The law further allows sellers, producers, and distributors to obtain a license. Home cultivation is not legal, except for medical use.
1. Push for Nationwide Cannabis Legalization -
Under federal law, which technically overrides state laws, the possession, use, and sale of cannabis remains illegal. The federal government has classified marijuana as a Schedule 1 drug, which means it has no accepted medical use and has a high risk for addiction. Several unsuccessful efforts have taken place in order to classify the drug under a different Schedule. Legalization in states is only recognized by the state government and any product sold at a dispensary has not been approved by the Food and Drug Administration. Despite this reluctance of the federal government to legalize and re-classify marijuana, the majority of US residents, 60%, believe that marijuana should now be legal in all states.