Tourist Arrivals In Thailand By Country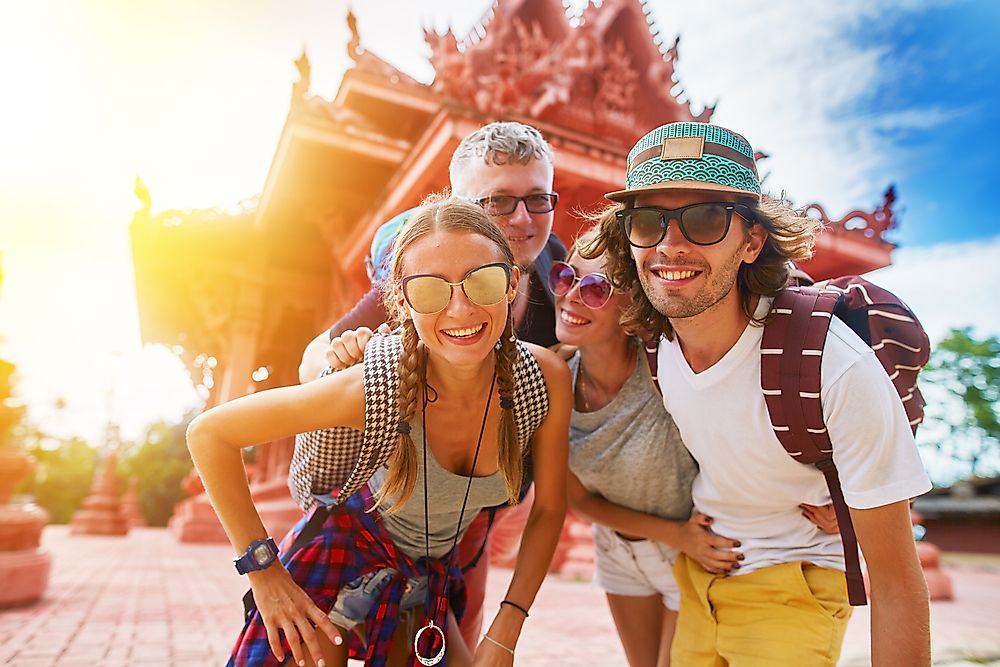 Thailand is the leading tourist destination in Southeast Asia with its tourism industry spanning close to 70 years of history. Tourism contributes about 9 to 10% to the total GDP. The number of tourists visiting Thailand has been on a steady rise throughout the years reaching up to 30 million visitors annually, although the numbers sometimes decline due to unrests and security threats. However, Thailand's tourism industry remains an all-time high, especially during the December-January peak festive season. Thailand is a unique place to visit for its natural, cultural and historical heritage and the warm tropical climate which is favored by tourists escaping the cold winters found in their countries. The rising medical tourism industry has attracted tourists who come for holidays while getting medical care.
China
China has had the largest number of tourists visiting Thailand over the decades with the number expected to keep rising. In 2016, about 8,757,466 Chinese tourists visited Thailand making up for more than 25% of the total number of tourists. During 2017's first quarter, China recorded a total of 2,439,076 tourists bound for Thailand. A large number of Chinese tourists are linked to the low-price package tours which enable small budget travelers to visit Thailand regularly. However, the Thai government has discouraged these package tours as they limit the amount of spending by the tourists, earning little revenue despite a significant number of visitors.
Malaysia
Malaysia is the second leading country in the world and the leading ASEAN country which sends tourists to Thailand with a total of 3,533,826 visitors in 2016 and 813,865 visitors between January and March 2017. Close relations between the two countries as well as the promotion of Thailand's tourist attractions across ASEAN countries has played a significant role in increasing the number of Malayan visitors. The shared Buddhist traditions also attract Malaysian tourists who wish to attend pilgrimage and festivals outside their own country.
Russia
Russia is the leading western country which sends the highest number of tourists to Thailand and the third leading overall. In 2016, approximately 1,089,992 Russians toured Thailand, and another 488,987 Russians visited the country between January and March 2017. Long-term close relations between Russia and Thailand have contributed to the longstanding preference for Thailand as a tourist destination by Russian tourists. Thailand's government is however concerned with the number of Russian tourists which is considered too small.
South Korea
South Korea and Thailand have bilateral relations, with Thailand being considered a top destination for South Korean tourists who visit in large numbers. South Korea makes up about 6% of the foreign tourists in Thailand. About 1,464,629 South Koreans toured Thailand in 2016 and another 463,278 in 2017's first quarter. Most of the Korean tourists come in group tours and only about 20% visit Thailand as independent tourists.
Future Prospects
With the aim of improving Thailand's tourism industry, the Tourist Authority of Thailand has put forward several measures such as banning cheap tourist packages which in turn will improve and encourage tourist spending. The goal of the initiative is to promote richer tourists to spend more while in Thailand. The authority markets Thailand through initiatives such as experience Thainess campaign and use of the slogan "Amazing Thailand." Other countries with high numbers of tourists to Thailand include Japan, Laos, India, Germany, the US, the UK, France, Singapore, Vietnam, and Australia.
Tourist Arrivals In Thailand By Country
| Rank | Country or territory | Number of tourists (Jan-Mar 2017) | Number of tourists (2016) |
| --- | --- | --- | --- |
| 1 | China | 2,439,076 | 8,757,466 |
| 2 | Malaysia | 813,865 | 3,533,826 |
| 3 | Russia | 488,987 | 1,089,992 |
| 4 | South Korea | 463,278 | 1,464,218 |
| 5 | Japan | 408,264 | 1,439,629 |
| 6 | Laos | 366,376 | 1,409,456 |
| 7 | India | 304,479 | 1,193,822 |
| 8 | Germany | 283,274 | 835,506 |
| 9 | United States | 283,240 | 974,632 |
| 10 | United Kingdom | 269,995 | 1,003,386 |
| 11 | France | 269,586 | 738,763 |
| 12 | Singapore | 224,934 | 966,909 |
| 13 | Vietnam | 198,079 | 830,394 |
| 14 | Australia | 182,655 | 791,631 |
| 15 | Cambodia | 165,041 | 686,682 |
| 16 | Hong Kong | 160,727 | 749,694 |
| 17 | Sweden | 150,336 | 332,866 |
| 18 | Taiwan | 135,655 | 522,231 |
| 19 | Indonesia | 130,213 | 535,625 |
| 20 | Myanmar | 86,122 | 341,641 |