Thai culture is a complex and lively combination of history, and its languages are no different. Officially, the language of Thailand is Thai. Look just below the surface of this straightforward answer, though, and you'll find 72 other languages. 
Like many countries, Thailand has an official language and many regional dialects and indigenous languages, showing the nations' storied heritage. 
The arrival of Thai language speakers from northern Vietnam to southeastern China and their Sanskrit roots, colonization, decolonization, and centuries of internal politics has shaped the character and variety of languages in Thailand.
Siam
Originally Siam, the Thai language shifted names as well when the state was renamed Thailand - it was originally Siamese. The word Siam comes from Sanskrit roots and was adopted by settlers to the area over 1,000 years ago.
From 1780-1927, Siam was ruled by a dynasty that was overthrown in a coup by the newly formed People's Party. One of the leaders of the People's Party was Luang Phibunsongkhram, known as Phibun. It was Phibun that changed the country's name to Thailand and language to Thai, as part of a movement to preserve Thai heritage and promote nationalism. 
Thai Language Group
The Thai language is part of a large umbrella group called Tai, or Tai-Kadai. Tai-Kadai originated from Proto-Tai, whose speakers migrated to southeastern Asia over 2,000 years ago. There are 76 languages in the Tai-Kadai group, 2 of those are national languages - Thai and Lao. 
The overlap and shared elements of these Tai dialects are evident in the many languages spoken in Thailand. As people migrate and live among each other, languages become shared, words are borrowed or altered, and new dialects are formed. 
Such is the case in Thailand, where the indigenous languages have been melded with regional dialects and words borrowed from other national languages such as Chinese, Palai, and Portuguese, among others. 
Thai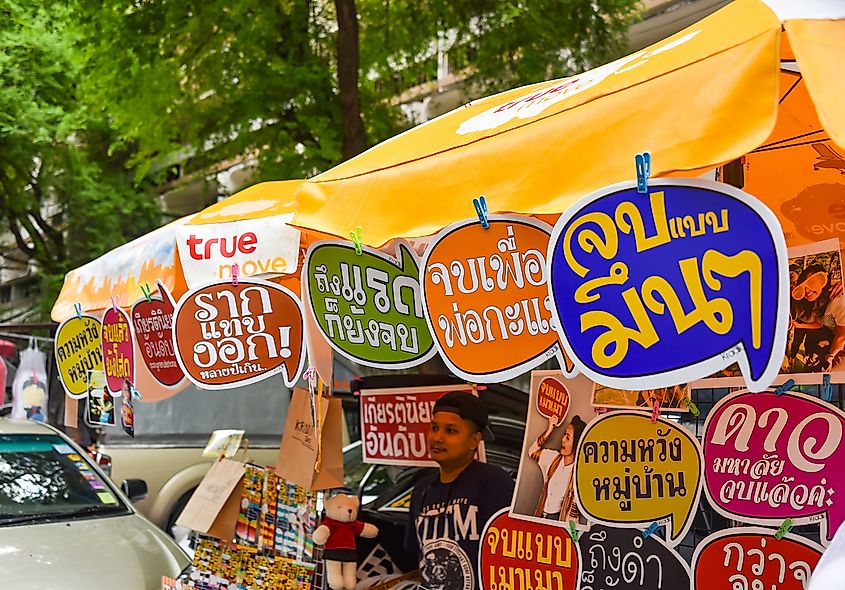 Thailand is notorious for its lengthy words, for example, the capital city, Bangkok, has an official name - Krungthepmahanakhon Amonrattanakosin Mahintharayutthaya Mahadilokphop Noppharatratchathaniburirom Udomratchaniwetmahasathan Amonphimanawatansathit Sakkathattiyawitsanukamprasit. This daunting name has 167 letters and 40 syllables and holds the Guinness Book of Records title of the longest city name. Translated, it means "the Great City, the Residence of the Emerald Buddha, the Grand Capital of the World Endowed with Nine Precious Gems, the Happy City." 
The Thai language was first written in 1283, and the official language is still very close to its original form. In practice, there are many elements to both written and spoken Thai that can make it difficult for those learning the language, or visiting as tourists, to navigate. 
Thai has its own language, but as is common, that language is often translated into the Roman alphabet for commonality and ease of communication with those who speak western languages. The trouble with this practice can be the subjectivity of these romanized spellings, they are open to personalization and interpretation, and therefore, miscommunication. Good practice for those speaking western languages while traveling in Thailand is to get a Thai speaker to write down your destination for you so there is no confusion with cab or tuk tuk drivers.  
Dialects Of Thailand
Of the 72 languages recognized in Thailand other than Thai, many of them are regional dialects. Many of these are mutually intelligible, meaning that speakers of different dialects can still understand and communicate with each other, although not all are. 
Standard Thai is spoken in the Bangkok metropolitan region, is the most common language in Thailand, and where many beginners to the country start learning the language. Adding to the complexity of the linguistic landscape of Thailand is that standard Thai has four regional dialects, and each of those has its own sub-dialects. These regions are generally broken down into north, south, north-east, and central. 
One of the commonalities among Thai dialects is that they all include variations on the meaning of words based on tone. When written, the letters are the same, but the meaning varies based on the way the speaker voices the word. Another common element among Thai dialects is the use of different versions of words based on familiarity or social context. Thai has a lot to remember, but it combines to form a beautiful and expressive language. 
Indigenous Languages Of Thailand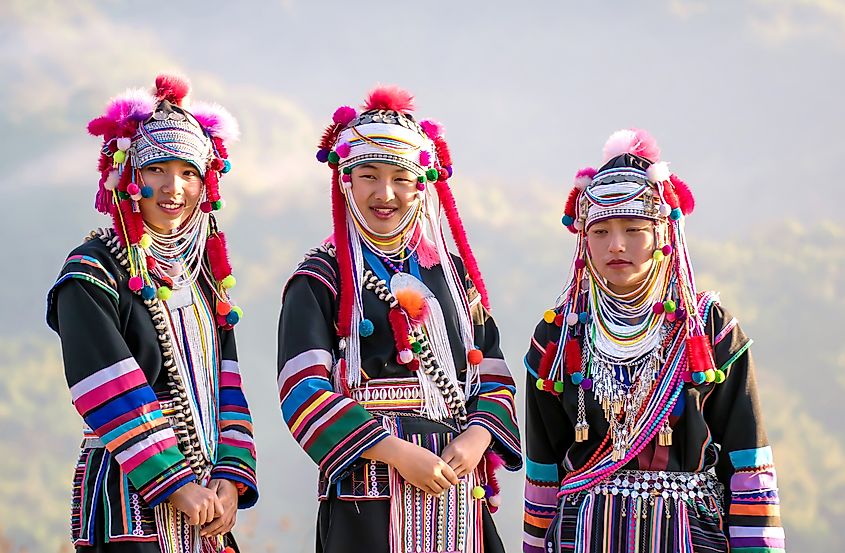 There are 51 distinct indigenous languages in Thailand, and they can be sorted into five overarching language families. These are Austronesian, Hmong-Mien, Thai, Mon-Khmer, and Sino-Tibetan. 
The indigenous groups in Thailand are referred to as "hill tribes", "hill people", "mountain people", or "highlanders". The common terminology is based on location; indigenous groups are spread throughout the country. Each language has unique influences on its development based on input from the settling and indigenous cultures. 
One of the main reasons for the diversity in language among indigenous people in Thailand is separation, both geographically, and politically. Languages develop distinctly when populations are isolated from each other; when the indigenous Thai languages were being formed, there was little interaction with tribes in the different regions. Additionally, in the colonial era, borders were drawn to claim portions of land for colonizing powers at the time, causing division in tribes that would otherwise have stayed together. Similar fractures in borders occurred during the subsequent decolonization process, resulting in yet more isolation, and therefore the development of unique languages.