Which State Has the Most Craft Breweries?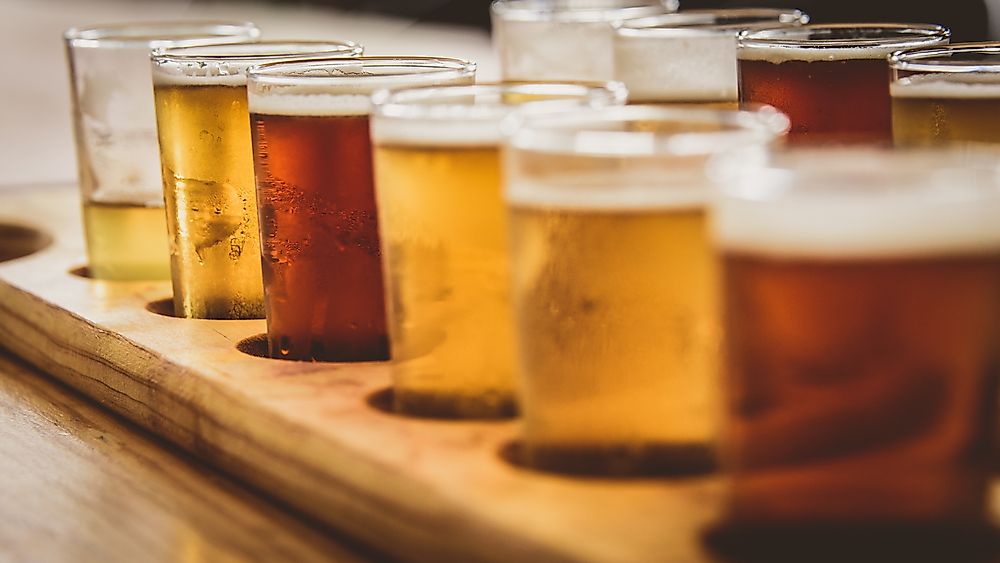 Over the past five years, the United States has experienced rapid growth in the craft beer producing industry, accompanied by an increase in the popularity of craft beer as one of the most popular alcoholic beverages nationwide. The industry primarily is comprised by small-scale breweries, such as brewpubs and microbreweries. While California has more microbreweries than any other state, Colorado has the most breweries per capita. Here is a list of the states with the most microbreweries. All data comes from the Brewers Association. 
5. New York
The craft beer industry in New York underwent a period of rapid growth due to the trend towards more lenient regulations applicable to breweries in the state. The industry grew by 59% between 2013 and 2014. There was also more than a doubling of the number of such breweries, from 95 in 2012 to 329 in 2017. The industry contributes $3.4 billion towards the economic growth of the state, and holds immense potential for further growth in the future.
4. Michigan
Craft beer production in Michigan experienced a 41.5% hike in 2014 in relation to the data from 2013. In 2014, 825,103 barrels were produced by the 159 craft brewers in Michigan, which is significantly higher than the figure of 582,909 barrels produced by 131 craft brewers the previous year. Today, the state has 330 micobreweries, or 4.5 breweries for every 100,000 people over the age of 21.
3. Colorado
Colorado's craft beer brewing industry contributes $2.7 billion to the state's economy. According to a study conducted by researchers from the University of Colorado, in 2014 the industry employed a workforce of 6,021 people in the state. The number of craft beer breweries have undergone a substantial increase in Colorado in recent years, from 118 in 2013 to 330 in 2017.
2. Washington
Washington State, in the Pacific Northwest, has the second largest number of microbreweries in the country. Elysian Brewing Company, located in Seattle, is the largest microbrewery in the state. The craft beer business in Washington State is approximately 35 years old, which makes it one of the older industries in the country.
1. California
California experienced a 24% growth in such breweries between 2013 and 2014, with an annual production level of 3.4 million barrels of craft beer (equivalent to over 100 million gallons). Today, this growth shows no signs of slowing down. The largest brewery in California is the Sierra Nevada Brewing Co in Chico. In California, there are 2.6 microbreweries for every 100,000 people over 21 years of age.
Independent Breweries By State
| Rank | State | Breweries | Breweries Per Capita |
| --- | --- | --- | --- |
| 1 | Arizona | NA | 1.9 |
| 2 | California | 764 | 2.6 |
| 3 | Washington | 369 | 6.7 |
| 4 | Colorado | 348 | 8.4 |
| 5 | Michigan | 330 | 4.5 |
| 6 | New York | 329 | 2.2 |
| 7 | Pennsylvania | 282 | 2.9 |
| 8 | Oregon | 266 | 8.5 |
| 9 | North Carolina | 257 | 3.4 |
| 10 | Texas | 251 | 1.3 |
| 11 | Florida | 243 | 1.5 |
| 12 | Ohio | 225 | 2.6 |
| 13 | Illinois | 200 | 2.1 |
| 14 | Virginia | 190 | 3 |
| 15 | Wisconsin | 160 | 3.7 |
| 16 | Minnesota | 158 | 3.9 |
| 17 | Indiana | 137 | 2.8 |
| 18 | Massachusetts | 129 | 2.5 |
| 19 | Maine | 99 | 9.6 |
| 20 | Missouri | 91 | 2 |
| 21 | New Jersey | 90 | 1.3 |
| 22 | Tennessee | 82 | 1.7 |
| 23 | Iowa | 76 | 3.3 |
| 24 | Montana | 75 | 9.6 |
| 25 | Maryland | 73 | 1.6 |
| 26 | Georgia | 69 | 0.9 |
| 27 | New Mexico | 67 | 4.4 |
| 28 | South Carolina | 61 | 1.6 |
| 29 | Connecticut | 60 | 2.2 |
| 30 | New Hampshire | 58 | 5.6 |
| 31 | Vermont | 55 | 11.5 |
| 32 | Idaho | 54 | 4.5 |
| 33 | Kentucky | 52 | 1.6 |
| 34 | Nebraska | 49 | 3.6 |
| 35 | Nevada | 40 | 1.8 |
| 36 | Alaska | 36 | 6.8 |
| 37 | Kansas | 36 | 1.7 |
| 38 | Arkansas | 35 | 1.6 |
| 39 | Alabama | 34 | 0.9 |
| 40 | Louisiana | 33 | 1 |
| 41 | Utah | 30 | 1.5 |
| 42 | Oklahoma | 27 | 1 |
| 43 | Wyoming | 24 | 5.7 |
| 44 | West Virginia | 23 | 1.7 |
| 45 | Delaware | 21 | 2.9 |
| 46 | Hawaii | 18 | 1.7 |
| 47 | Rhode Island | 17 | 2.1 |
| 48 | South Dakota | 16 | 2.6 |
| 49 | Washington, DC | 12 | 2.2 |
| 50 | Mississippi | 12 | 0.6 |
| 51 | North Dakota | 12 | 2.2 |