Travel
Top Source Countries For Tourists To Canada
In 2015, 22,057,860 tourists from the United States visited Canada, the highest among the source countries for tourists to Canada.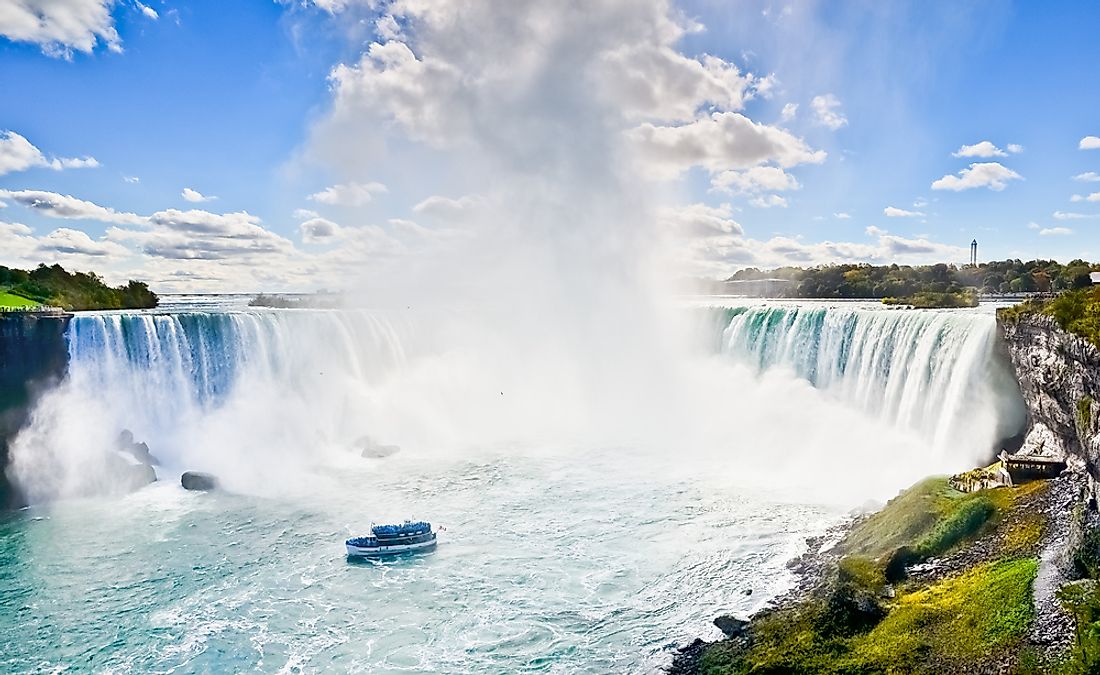 Canada is the second largest country in the world and offers a significant number of appealing tourist destinations. Because of this, tourism in Canada makes up a significant amount of the economy. In 2012, for example, it made up 1% of the country's gross domestic product (GDP); this is more than the forestry, agriculture, and fishing industries combined. Tourism also accounts for 309,000 employment positions in the country. International tourism alone contributed $17.4 billion to the national economy. This number is expected to continue growing at around 1.5% annually. This article takes a closer look at where international tourists go in Canada and where they come from.
Tourist Destinations In Canada
Canada is home to a wide range of landscapes, cultures, and historic sites. A large percentage of tourism-related activities take part in the five largest metropolitan areas in the country, namely Toronto, Vancouver, Ottawa, Calgary, and Montreal. Visitors to these cities can enjoy what urban life in Canada has to offer and use the cities as central location from which to visit nearby natural sites and national parks. The Great Lakes, Niagara Falls, Northumberland County, and Banff National Park are some of the most popular natural tourist destinations the country has to offer.
Top Source Countries For Tourists To Canada
As previously mentioned, the international tourism market is a large part of the economy in Canada. However, experts note that there has been a significant decrease in Canada' share of the international tourist market over the last 15 years or so. In fact, Canada is one of the only countries in the world to report decreasing foreign resident arrivals between 2002 and 2013 (with over 20 million international visitors registered for 2002 compared with 16 million for 2012).
United States
The United States, Canada's neighbor to the south, is its top source of international tourists. One of the factors that encourage US citizens to travel to Canada is that they are not required to apply for tourist visas and can gain entrance with a passport only. This makes travel to this country relatively hassle-free for Americans. This fact is reflected in the 2015 international tourist arrival statistics, which indicate that over 22 million US citizens traveled to Canada on vacation that year. This number represents roughly 82% of total foreign resident arrivals and nearly $6 billion spent.
United Kingdom
Following the US, the United Kingdom comes in second place as a source country for tourists to Canada. In 2015, the UK sent 733,280 tourists. These visitors spent approximately $723 million while in Canada.
China
The third top source country for tourists to Canada is China, with 511,234 arrivals in 2015. Although this is lower than the number of UK visitors to Canada, Chinese tourists spent more money while in the country, which indicates a larger spending average per person. Tourism from China has been gradually increasing over the last decade or so and this pattern is expected to continue. In the first six months of 2016, the number of Chinese citizens visiting Canada increased by 24%. In August of 2016, Canadian Prime Minister Justin Trudeau visited Chinese leaders to foster a sustainable long-term relationship between the two countries. During this visit, the government leaders established a new strategic plan for tourism and agreed to make 2018 the Year of Canada-China Tourism.
The chart published below offers a more detailed look at the top source countries for tourists to Canada.
Where Do Visitors to Canada Come From?
In 2015, 22,057,860 tourists from the United States visited Canada, the highest among the source countries for tourists to Canada.
Top Source Countries For Tourists To Canada
| Rank | Country | Number Of Tourists To Canada, 2015 |
| --- | --- | --- |
| 1 | United States | 22,057,860 |
| 2 | United Kingdom | 733,280 |
| 3 | China | 511,234 |
| 4 | France | 507,627 |
| 5 | Germany | 343,716 |
| 6 | Australia | 307,123 |
| 7 | Japan | 294,934 |
| 8 | Mexico | 204,756 |
| 9 | South Korea | 204,741 |
| 10 | India | 200,094 |
About the Author
Amber is a freelance writer, English as a foreign language teacher, and Spanish-English translator. She lives with her husband and 3 cats.
This page was last updated on June 4, 2019.
Citations
Your MLA Citation
Your APA Citation
Your Chicago Citation
Your Harvard Citation
Remember to italicize the title of this article in your Harvard citation.