Travel
Top Source Countries For Tourists To the Philippines
South Korea, the United States, and China are the three top source countries for tourists visiting the Philippines.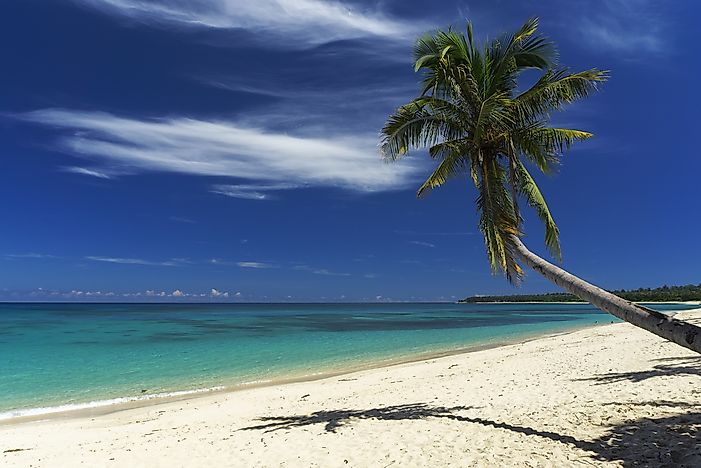 Tourism in the Philippines
The travel and tourism industry of the Philippines generates approximately 10.6% of the national gross domestic product (GDP). This industry creates a number of jobs, employing 7.4 million people, or 18.8% of the workforce. This island nation has a high level of biodiversity and a wide range of ecosystems including mountains, beaches, rainforest, and marine areas. The geographical sites combined with the unique history and culture of the Philippines make it a popular tourist destination. Over 5.36 million foreign tourists visited this country in 2015. This article takes a closer look at where these individuals visit from and where they go once in the Philippines.
Tourist Destinations in the Philippines
Tourists visiting the Philippines have a variety of activities and attractions to participate in and see. One of the most popular of these is going to the beaches which include El Nido, Palawan and Boracay. Boracay is known for its white sand and nightlife, while Palawan offers excellent diving opportunities. In Moalboal, tourists can go snorkeling or scuba diving and view the coral reef located there. Additionally, this country is home to a number of basilicas, cathedrals, and shrines, as well as rivers, lakes, and rice terraces. The mountains and rainforest offer opportunities for nature lovers and cities are another popular tourist destination, where tourists can go shopping in modern malls or traditional markets.
Top Source Countries for Tourists to the Philippines
Six of the top 10 source countries for tourists to the Philippines are located in Asia. These countries are South Korea, China, Japan, Taiwan, Singapore, and Malaysia. This is likely due to the close proximity of these countries to the Philippines, making it relatively accessible.
The number one source country for tourists to the Philippines is South Korea. South Korea has held this position consistently since at least 2011. In 2016, over 1.47 million South Koreans visited and the number seems to continue growing. After only the first two months of 2017, 305,052 South Koreans had visited the country. The number of South Koreans visiting the Philippines has continuously increased since 2011, when only 925,204 South Koreans entered the country.
Coming in second behind South Korea is the US, who is the second most common source country for visiting the Philippines. During January and February 2017, 179,898 American tourists visited the country. The US has been the 2nd most common source country since at least 2011, when 624,527 Americans entered the Philippines. In 2016, that number was 869,463.
In third place is China, who had 675,663 tourists travel to the Philippines in 2016. This number has already reached 164,199 for January and February of 2017. Additionally, the number of Chinese tourists to the Philippines has increased from 243,137 in 2011, when it was only in 4th place. Overall, China has experienced significant growth in international travel over the last 10 years.
Japan is in the fourth position, which is a decrease from its third place position it held from 2011 to 2015. In 2016, Japan sent a total of 535,238 tourists to the Philippines. For January and February of 2017, that number is 105,473 and expected to grow through the rest of the year.
The chart published below offers a look at the top 10 source countries for tourists to the Philippines.
Top Source Countries For Tourists To Philippines
| Rank | Country | Jan-Feb 2017 |
| --- | --- | --- |
| 1 | South Korea | 305,052 |
| 2 | United States | 179,898 |
| 3 | China | 164,199 |
| 4 | Japan | 105,473 |
| 5 | Australia | 47,983 |
| 6 | Canada | 43,368 |
| 7 | Taiwan | 42,398 |
| 8 | United Kingdom | 30,973 |
| 9 | Singapore | 25,309 |
| 10 | Malaysia | 21,550 |
This page was last updated on August 1, 2017.
Citations
Your MLA Citation
Your APA Citation
Your Chicago Citation
Your Harvard Citation
Remember to italicize the title of this article in your Harvard citation.