Travel
Top Source Countries For Tourists To Cambodia
Vietnam, China, and Thailand are the three top sources of international tourists to Cambodia.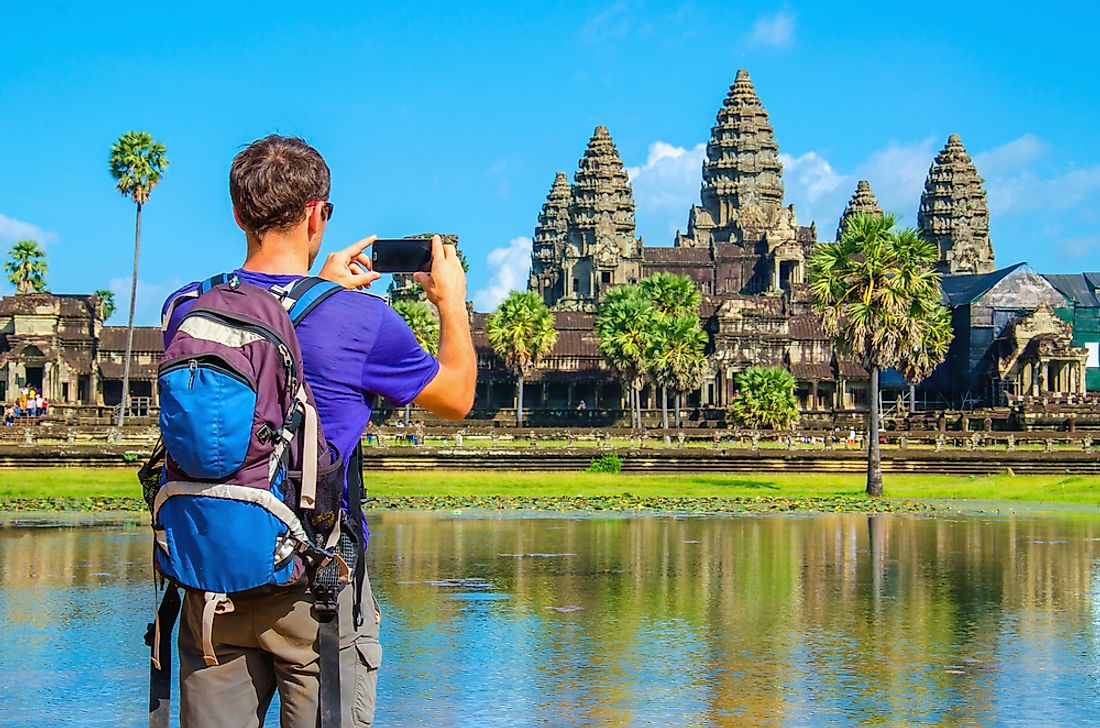 Cambodia has been marketed worldwide under the slogan "the Kingdom of Wonder - Feel the Warmth." The Southeast Asian nation has a violent history which includes a devastating civil war from 1970 to 1993. Tourism is one of the sectors the country has relied upon to rebuild itself, as millions of visitors troop into Cambodia to rediscover its famed attractions. The country has invested heavily in developing tourism infrastructure such as luxury hotels in primary tourism destinations.
Statistics For The Tourism Sector In Cambodia
An estimated 5,011,712 tourist arrivals were recorded in the country in 2016 which was a 4.95% increase of the 4,775,231 arrivals registered in 2015. Cambodia's tourism industry has been on an upward trajectory to become the second largest sector after garment manufacturing. The sector accounted for 16% of the nation's GDP in 2006 by generating revenue of $1.594 billion. Of the tourists who arrived in Cambodia in 2016, about 2,806,438 visited Phnom Penh and the surrounding areas, 2,205,274 went to Siem Reap Angkor, 643,289 visited coastal regions, and 66,349 went to eco-tourism areas. The majority of the visitors cited holiday as their purpose for visiting while others arrived in the country for business.
Top Overseas Tourist Sources In Cambodia
Cambodia, being an ASEAN nation, benefits from strong economic ties with its neighbors. The majority of its tourists are fellow ASEAN member countries. In 2016, about 959,663 visitors who arrived in Cambodia were from Vietnam. A further 398,081 tourists were from Thailand while 369,335 were from neighboring Laos. Arrivals from Malaysia, Philippines, and Singapore were 152,843, 108,032, and 70,556 respectively. China leads the rest of non-ASEAN Asian nations accounting for 830,003 of international arrivals to Cambodia in 2016. About 357,194 of the tourists who arrived in Cambodia in 2016 were from South Korea. Japan accounted for 191,577 tourists in the same year. The US accounted for the most tourists to Cambodia outside of Asia at 238,658, followed by the UK at 159,489 and France at 150,294. Other countries who accounted for a large number of tourists to Cambodia in 2016 are Australia (146,806), Germany (108,784), Canada (60,715), and Russia (53,164).
Most Popular Attractions Visited By Foreign Tourists In Cambodia
Cambodia is teeming with attractions that attest to its rich cultural heritage. One of the most notable attractions is the medieval city of Angkor. The city is famed as the capital of the Khmer Empire which thrived between the 9th and the 15th centuries. Located in the city is Angkor Wat, a temple complex which measures 162.6 hectares. The temple is one of the most outstanding examples of Khmer temple architecture. It was designed to resemble Mount Meru, the abode of the Hindu gods. The Angkor Archaeological Park preserves ruins of the Khmer civilization. Another temple found in Angkor is the Banteay Srei which was built in the 10th century by use of red sandstone. The temple is decorated with wall carvings, and it was dedicated to Shiva, a Hindu god. The temples are located in the resort city of Siem Reap whose other attractions are other temples, the Cambodia Landmine Museum, Angkor National Museum, the War Museum Cambodia, markets, and a cultural village. Bokor Hill Station is another Cambodian destination which consists of numerous French colonial buildings built as a retreat and luxury resort for colonial settlers on top of Bokor Mountain in the 1920s.
Where do Tourists to Cambodia Come From?
Vietnam, China, and Thailand are the three top sources of international tourists to Cambodia.
Top Source Countries For Tourists To Cambodia
| Rank | Country or territory | Visitor Arrivals, 2016 |
| --- | --- | --- |
| 1 | Vietnam | 959,663 |
| 2 | China | 830,003 |
| 3 | Thailand | 398,081 |
| 4 | Laos | 369,335 |
| 5 | South Korea | 357,194 |
| 6 | United States | 238,658 |
| 7 | Japan | 191,577 |
| 8 | United Kingdom | 159,489 |
| 9 | Malaysia | 152,843 |
| 10 | France | 150,294 |
| 11 | Australia | 146,806 |
| 12 | Germany | 108,784 |
| 13 | Philippines | 108,032 |
| 14 | Singapore | 70,556 |
| 15 | Canada | 60,715 |
| 16 | Russia | 53,164 |
This page was last updated on August 1, 2017.
Citations
Your MLA Citation
Your APA Citation
Your Chicago Citation
Your Harvard Citation
Remember to italicize the title of this article in your Harvard citation.