Economics
Top 10 Wheat Producing US States
Kansas produces the highest amount of wheat in the US.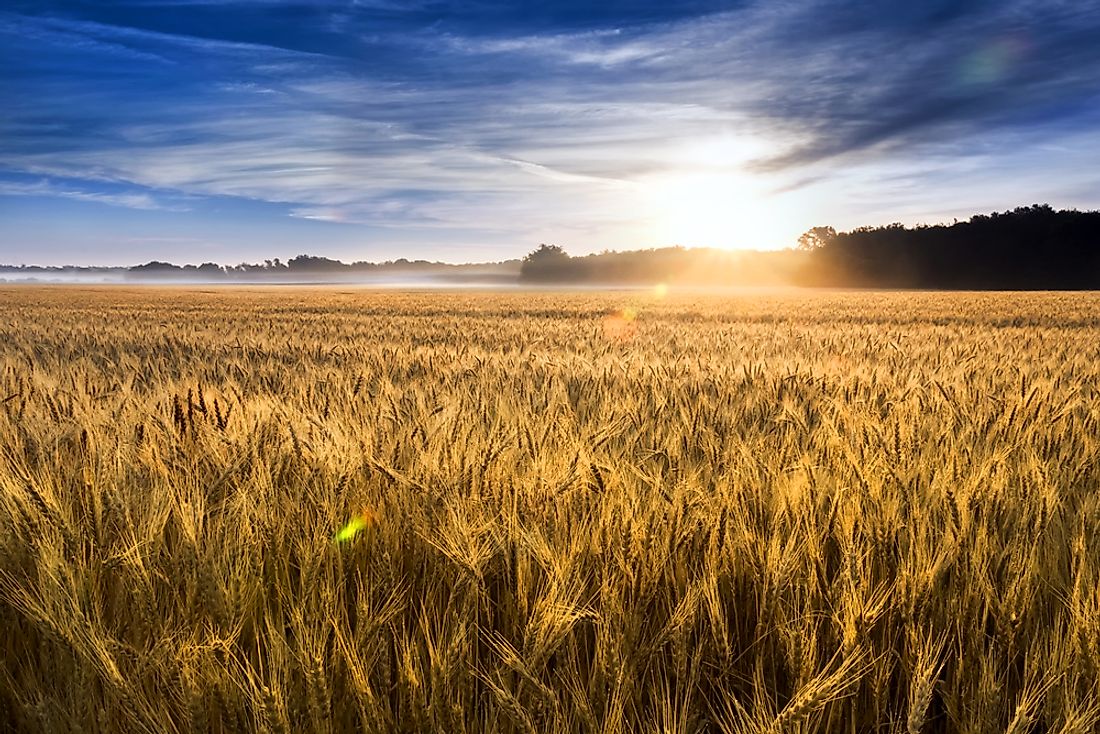 Wheat is ranked as the third most produced field crop, after corn and soybeans, and the United States is among the leading producers and exporters of the produce. Wheat is an edible cereal grain which is agriculturally cultivated in large quantities in the United States, both for domestic use and export. Different climatic conditions, as well as other factors, impact the wheat variety produced in different states for different uses. Although wheat is produced almost all over the US, particular states cultivate it in extremely large quantities as the primary crop. Kansas is the top producer of wheat in the US followed by North Dakota and Washington.
Top Wheat Producing US States
1. Kansas
Kansas is located in the midwest with a humid continental climate. Winter temperatures range between cool to cold and summers are hot and humid. Rain or precipitation often falls during spring and summer which allows for the cultivation of wheat varieties that require sprouting in the fall, a dormancy period throughout winter, and re-growth in spring for harvest time in early summer. Because of its large quantities of wheat production, Kansas has earned the names "Breadbasket of the World" and "Wheat State." The state produces an average of 10.8 million tons of wheat annually, which accounts for more than a fifth of the US's wheat production. Wheat was first planted in the state of Kansas in 1839 when it was grown at Shawnee Methodist Mission in Johnson County. Cultivation of the crop spread westward as the region was settled until the time it became a state in 1816. All along, wheat has become a vital commodity in the state, and in 2013 the crop contributed $3.6 billion to the economy and supported approximately 30,000 jobs in the state
2. North Dakota
North Dakota's location places it in the midwestern and northern regions of the US with a continental climate that features cold winters and hot summer. This means that the planting season begins in April and is extended all through to May to take advantage of the summer rain and precipitation throughout June to August and facilitate harvest by mid-September. North Dakota has dedicated about half of the cropland to wheat production. The state produces approximately 9.8 million tons of wheat annually, which accounts for more than a fifth of the wheat produced in the United States.
3. Washington
Washington State is located in the pacific northwest region of the US, which means that its proximity to the North Pacific and Cascade Range gives it two different types of climates for its two distinct regions. This, in turn, allows for planting of wheat in both fall and early spring to produce two different harvests in July all through to September depending on which part of Washington the wheat is cultivated. Washington State produces approximately 4.2 million tons of wheat annually, which accounts for more than a fifth of the wheat produced in the United States.
Wheat Varieties Produced in the US
The US is the 3rd largest producer of wheat globally after China and India. However, the US is world leader in the export of wheat and about 50% of wheat produced (valued at $9 billion) is exported to different countries. According to the USDA, there are eight variants of wheat cultivated across the nation, and they include hard red spring wheat, durum wheat, hard white wheat, soft red winter wheat, hard red winter wheat, soft white wheat, missed wheat, and unclassed wheat.
What State Produces the Most Wheat?
Kansas produces the highest amount of wheat in the US.
Top 10 Wheat Producing US States
| Rank | US State | Wheat production in 1,000 bushels in 2017 |
| --- | --- | --- |
| 1 | Kansas | 333,600 |
| 2 | North Dakota | 238,085 |
| 3 | Washington | 142,500 |
| 4 | Montana | 127,430 |
| 5 | Oklahoma | 98,600 |
| 6 | Idaho | 90,708 |
| 7 | Colorado | 87,598 |
| 8 | Minnesota | 75,935 |
| 9 | Texas | 68,150 |
| 10 | Oregon | 48,069 |
About the Author
Benjamin Elisha Sawe holds a Bachelor of Arts in Economics and Statistics and an MBA in Strategic Management. He is a frequent World Atlas contributor. 
This page was last updated on November 22, 2018.
Citations
Your MLA Citation
Your APA Citation
Your Chicago Citation
Your Harvard Citation
Remember to italicize the title of this article in your Harvard citation.