US States That Produce the Most Wheat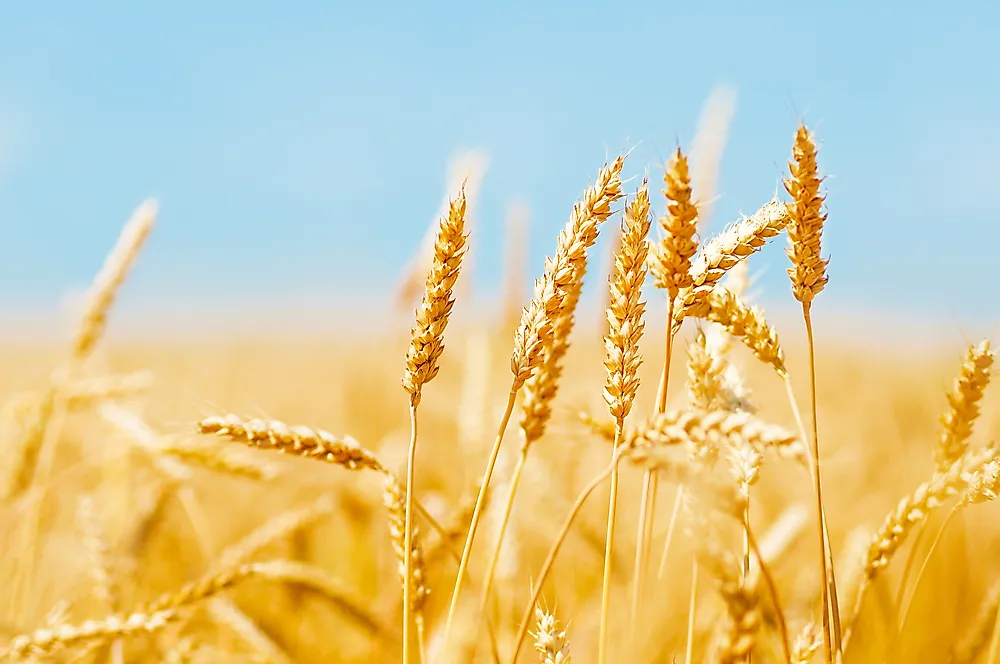 Wheat is the second most important food crop in the United States (US), after corn. The uses of wheat are virtually innumerable, and it is grown for both domestic consumption and export. The United States is the largest exporter of wheat in the world, and the crop is grown in almost every state, although acreage and total production varies. Wheat grown in the US is divided into five categories: white wheat; durum wheat; soft red winter; hard red spring; and hard red winter. Each variety of wheat is grown in different parts of the US and has different uses. The bushel is the standard unit for measuring the output of wheat. The leading wheat producing US states in terms of number of bushels are listed below.
Kansas
The state of Kansas leads the US in terms of wheat production, producing 333.6 million bushels in 2016. In fact, Kansas is sometimes referred to as "The Wheat State." There are about 60,000 farmers in Kansas, 20,000 of whom are wheat farmers. The wheat produced in Kansas accounts for at least half of the country's total production, and half of this is consumed locally, while the rest is exported. Kansas farmers produce 3 of the 5 varieties of wheat grown in the US: hard red winter, used in making bread; soft red winter, used for making crackers and pastries; and hard white, used by noodle factories and yeast bread. The state of Kansas also stores the most wheat in numerous storage facilities.
North Dakota
The state of North Dakota produces up to 238 million bushels of wheat, ranking as the second leading wheat producer in the US. Wheat is the leading agricultural crop in North Dakota, while other crops grown in the state include sugar beets, soybean, and sunflower. Hard red spring and durum are the two most commonly grown varieties of wheat. In fact, about half of the nation's total hard red spring production (US total of about 250 million bushels), comes from North Dakota, while about two-thirds of all durum wheat (an estimated 50 million bushels) comes from the state. Of the 30,000 registered farms in North Dakota, at least 19,200 grow wheat, and these farms are distributed throughout each of the state's 53 counties.
Washington
Washington is the third leading wheat producer in the US, with an estimated annual production of 142.5 million bushels. Additionally, the total land area in the state devoted to wheat farming is over 185,000 acres. The state of Washington is known for producing high quality soft white and club varieties of wheat. Farmers in Washington also grow hard white and hard red spring wheat, which have uses that range from human consumption in an assortment of baked goods such as bread rolls and pasta. It is also used as a manufacture of livestock feeds. By-products of wheat processing are combined with other grains to feed livestock.
Other Top Wheat Growing States
In addition to Kansas, North Dakota, and Washington, other major wheat-producing states include Oklahoma, Montana, Idaho, Colorado, Minnesota, Texas, and Oregon. These states are significant producers of wheat that contribute to both the domestic and international market.
Top 10 Wheat Producing US States
| Rank | US State | Wheat Production (1,000 Bushels) |
| --- | --- | --- |
| 1 | Kansas | 333,600 |
| 2 | North Dakota | 238,085 |
| 3 | Washington | 142,500 |
| 4 | Montana | 127,430 |
| 5 | Oklahoma | 98,600 |
| 6 | Idaho | 90,708 |
| 7 | Colorado | 87,598 |
| 8 | Minnesota | 75,935 |
| 9 | Texas | 68,150 |
| 10 | Oregon | 48,069 |