World Facts
Top 10 Countries Most Reliant On Tourism
Tourism contributes 43.9% to the economy of Macau, a Special Administrative Region of the People's Republic of China.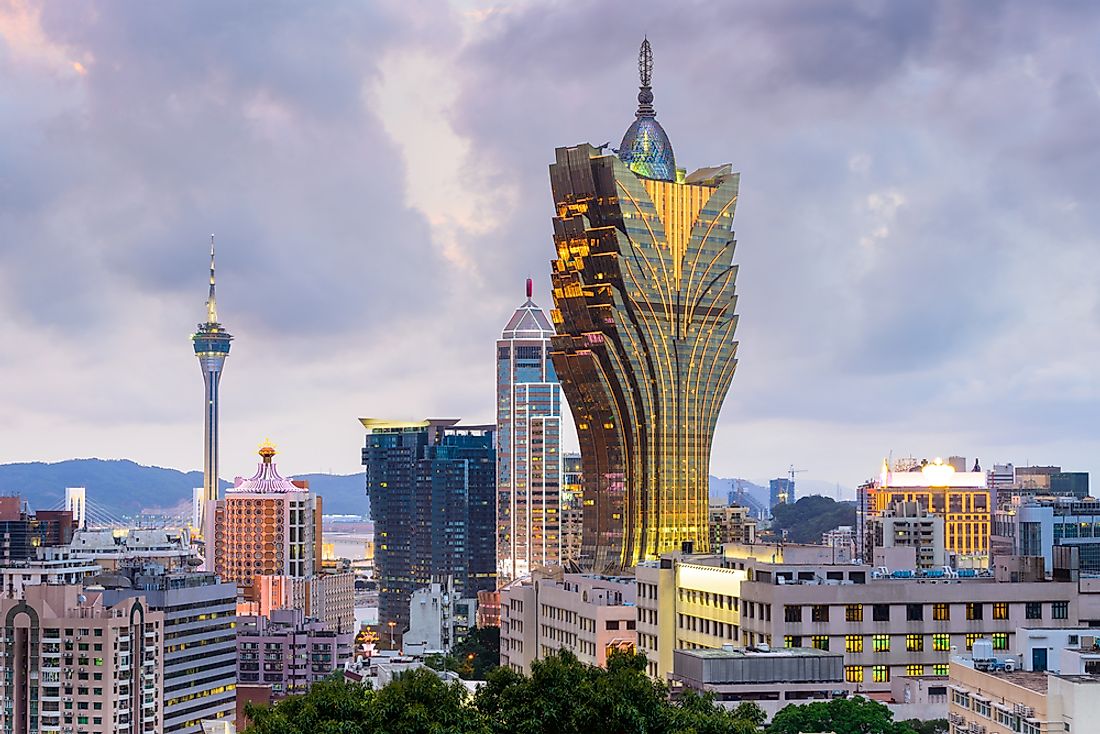 What is Tourism?
Tourism refers to domestic or international travel that takes place for either business or personal purposes. The tourism industry can be an important part of a country's overall economy, by creating jobs in the service sector and generating revenue from the payments received for good and services. The economies of some countries are more reliant on tourism than others. This article takes a closer look at the places where tourism has the biggest impact on the local economy.

Top 10 Countries Most Reliant on Tourism
Macau
Macau, an Administrative Region of China, is by far the area of the world most reliant on tourism. The tourism industry makes up 43.9% of its economy, bringing in roughly $26.6 billion in revenue. Casinos are a major draw.
Maldives
Maldives, an island nation in the Indian Ocean, has the second largest reliance on tourism. Approximately 41.5% of its economy is made up of the tourism sector. Its beaches and tropical resorts are what draw tourists to the country.

British Virgin Islands
Nearly one-third, or 30.3%, of the economy of the British Virgin Islands relies on tourism. Tourists who traveled to these Caribbean islands brought in $290 million in revenue in 2014. More than half of the people who visit this country are cruise ship passengers.
Aruba
Tourism contributes 28.6% to Aruba's national economy. This island nation is located 15 miles off the coast of Venezuela and was once part of the Netherland Antilles. Today it is an autonomous member of the Kingdom of the Netherlands.

Seychelles
Tourism is the most important non-public sector of the economy of Seychelles. It makes up 21.3% of the economy and is responsible for about 15% of the employment on the islands. Other industries also rely on tourism such as construction, banking, and transportation.

Anguilla
Anguilla is number 6 on the list with around 21% of its economy relying on tourism. This Caribbean island nation is considered a dependency of the UK. Tourism here focuses on luxury travel with topnotch spas and resorts.
Bahamas
The Bahamas, located southeast of the US state Florida, is another popular travel destination. Tourism makes up 19.4% of its overall economy and accounts for over half of all jobs on the islands. In 2012, 5.8 million tourists visited the country, 70% of which were cruise ship passengers.

Vanuatu
Vanuatu, a southwest Pacific island, has the 8th heaviest reliance on tourism. Tourism makes up 18.6% of the economy of this country. Scuba divers are drawn to its coral reef-rich waters and the shipwrecked President Coolidge ocean liner, one of the world's biggest shipwrecks open for recreational diving.

Former Netherland Antilles
Number 9 on the list is the former Netherland Antilles, commonly referred to as the Dutch Caribbean. The most famous of these islands is Curacao. The economy of the former Netherland Antilles is made up of 17% tourism industry.
Antigua and Barbuda
Antigua and Barbuda is located between the Caribbean Sea and the Atlantic Ocean. Its economy is largely reliant on tourism, which makes up 15.5% of its economy. Antigua island is well known for its luxury resorts. Tourism here has been on a slight downturn since 2000, which has caused the government to cut national spending significantly.

Which Countries Are the Most Reliant on Tourism?
Some of the countries that are most reliant on tourism include Macau, the Maldives, the British Virgin Islands, and Aruba.
Top 10 Countries Most Reliant On Tourism
| Rank | Country | Percentage tourism contributes to the economy |
| --- | --- | --- |
| 1 | Macau | 43.9 |
| 2 | Maldives | 41.5 |
| 3 | British Virgin Islands | 30.3 |
| 4 | Aruba | 28.6 |
| 5 | Seychelles | 21.3 |
| 6 | Anguilla | 21.0 |
| 7 | Bahamas | 19.4 |
| 8 | Vanuatu | 18.6 |
| 9 | Former Netherland Antillies | 17.0 |
| 10 | Antigua and Barbuda | 15.5 |
About the Author
Amber is a freelance writer, English as a foreign language teacher, and Spanish-English translator. She lives with her husband and 3 cats.
This page was last updated on August 1, 2017.
Citations
Your MLA Citation
Your APA Citation
Your Chicago Citation
Your Harvard Citation
Remember to italicize the title of this article in your Harvard citation.