Thurgood Marshall – Important Figures in US History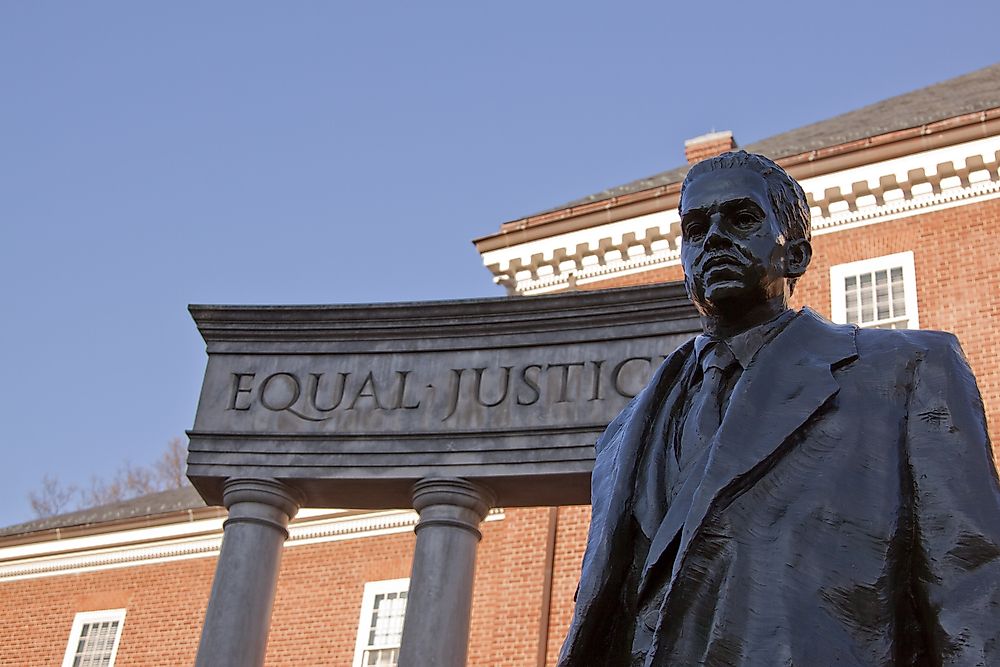 Thurgood Marshall was born on July 2nd, 1908, in Baltimore, Maryland, descended from a great-grandfather who had been an African slave brought to the U.S. Thurgood's father worked as a steward at a private club, and his mother as a Kindergarten teacher. Thurgood grew up listening to his father recount court cases and lawyers' arguments, as visiting the local courthouse was a favorite pastime of father. Conversations at the dinner table thusly often involved discussing such cases. After graduating high school in 1926, Thurgood attended Lincoln University in Pennsylvania, where he had as classmates such other soon-to-be-famous persons as Kwame Nkrumah, Langston Hughes, and Cab Calloway.
4. Career
After graduating college in 1930, his application to the University of Maryland Law School was denied on account of his race. He instead opted to study law at Howard University's School of Law, a historically black post-secondary institution. After finishing law school, Thurgood failed in initial attempts at starting his own practice, and started working for the National Association for the Advancement of Colored People (NAACP). He took up a case especially close to his heart in 1934, as he defended a student by the name of Donald Murray, whose application to the University of Maryland Law School was also denied because he was African American. Marshall won Murray v. Pearson in 1936, an event which spurred him on his path to take up other cases against racism and segregation in the United States.
3. Major Contributions
Marshall won a number of Supreme Court cases, including Chambers v. Florida in 1940, in which he defended four black men who had been coerced by police to confess to committing a murder. In 1944, with Smith v. Allwright, he convinced the Court to stop the custom of white-only participants during the Primary Elections of certain Southern states. However, his most famous victory came in 1954, with Brown v. Board of Education of Topeka, Kansas. The Court's decision that separate was in fact not equal ended the legal racial segregation of U.S. public schools. In 1967, Marshall became the first African American Justice to sit on the Supreme Court, where he served for 24 years thereafter.
2. Challenges
Thurgood Marshall was driven to overcome his personal and career challenges. He experienced racism from an early age, and the racism that barred him from entering the university of his choice, despite his stellar qualifications, only made him all the more ambitious to fight the unjust systems in place. His work with the NAACP and during the Civil Rights Movement earned him many enemies and countless threats. As a judge, he was condemned for being too liberal, and even accused of being a Communist. Furthermore, with an increasing incidence of appointments of Republicans as Supreme Court justices, Marshall became frustrated with many of the decisions reached by the court later in his career.
1. Death and Legacy
Justice Thurgood Marshall died on January 24th, 1993, in Bethesda, Maryland, just two years after he retired from his position as a Supreme Court Associate Justice. His victory in Brown v. Board of Education is seen as one of the most major events at the start of the Civil Rights Movement. Through his work, he also supported the rights of immigrants, and limited government involvement in cases of illegal searches and seizures. At the behest of the United Nations, Marshall helped draft the constitutions of newly independent Ghana and Tanzania. His battle for the rights of minorities is continued today by those bearing his legacy.