World Facts
The World's Top Financial Cities
The Global Financial Centres Index ranks the world's top financial centres.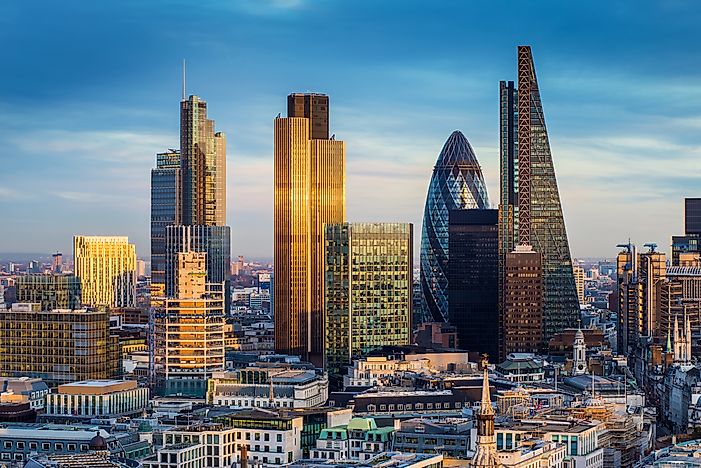 The top financial cities in the world are ranked by an institution known as The Global Financial Centers Index (GFCI). Another reputable institution that gives financial ratings to the cities is the Xinhua-Dow Jones International Financial Centers Development Index. To come up with the best financially performing cities in the world, the input of reputable international economic bodies are considered and evaluated against the cities' economic performance. These economic institutions include the World Bank, Organization for Economic Co-operation and Development (OECD), and the Economist Intelligence Unit (EIU).
The Top Five Financial Cities
The top financial city is London with 780 points against a total score of 1,000. It is followed by New York 756 points, Hong Kong 744, Singapore 742, and Tokyo with 725 points. All the top five cities have an advanced system of payment for goods and services which make commerce and trade very convenient. Investors are assured of returns due to stable assets management policies. London and New York have interchangeably held the top position due to the high quality of mergers, investment opportunities and high credit rating of their stocks listed companies.

The growth of the economy in the Asian continent has given rise to Hong Kong, Singapore, and Tokyo. Hong Kong and Tokyo have evolved to be a financial giant due to the conducive business environment, friendly legal structure. Low taxation on manufacturers has made it a major producer and exporter of fast moving goods as well as electronics and automobiles. Fund management and competitive stock share trading plus top-notch IPOs have attracted blue-chip investors. Singapore's efficiency in commodity trade, insurance, capital markets, and availability of wealth management advisors have made it a global financial capital.
Other Highly Ranked Financial Capitals
At position six with 711 points is Shanghai, followed closely by Toronto with 710, and Sydney at 707 points. Shanghai, a Chinese financial city, has witnessed tremendous economic growth from the year 2000 with a growth rate of 10% for five consecutive years. The growth rate was mainly attributed to the mass production of various machinery, petroleum products, industrial chemicals, and metals. Toronto, a Canadian city, is a hub for commerce and industries, tourism, and education. Sydney is a financial and economic heavyweight in Australia due to robust finance, insurance, and manufacturing sector. At position nine is Zurich with 704 points; a global financial city with highly developed industries and large stock exchange market. Beijing completes the top ten financial cities with 703 points.
How Is the Ranking Done?
The major indicators of a high performing city are economic prowess, financial strength, and the share trading index. Others are human resource expertise and availability of skilled professionals. Integrity of various institutions, international reputation, response to natural calamities and socio-cultural appeal are also weighted. Other parameters used are political stability and reliable information storage and dissemination process. The ease of conducting business in that city, including taxation policy, legal framework and Infrastructural availability are also put on the scale. To come up with the final ranking, a survey is conducted physically and online via a questionnaire. For a city to score highly, it should have a global competitive appeal.
The World's Top Financial Cities
| Rank | City | Rating |
| --- | --- | --- |
| 1 | London | 780 |
| 2 | New York | 756 |
| 3 | Hong Kong | 744 |
| 4 | Singapore | 742 |
| 5 | Tokyo | 725 |
| 6 | Shanghai | 711 |
| 7 | Toronto | 710 |
| 8 | Sydney | 707 |
| 9 | Zurich | 704 |
| 10 | Beijing | 703 |
| 11 | Frankfurt | 701 |
| 12 | Montreal | 697 |
| 13 | Melbourne | 696 |
| 14 | Luxembourg | 695 |
| 15 | Geneva | 694 |
| 16 | San Francisco | 693 |
| 17 | Vancouver | 692 |
| 18 | Dubai | 691 |
| 19 | Boston | 690 |
| 20 | Shenzhen | 689 |
| 21 | Osaka | 688 |
| 22 | Seoul | 686 |
| 23 | Los Angeles | 683 |
| 24 | Chicago | 683 |
| 25 | Abu Dhabi | 682 |