The World's Top Exporters of Blood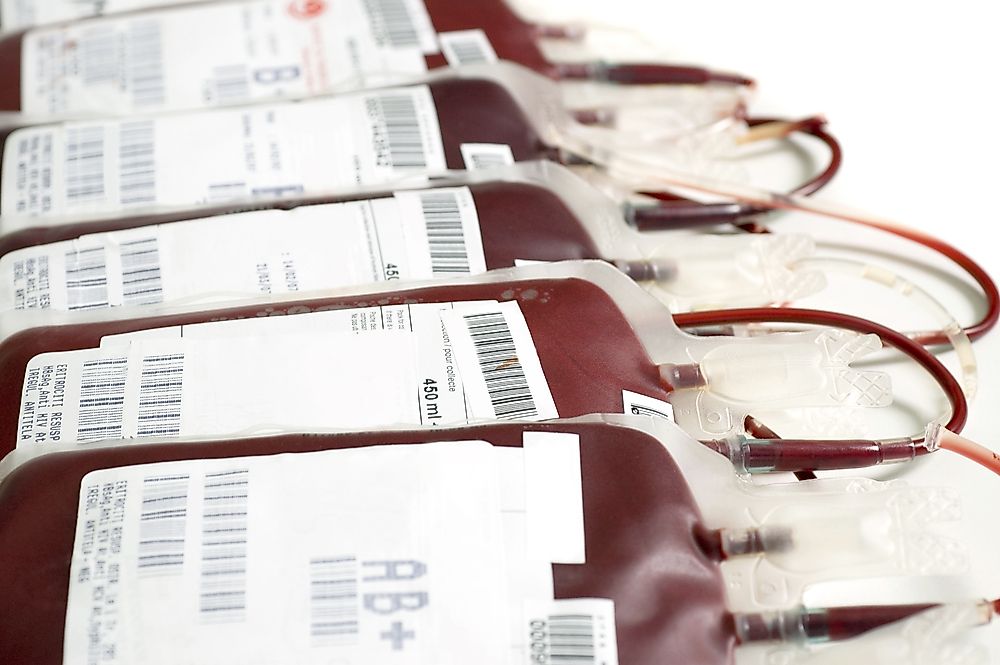 According to the PCI (product complexity index), the Human or animal blood is the eighty-third most complex products and fourteenth most traded product on earth. In 2016 the total human and animal blood exported totaled $126 billion, which is a 12% increase from 2015. Europe was the top exporting continent in 2016, with shipments worth $100 billion, which was 79.3% of the traded blood, followed by North America who exported blood worth $119.9 billion, and then Asia with $4.79 billion.
The Top 5 Blood Exporters
Switzerland
Switzerland had the biggest market share in the blood export trade in the world in 2016. Human or animal blood is one of the principal exported commodities in Switzerland right after gold and packaged medicaments. In 2016 the country exported blood worth $26.2 billion to Germany, Belgium and the United States, which is a 44.75% increase since they exported blood worth $18.1 billion in 2015. 18% of the blood from Switzerland was exported to the United States and 17% to Germany.
Germany
Although blood export was not among the top 10 exported commodities from Germany in 2016, animal and human blood export earned the country $22.7 billion which is a 39.26% increase as compared to 2015 when Germany gained $ 16.3 billion from exporting blood. Germany contributed approximately 18% of the total blood exported. In 2016, Germany exported most of the blood to European countries, with 25% going to Netherlands, 13% to the United Kingdom, and 9.4% going to Switzerland.
United States
Although the United States is the top importer of blood in the world, they are not the top exporters of blood. The United States earned $19 billion from the blood trade last year which is a 28.9% decrease as compared to 2015 when the United States exported blood worth $24.5 billion. The United States exported about 15% of the blood traded in 2016. 14% of the blood exported from the United States went to Netherlands, 11% to Belgium, and 9% to Italy.
Belgium
Belgium exported 10% of the blood traded in 2016 earning the country $13 billion which is a 7% increases as compared to 2015 when Belgium exported blood worth $12.1 billion. Belgium exported a bigger percentage of the blood to Germany, the United States, and the United Kingdom.
Ireland
Ireland exported 8.5% of the total blood traded last year earning the country $10.7 billion which is a 24.6% decrease. Ireland exported 72% of the blood to both Belgium, and the United States and 6.5% of the export go to the United Kingdom.
The Top Blood Exporting Companies
The top companies involved in this trade include Alredwan International Trading from Turkey, Angi Plast Pvt. Ltd. from India, Medicfit Technology Sdn in Malaysia, and Daddy D Pro from Pakistan, among others. These companies import blood for experimental purposes in the research institutes and also blood transfusion.
The World's Top Exporters of Blood
| Rank | Country | Export Value (Billions of US Dollars) |
| --- | --- | --- |
| 1 | Switzerland | 26.2 |
| 2 | Germany | 22.7 |
| 3 | United States | 19 |
| 4 | Belgium | 13 |
| 5 | Ireland | 10.7 |