World Facts
The World's Largest Defunct Stadiums
Although once designed for thousands of spectators, these sporting stadiums are no longer in operation.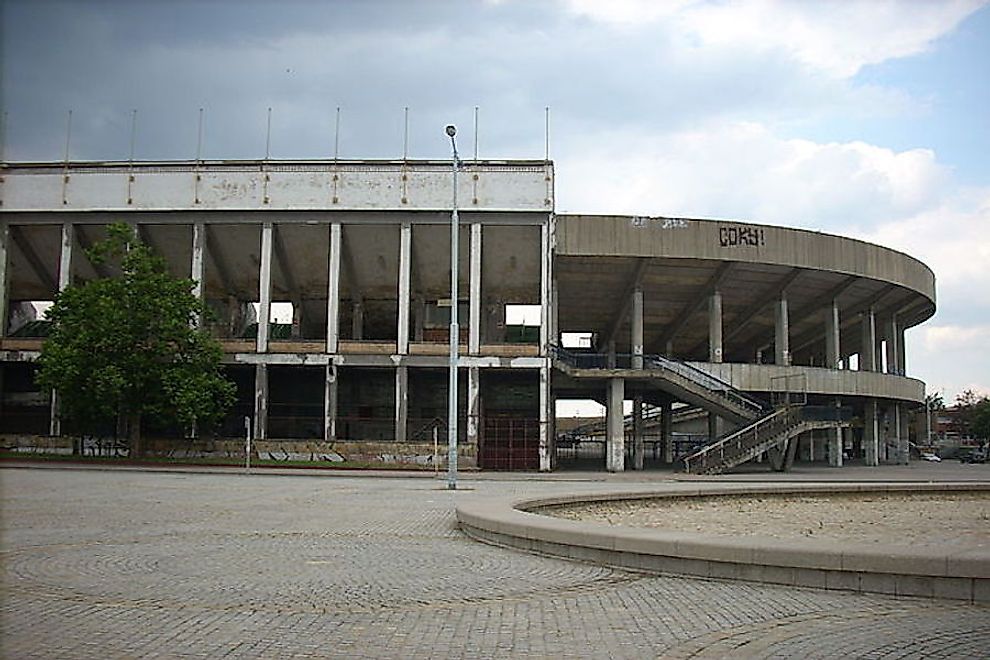 A defunct Stadium is a sports venue that is no longer in use. The stadium can be either sit abandoned, have been demolished, or in-use but for alternate purposes. Although once designed for thousands of spectators, below are some of the largest defunct sporting stadiums in the world.
The World's Largest Defunct Stadiums
Strahov Stadium
In the Strahov district of Prague, Czechia sits the world's largest defunct stadium, Strahov Stadium. It has a former capacity of 220,000 spectators. The stadium was opened in 1926 and closed in 1994. it is owned by the city of Prague and was built for displays of mass gymnastics on a vast scale with a field size that is about the size of nine football pitches. During its active years, the stadium was not only the world's fourth largest sports venue but also the largest stadium ever built. At present, Strahov stadium is no longer used for competitive sports events but as a venue for pop concerts and a center for the Czech football club known as Sparta Prague.
Circus Maximus
With a capacity of 150,000 spectators, Circus Maximus is the second largest defunct stadium located in Rome, Italy. Circus Maximus is an ancient Roman stadium that was used for chariot racing and served as a venue for mass entertainment. The stadium had a length of 2,037 feet and a width of 387 feet and was not only the first stadium in ancient Rome and the Roman Empire but also the largest. Circus Maximus is a Latin word meaning the largest or the greatest stadium it is translated to Italian as Circo Massimo. During the stadium's prime days it became the model for circuses all over the Roman Empire. Circus Maximus was closed in 549AD and the site is currently a public park.
Estádio da Luz
Translated in Norwagian English as Stadium of Light, Estádio da Luz which was built between 1953 and 1959 was a multipurpose stadium which was later closed in 2003. Located in Lisbon Portugal, the stadium was mostly used for football, hosting the home matches for the national football team of Portugal, S.L. Benfica. Estádio da Luz had a capacity of 120,000 spectators during its active years making it the world's third largest stadium by capacity and the third largest in Europe. The demolition of the stadium began in 2002 to pave the way for the construction of the new Estádio da Luz.
John F. Kennedy Stadium
John F. Kennedy Stadium, located in Philadelphia, is a defunct stadium that was opened on April 15th 1926, closed on July 13th 1989 and later demolished between September 19th and 24th 1992. The open air stadium was designed in 1920s classic architectural style by Simon & Simon. The design featured a horseshoe seating that was encompassed by a football field and a racing track. On each section of the stadium, there was an entrance marked by the letter of the section. The stadium was built of stone, brick, and concrete on a 13.5-acre portion of land.
Distribution Of The Defunct Stadiums
While there are numerous stadiums that are no longer in use throughout the only a few make up for the list of the largest stadiums that are defunct. Of the 15 largest non-operational stadiums, five are located in the United States, four are located in England, two in Portugal, and one each in Czech, Italy, Germany, and Russia. The largest defunct stadium had a capacity of 220,000 spectators whereas the smallest has a capacity of 80,200. Some of the stadiums have either been demolished or remain abandonned.
What is the Largest Abandoned Stadium in the World?
The world's largest abandoned stadium is Strahov Stadium in Prague, Czech Republic. It formerly had a capacity of 220,000.
The World's Largest Defunct Stadiums
| Rank | Stadium Name (Capacity) | Location | Year Closed |
| --- | --- | --- | --- |
| 1 | Starahov Stadium (220,000) | Prague, Czechia | 1994 |
| 2 | Circus Maximus (150,000) | Rome, Italy | 549 |
| 3 | West Ham Stadium (120,000) | London, England | 1972 |
| 4 | Estadio da Luz (120,000) | Lisbon, Portugal | 2003 |
| 5 | Central Stadium (120,000) | Leipzig, Germany | 1997 |
| 6 | John F. Kennedy Stadium (102,000) | Philadelphia, United States | 1992 |
| 7 | Tower Athletic Grounds (100,000) | New Brighton, England | 1977 |
| 8 | Kirov Stadium (100,000) | Saint Petersburg, Russia | 2006 |
| 9 | White City Stadium (93,000) | London, England | 1982 |
| 10 | Estadio das Antas (90,000) | Porto, Portugal | 2004 |
| 11 | Centennial Olympic Stadium (85,000) | Atlanta, United States | 1996 |
| 12 | Wembley Stadium (82,000) | London, England | 2000 |
| 13 | Cleveland Stadium (81,000) | Cleveland, United States | 1996 |
| 14 | Tulane Stadium (80,985) | New Orleans, United States | 1979 |
| 15 | Giants Stadium (80,200) | East Rutherford, United States | 2010 |
About the Author
Benjamin Elisha Sawe holds a Bachelor of Arts in Economics and Statistics and an MBA in Strategic Management. He is a frequent World Atlas contributor. 
This page was last updated on April 25, 2017.
Citations
Your MLA Citation
Your APA Citation
Your Chicago Citation
Your Harvard Citation
Remember to italicize the title of this article in your Harvard citation.