Ukraine Culture and Traditions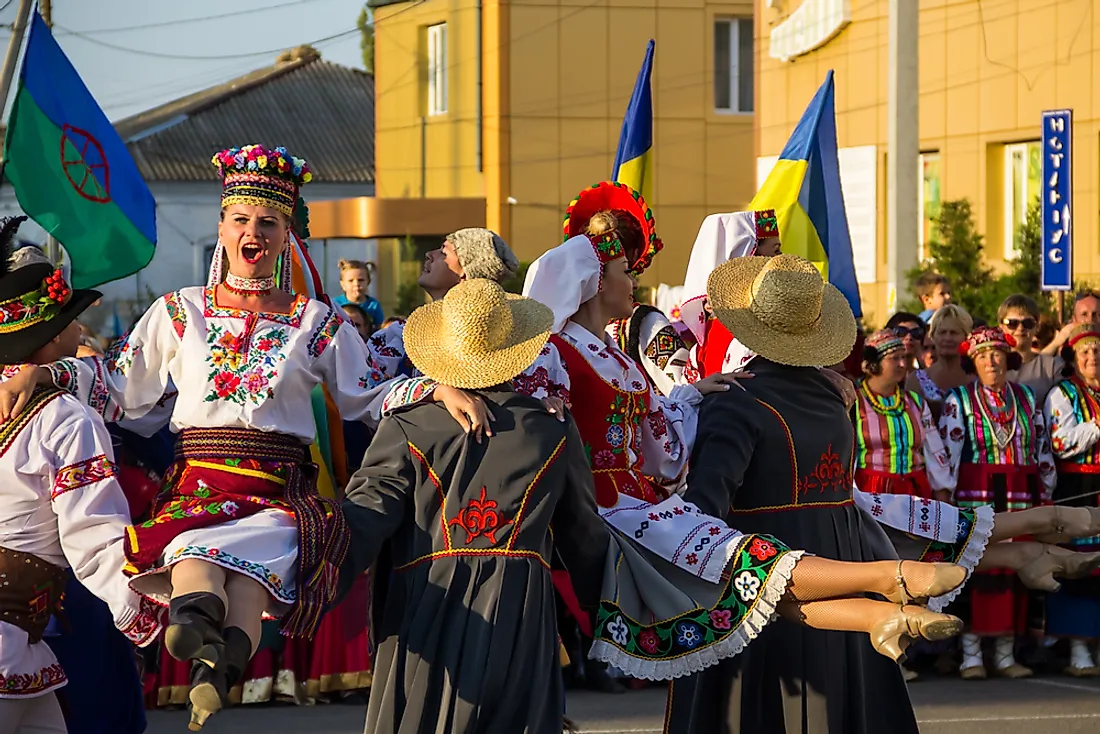 5. Description
Ukrainians are one of Europe's largest ethnic groups in the world, with a population of 45 million spread around the globe, predominately in Europe. Most ethnic Ukrainians, around 37 million, live in Ukraine, an eastern European country bordered by Poland to its west, Belarus to the north, and Russia on the east. Ethnic Ukrainians make up three-quarters of the population of Ukraine, with most of the remaining quarter being ethnic Russians. Unsurprisingly, the largest Ukrainian population outside of the Ukraine is in neighboring Russia, with 3 million Russian citizens regarding themselves as ethnically Ukrainian, and millions of others, mostly in Siberia and southern Russia, claiming to have some biological link to Ukrainian forbearers.
4. Architecture
Ukrainian architecture has eagerly adopted classic European forms throughout much of the last several centuries, such as the Renaissance styles exemplified by many of the castles built in the Fourteenth and Fifteenth centuries, as well as most of the buildings which can be seen in the Western Ukrainian city of Lviv. Baroque architecture was favored by the Ukrainian aristocracy, with most Medieval churches being redesigned in that era with richer interiors and exteriors alike. Seventeenth and Eighteenth Century Ukrainian folk architecture displays strong Baroque and Neoclassical influences, while still largely using traditional, locally sourced building materials. In the late Nineteenth and early Twentieth Centuries, the "Empire" architectural style arrived in the Ukraine from the West. At the beginning of the Twentieth Century, however, there was also a revival of nationalistic architectural styles, which was fueled by increasingly socialist-oriented feelings.
3. Cuisine
The main meal of the day for Ukrainians is dinner, which usually includes a soup, a dish with meat, fowl, or a fish, and a salad. Exotic meats and spices are generally avoided. Ukrainian soups, collectively called Borscht, are highly traditional and have almost become a national culinary emblem. Culinary traditions are still closely connected with ancient rituals and the Orthodox Church calendar, with special dishes eaten on particular holy days and festivals. At Christmas Eve Supper, twelve meatless dishes are served, among them borshch, a raisin dish called kutya, and cabbage rolls called varenyky (which are known to American Ukrainians as pierogi).
2. Cultural Significance
Ukrainian artists have made contributions in all of the major fields of the arts. Ivan Franko was an outstanding late 18th and early 19th Century poet whose work ranged from introspective autobiographies to pieces epic in grandeur. After World War II, many Ukrainian artists moved to America and Western Europe. Around that time, Jacques Hnizdovsky won global recognition for his engravings and woodcuts, while the sculptor Mykhailo Chereshniovsky, and the artist's intensely stylized works, were feted for their lyrical beauty. In the realm of music, many Ukrainian singers have become internationally famous, such as the soprano Solomia Krushelnytska, the tenor Anatoliy Solovianenko, and the Ukrainian-American bass singer Paul Plishka. All the while, singer-songwriter Neko Case remains a unique Ukrainian-American voice on the pop rock scene.
1. Threats
The biggest threat the homeland of Ukrainians faces today is what amounts to a de facto civil war being waged in the east of the country, which, though the Kremlin denies involvement, is being fueled by Moscow. With the recent Russian annexation of Crimea, Ukrainians are more than justifiably suspicious of Russian motives. Some in the American military leadership believe that Moscow is actively involved in promoting various forms of "hybrid warfare" there, referring to Russia simultaneously undertaking economic, political, diplomatic, and military actions across the whole of the country. Still, other analysts assert that Moscow did not initiate the current crisis, and many on both are understandably worried about Ukraine joining NATO, which would bring the alliance up to the Russian border.