The Tallest Railway Bridges in the World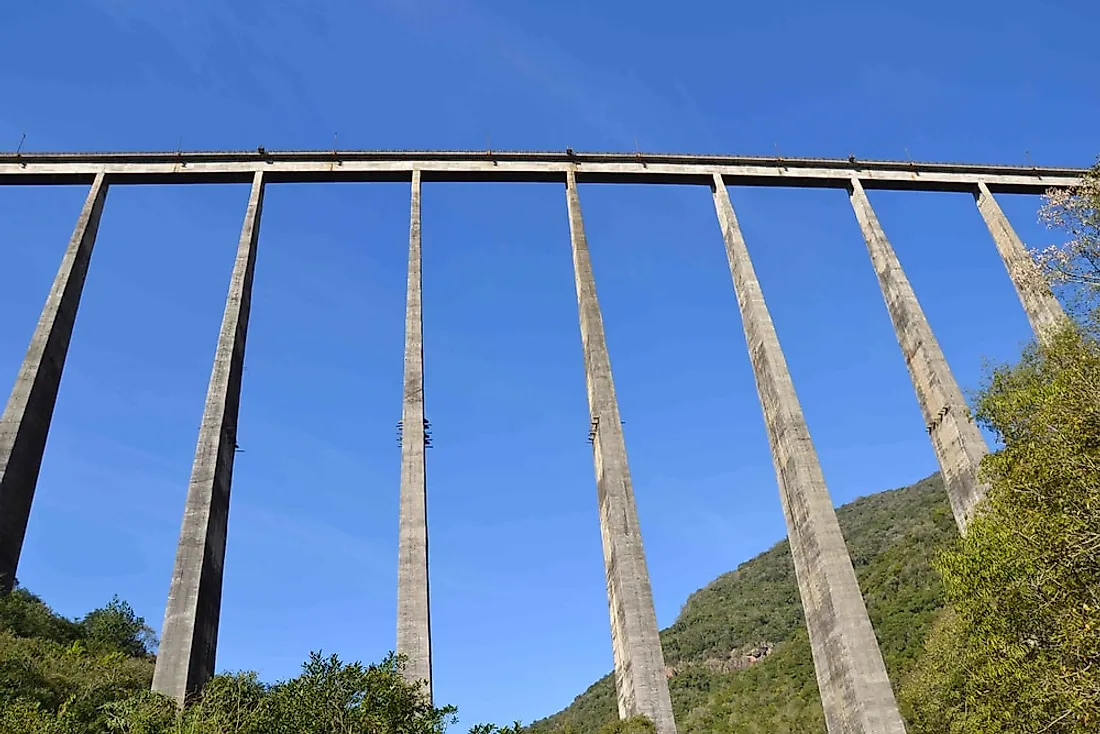 Railway bridges can be ranked based on either their structural height or deck height. A bridge's structural height is defined as the full vertical distance between the highest point of the bridge and lowest visible point of the bridge, where the pillars emerge from the ground whereas the height of the deck is measured as the maximum length of the vertical drop starting from the deck of the bridge to the ground below the span of the bridge. The ranking of the tallest and the highest bridges may differ depending on the choice of a ranking measure. There are many tall bridges in the world, but China has the highest concentration of the tallest railway bridges.
The 5 Tallest Railway Bridges in the World
1. Najiehe Railway Bridge - 305 m
The Najiehe Railway Bridge is the highest railway bridge in the world. It is found in the province of Guizhou, China. The bridge crosses over a human-made reservoir that was the result of the Dongfeng Dam. The bridge was opened in 2016.
2. Qinglong Railway Bridge - 295 m
The Qinglong Railway Bridge is a high-speed railway line that crosses the Beipan River downstream from the Guangzhao Dam. The bridge is located in Qinglong County, Guizhou. The Qinglong Railway Bridge is 305 meters tall. The bridge has an Arch shape, and the end of each Arch is constructed using thick concrete abutments. Qinglong Railway Bridge was built at the cost of $66 million and was opened for use in 2016.
3. Beipanjiang Railway Bridge Shuibai - 275 m
The Beipan River Railway Bridge was the world's tallest railway bridge from 2001 to 2016. The bridge stands at a height of 262 meters. The bridge is located southwest of the city of Luipanshui in Guizhou, China. The arch shaped railway bridge spans the deep canyon of the Beipan River.
4. Nanjiang Railway Bridge - 230 m
Nanjiang Railway Bridge is a high-speed railway line located between the city of Guiyang and Kaiyang in Guizhou, China. The bridge is the fourth tallest bridge in the world at 230 m. It was completed in 2015.
5. Wuzuo River Railway Bridge - 220 m
The Wuzuo River Railway Bridge was completed in 2016 with a total height of 220 meters. It is a beam bridge found in Guizhou, China.
Why Are So Many Rail Bridges Located in China?
China has one of the world's most elaborate railroad transport networks. The introduction of high-speed train services in 2007 has significantly reduced travel time and improved the economy of China. Based on the World Bank report, so many commuters prefer to use high-speed rail transport services because of its comfort, convenience, safety, and punctuality.
The Tallest Railway Bridges in the World
| Rank | Name | Country | Height (Meters) |
| --- | --- | --- | --- |
| 1 | Najiehe Railway Bridge | China | 305 |
| 2 | Qinglong Railway Bridge | China | 295 |
| 3 | Beipanjiang Railway Bridge Shuibai | China | 275 |
| 4 | Nanpan River Qiubel Bridge | China | 262 |
| 5 | Nanjiang Railway Bridge | China | 230 |
| 6 | Wuzuo River Railway Bridge | China | 220 |
| 7 | Qingshuihe Railway Bridge | China | 180 |
| 8 | Caijiagou Railway Bridge | China | 171 |
| 9 | Pit River Bridge | United States | 150 |
| 10 | Santa Giustina Railway 1959 Bridge | Italy | 145 |
| 11 | Viaduct 13 | Brazil | 143 |
| 12 | Yesanhe Railway Bridge | China | 140 |
| 13 | Dukouhe Railway Bridge | China | 140 |
| 14 | Qinghegou Railway Bridge | China | 140 |
| 15 | Mala Rijeka Viaduct | Montenegro | 139 |
| 16 | West Branch Feather River Bridge | United States | 137 |
| 17 | Fades Viaduct | France | 132.5 |
| 18 | Metlac Railway Bridge | Mexico | 131 |
| 19 | Mashuihe Railway Bridge | China | 130 |
| 20 | Victoria Falls Bridge | Zimbabwe | 128 |
| 21 | Garabit Viaduct | France | 124 |
| 22 | Big Nurnus Bridge | Armenia | 121 |
| 23 | Pfaffenberg-Zwenberg Bridge | Austria | 120 |
| 24 | Huatupo Bridge | China | 120 |
| 25 | Luobuxi Railway Bridge | China | 120 |
| 26 | Lzigou Railway Bridge | China | 120 |
| 27 | Longwangmiao Railway Bridge | China | 119 |
| 28 | Ghotour Bridge | Iran | 119 |
| 29 | Ulla Viaduct | Spain | 117 |
| 30 | Viaur Railway Bridge | France | 117 |