The Tallest Buildings In South America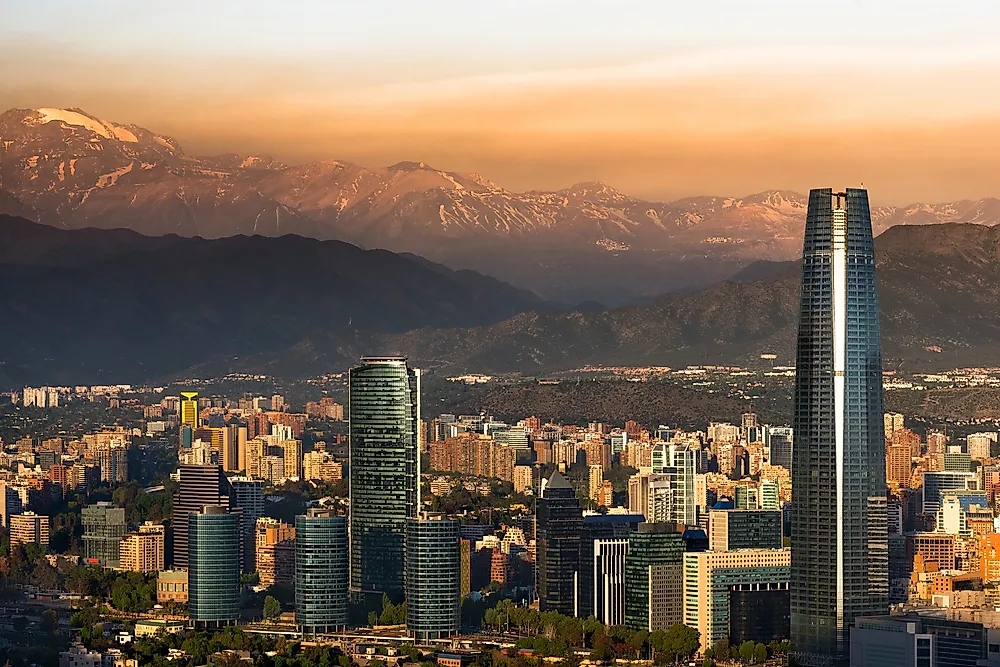 Skyscrapers In South America
South America has a number of skyscrapers located throughout the continent. The majority of these can be found in Chile, Brazil, Argentina, Venezuela, Uruguay, and Colombia. Within these countries, the tallest buildings are in the major financial centers. The top 5 tallest buildings in the continent are:
1. Gran Torre Santiago
The Gran Torre Santiago is the tallest building in South America. This skyscraper is located in Santiago, Chile, where it stands at 984 feet tall and encompasses 64 floors. Construction of the Gran Torre Santiago began in 2006 before being suspended in January of 2009 as a result of the global financial crisis. Construction began again in December of the same year and finished in 2013, becoming the tallest building on the continent. On the 61st and 62nd floors, this skyscraper has an observation deck called Sky Costanera, which provides views over Santiago to visitors.
2. BD Bacatá
The BD Bacatá, which is currently under construction, will be the second tallest building in South America. Upon its completion, it will rise to 853 feet in height. This skyscraper is located in Bogotá, Colombia, where it will house apartments, offices, stores, and a hotel within its 67 floors. This 1.2 million-square-foot building is the first skyscraper to be financed by crowdfunding, a method in which private individuals invest in shares of the building prior to its construction. Records indicate that more than 3,800 Colombian citizens worked to finance the BD Bacatá.
3. Parque Central Complex
The Parque Central Complex is located in Caracas, Venezuela, where it serves as a residential and commercial building. It consists of two towers: the East (completed in 1983) and the West (completed in 1979). Between 1979 and 2003, its towers were the tallest skyscrapers in Latin America (which is a designation that includes South America, Central America, and Mexico). Today, the East Tower of the Parque Central Complex is the 3rd tallest building in South America, standing at 837 feet. In 2012, the East Tower was restored to include a 98.42-foot antennae on its roof. This antennae was designed to resemble the sword of Simon Bolivar, an important political figure who helped establish independence in several South American countries. The antennae is lit by red, yellow, and blue lights, the colors of Venezuela.
4. Isla Multiespacio
The Isla Multiespacio is located in Valencia, Venezuela, where it has been under construction since July of 2009. Its expected completion date is in 2018, when it will officially be the 4th tallest building in South America. Once finished, it will serve as a multi-use skyscraper and have the first private movie theater in the country. Additionally, it will house the following: a 5-star, 300-room hotel; a shopping mall that resembles outdoor markets; an integrative medical clinic, and a 2,100-space parking garage.
5. Alvear Tower
The 5th tallest skyscraper in South America is the Alvear Tower, which stands at 791 feet tall in Buenos Aires, Argentina. Construction of this building began in March of 2012 and is expected to finish by the end of 2017. Once finished, this 53-floor building will have 175 condominiums and a 5-star hotel. The condos will range in area from 330 square feet to 1,600 square feet. It has a projected construction cost of $130 million.
The chart published below offers a list of the 20 tallest buildings in South America.
The Tallest Buildings In South America
| Rank | Name | Location | Country | m / (ft) | Floors | Year built |
| --- | --- | --- | --- | --- | --- | --- |
| 1 | Gran Torre Santiago | Santiago | Chile | 300 (984) | 60 | 2014 |
| 2 | BD Bacatá (under construction) | Bogotá | Colombia | 260 (853) | 66 | 2016 |
| 3 | Parque Central Complex (East Tower) | Caracas | Venezuela | 255 (837) | 59 | 1983 |
| 4 | Isla Multiespacio | Valencia | Venezuela | 245 (804) | 65 | 2017 |
| 5 | Alvear Tower | Buenos Aires | Argentina | 241 (791) | 54 | 2017 |
| 6 | Cali Tower | Cali | Colombia | 211 (692) | 46 | 1984 |
| 7 | Torre Colpatria | Bogotá | Colombia | 196 (643) | 50 | 1978 |
| 8 | Titanium La Portada | Santiago | Chile | 194 (636) | 55 | 2010 |
| 9 | Centro de Comercio Internacional | Bogotá | Colombia | 192 (630) | 50 | 1977 |
| 10 | Centro Financiero Confinanzas | Caracas | Venezuela | 190 (623) | 45 | 1994 |
| 11 | Mercantil Tower | Caracas | Venezuela | 179 (587) | 40 | 1984 |
| 12 | Millennium Palace Camboriú | Balneário Camboriú | Brazil | 177 (581) | 46 | 2014 |
| 13 | Torre Renoir II | Buenos Aires | Argentina | 175 (574) | 51 | 2014 |
| 14 | Coltejer Building | Medellín | Colombia | 175 (574) | 37 | 1972 |
| 15 | Torre Cavia | Buenos Aires | Argentina | 172 (564) | 45 | 2009 |
| 16 | Ciudadela San Martín Torre Norte | Bogotá | Colombia | 171 (561) | 47 | 1983 |
| 17 | Mirante do Vale | São Paulo | Brazil | 170 (558) | 51 | 1960 |
| 18 | Edifício Itália | São Paulo | Brazil | 165 (541) | 45 | 1965 |
| 19 | Rio Sul Center | Rio de Janeiro | Brazil | 164 (538) | 40 | 1982 |
| 20 | Altino Arantes Building | São Paulo | Brazil | 161 (528) | 36 | 1947 |