The Tallest Buildings in Portland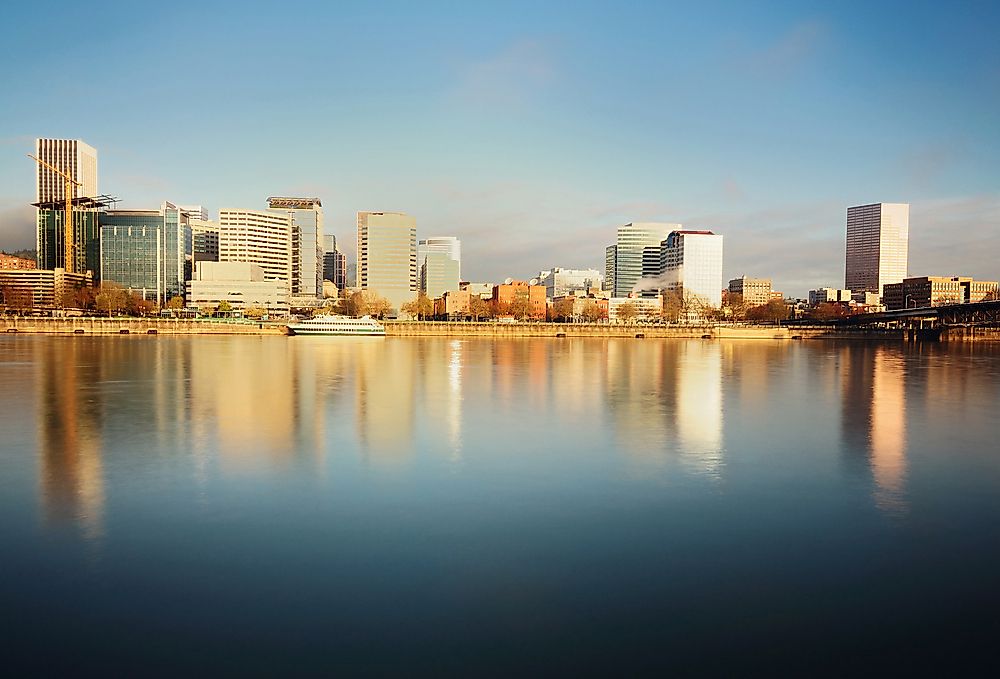 Portland is the largest city in the state of Oregon and the West Coast region of the US. It covers an area of about 147 square miles and by 2016 it had a population of 639,863 people making it the 26th most populated city in the Pacific Northwest. Portland is home to 29 high-rise buildings that stand at over 250 feet. Construction of skyscrapers in Portland began in 1892 when the Oregonian Building was completed, standing at 194 feet tall, making it the tallest at the time, a record it held for 21 years before other taller skyscrapers came up. As of August 2017, the tallest skyscraper in Portland was Wells Fargo Centre.
The Tallest Buildings in Portland
Wells Fargo Centre

Wells Fargo Centre towers at 546 feet and houses 40 floors. The building came to completion in 1973 after two years of construction. It has a floor area of 567,830 square feet with 19 elevators. Wells Fargo Bank has its regional headquarters in the building besides, housing other offices of big companies.

US Bancorp Tower

Standing at 536 feet high, this tower is the second highest skyscraper in the city and houses 42 floors with 740,000 square feet of floor space. The building was completed in 1983 at the cost of $60 million but was later sold to a three-firm partnership for $165 million in 2000. The tower has 20 elevators which serve the many corporations that have their offices in the commercial building.
Park Avenue West
Park Avenue West is the third tallest skyscraper in Portland towering at 515 feet high and housing 30 floors. The building sits on 474,000 square feet of floor space and has ten elevators. Park Avenue West is among the latest buildings to be built in Portland having been completed in 2016. It is a retail space, an office, and an apartment complex all in one.
KOIN Centre
KOIN Center reaches 509 feet high and has 35 floors. The building was opened in 1984 after being constructed at a total cost of $48 million. The building houses both commercial offices and residential complexes that are served with nine elevators. It had a floor area of 420,000 square feet and was initially called the Fountain Plaza.
PacWest Center
PacWest Center stands at 418 feet high and houses 30 floors. It has a floor area of 491,528 square feet with 14 elevators. The building came to completion in 1984 after two years of construction. It is home to one of the largest law firms in the country, Schwabe, Williamson, and Wyatt who have occupied four floors since 1984.
Fox Tower
The building stands at 372 feet high with 27 floors. It was constructed and came to completion in 2000 at a total cost of $64 million, and it has a floor area of 599,388 square feet. The Fox Tower is famous for its architecture that combined a curving east side with a boxy west side creating a unique view from each side. Fox Tower houses retail stores on the ground floor, a Fox movie theater, and a host of commercial offices in its ample space in the building.
Benefits to the Portland Economy
Office space has always been in demand in all major cities and as more are constructed in Portland they provide employment opportunities for the residents while opening up the city to outside investors. When a large corporation sets up base in Portland, this boosts the economy as it attracts more investments in the future. Currently, there are two more high-rise buildings slated for completion between 2018 and 2020, a testament to a growing economy.
The Tallest Buildings in Portland
| Rank | Building Name | Height (ft) | Height (m) | Floors | Year |
| --- | --- | --- | --- | --- | --- |
| 1 | Wells Fargo Center | 546 | 166.4 | 40 | 1973 |
| 2 | U.S. Bancorp Tower | 536 | 163.4 | 42 | 1983 |
| 3 | Park Avenue West | 515 | 157 | 30 | 2016 |
| 4 | KOIN Center | 509 | 155.2 | 31 | 1984 |
| 5 | PacWest Center | 418 | 127.4 | 30 | 1984 |
| 6 | Fox Tower | 372 | 113.4 | 27 | 2000 |
| 7 | Standard Insurance Center | 367 | 111.9 | 27 | 1970 |
| 8 | Edith Green – Wendell Wyatt Federal Building | 361 | 110 | 18 | 1974 |
| 9 | Cosmopolitan on the Park | 340 | 103.6 | 28 | 2016 |
| 10 | John Ross Tower | 325 | 99.1 | 32 | 2007 |
| 11 | Mirabella | 325 | 99.1 | 30 | 2010 |
| 12 | The Ardea | 325 | 99.1 | 30 | 2008 |
| 13 | Congress Center | 321 | 97.8 | 23 | 1980 |
| 14 | Mark O. Hatfield United States Courthouse | 318 | 96.9 | 16 | 1997 |
| 15 | Moda Tower | 308 | 93.9 | 24 | 1999 |
| 16 | The Meriwether, West Building | 303 | 92.4 | 24 | 2006 |
| 17 | Lloyd Center Tower | 290 | 88.4 | 20 | 1981 |
| 18 | 1000 Broadway | 288 | 87.8 | 23 | 1991 |
| 19 | NV | 288 | 87.7 | 26 | 2016 |
| 20 | Portland Plaza | 272 | 82.9 | 25 | 1973 |