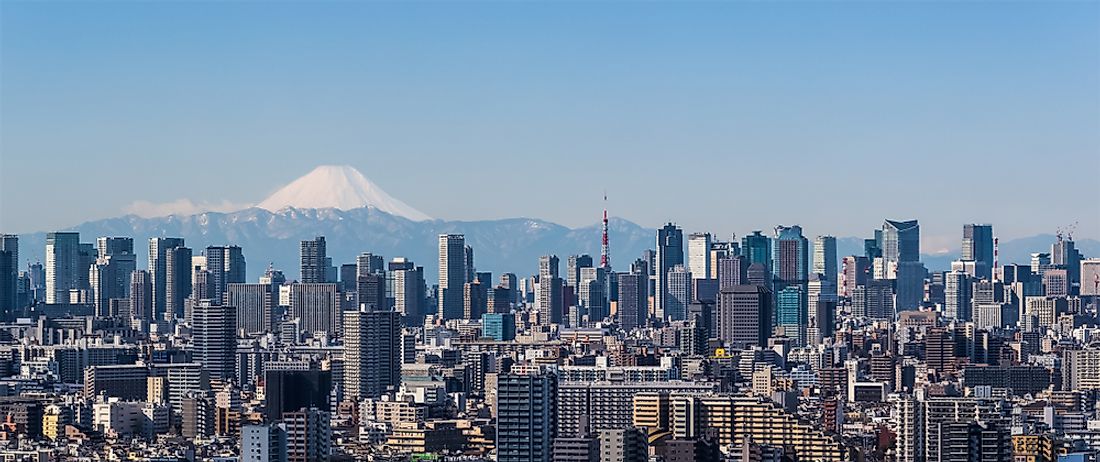 A prefecture in Japan is a district under the government. Japan's prefectures form the first level of administrative division. The country is divided into 47 prefectures, two of which are urban prefectures, one is a territory or circuit, and the other is a metropolis. All the prefectures are equal in autonomy except Tokyo which has retained some additional municipal authority within its territories. The first prefectures were created in 1868 by Meiji Fuhanken Sanchisei to replace the rural and urban administrators. However, all the 47 administrative divisions as they exist today were created by the turn of the 20th century. There are four types of prefectures but the four have little functional differences between them.
Prefectures by Type
Fu
During the Meiji Restoration, Japan was divided into three prefectures. One of the division was "Fu" which represented the urban prefectures (Ken was for the rural prefectures). By 1868, 10 "Fu" had been created. However, some of the prefectures acquired non-urban land or were amalgamated into other territories. In 1869, only three prefectures remained. Osaka-fu, Kyoto-fu, and Tokyo-fu. Tokyo became a metropolis in 1943. Today, only Osaka and Kyoto are categorized as "Fu." Osaka is the third largest prefecture in Japan with a population of approximately 8.8 million people while Kyoto is the 13th largest with 2.6 million people.
Dō
"Do" or circuit was a term used to refer to regions of Japan with several provinces. The only remaining circuit in Japan is the Hokkaido. Hokkaido was initially referred to as "Settlement Envoyship" by the Meiji government. It was later divided into three prefectures which were again consolidated as Hokkaido Department in 1886. The department was dissolved in 1947 and Hokkaido became a prefecture. The prefecture is the 7th largest in Japan with a population of 5.4 million people. It is divided into several sub-prefectures for ease of administration.
To
Only one prefecture, Tokyo, is referred to as "To" which translates to "metropolis." Initially, Tokyo was considered a "Fu" alongside Osaka and Kyoto. However, it was established as Tokyo metropolis in 1943 following the merging of Tokyo prefecture and the city of Tokyo. Tokyo has been the capital of Japan since 1869 and is currently the largest prefecture with a population of 13.5 million people. The metropolitan prefecture has the largest metropolitan economy in the world.
Ken
"Ken" are considered the rural prefectures and the highest number of prefectures (43) fall under this type. The name is derived from a classical Chinese character which carries a provincial or rural connotation. The largest "Ken" is Kanagawa, which is also the second-largest prefecture in Japan with a population of 9 million people. Other significantly large prefectures in this category are Aichi, Saitama, Chiba, Hyogo, and Fukuoka. Each of these prefectures has a population of at least 5 million people.
Japanese Prefectures by ISO
The Japanese prefectures are also divided into eight regions known as "Chiho." The eight regions are not officially specified and do not have elected representatives. However, the country has a tradition of ordering prefectures into geographic regions. This kind of ordering prefecture is anchored on Japan's International Organization for Standardization. The regions and number of prefectures making them are (from south to north); Kyushu (8 prefectures), Shikoku (4), Chugoku (5), Kansai (7), Chubu (9), Kanto (7), Tohoku (6), and Hokkaido (1).
The Prefectures of Japan
| Rank | Prefecture | Capital | Population |
| --- | --- | --- | --- |
| 1 | Tokyo | NA | 13,513,734 |
| 2 | Kanagawa | Yokohama | 9,127,323 |
| 3 | Osaka | Ōsaka | 8,838,908 |
| 4 | Aichi | Nagoya | 7,484,094 |
| 5 | Saitama | Saitama | 7,261,271 |
| 6 | Chiba | Chiba | 6,224,027 |
| 7 | Hyōgo | Kōbe | 5,536,989 |
| 8 | Hokkaido | Sapporo | 5,383,579 |
| 9 | Fukuoka | Fukuoka | 5,102,871 |
| 10 | Shizuoka | Shizuoka | 3,701,181 |
| 11 | Ibaraki | Mito | 2,917,857 |
| 12 | Hiroshima | Hiroshima | 2,844,963 |
| 13 | Kyoto | Kyoto | 2,610,140 |
| 14 | Miyagi | Sendai | 2,334,215 |
| 15 | Niigata | Niigata | 2,305,098 |
| 16 | Nagano | Nagano | 2,099,759 |
| 17 | Gifu | Gifu | 2,032,533 |
| 18 | Tochigi | Utsunomiya | 1,974,671 |
| 19 | Gunma | Maebashi | 1,973,476 |
| 20 | Okayama | Okayama | 1,922,181 |
| 21 | Fukushima | Fukushima | 1,913,606 |
| 22 | Mie | Tsu | 1,815,827 |
| 23 | Kumamoto | Kumamoto | 1,786,969 |
| 24 | Kagoshima | Kagoshima | 1,648,752 |
| 25 | Okinawa | Naha | 1,434,138 |
| 26 | Shiga | Ōtsu | 1,413,184 |
| 27 | Yamaguchi | Yamaguchi | 1,405,007 |
| 28 | Ehime | Matsuyama | 1,385,840 |
| 29 | Nagasaki | Nagasaki | 1,377,780 |
| 30 | Nara | Nara | 1,365,008 |
| 31 | Aomori | Aomori | 1,308,649 |
| 32 | Iwate | Morioka | 1,279,814 |
| 33 | Ōita | Ōita | 1,166,729 |
| 34 | Ishikawa | Kanazawa | 1,154,343 |
| 35 | Yamagata | Yamagata | 1,122,957 |
| 36 | Miyazaki | Miyazaki | 1,104,377 |
| 37 | Toyama | Toyama | 1,066,883 |
| 38 | Akita | Akita | 1,022,839 |
| 39 | Kagawa | Takamatsu | 976,756 |
| 40 | Wakayama | Wakayama | 963,850 |
| 41 | Yamanashi | Kōfu | 835,165 |
| 42 | Saga | Saga | 833,245 |
| 43 | Fukui | Fukui | 787,099 |
| 44 | Tokushima | Tokushima | 756,063 |
| 45 | Kōchi | Kōchi | 728,461 |
| 46 | Shimane | Matsue | 694,188 |
| 47 | Tottori | Tottori | 573,648 |