Society
The Population Of Colorado
The population of Colorado was 5,456,574 on July 1st, 2015, as per estimates made by the United States Census Bureau.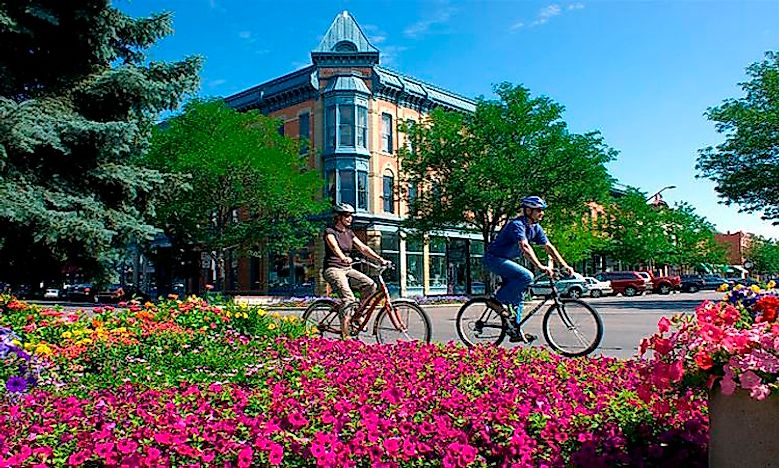 The Population Of Colorado
Colorado is a western state in the US. The name Colorado is a Spanish word meaning 'colored red.' The state is also referred to as 'The Centennial State' because it was established on the 100th Anniversary of American Independence. The state is famous for its mining industry and Agriculture. The people of Colorado are referred to as Coloradans.
Current Population Of Colorado
According to the Census Bureau of the US, the population of Colorado was 5,456,574 as of July 1, 2015. Out of the total population, 23% of the residents are below 18 years while 13% of the residents are over 65 years. Men outnumber women by a small margin. The population of men constitutes 50.3% of the population while women make up 49.7%. Whites are the dominant race and represent 87.5% of the population. African Americans are the leading minority race at 4.5% of the population. Asians make up 3.2% while Natives make up 1.6% of the total population.
Origin And Growth Of Colorado's Population
The earliest occupants of Colorado were hunters who lived 20,000 years ago. In around 100BC, Basket makers moved to South Western Colorado where they grew corn and squash. By 800AD, Pueblo Indian had settled in Colorado and practiced advanced farming and pottery-making. Pueblo Indians built apartment-like structures in the Colorado canyons. Spanish explorers moved to the southeastern region of Colorado in the 17th century. In 1858, multitudes of Americans moved into Colorado following reports of a gold strike in Cherry Creek. Subsequently, mining towns such as Blackhawk, Central City, Gold Hill, Boulder, and Colorado City emerged. The 1860s witnessed conflicts between Indian and white settlers. Colorado was established as a state in 1876. Establishment of rail lines, refineries, and coalfields attracted immigrants from as far as Germany and Russia. Another boom in the oil and mining industry in the 1980s attracted more immigrants from other states.
Religion Of The People Of Colorado
Lutherans, Methodists, and Episcopalians were among the earliest settlers in Colorado. Later, Spanish settlers in the 18th century brought Roman Catholic religion to Colorado. Currently, Protestants make up the largest religious group at 44% of the population. Roman Catholics comprise 19%, Mormons 3%, Jews 2%, Muslims 1%, while Buddhists and Hindus make up 1%. 25% of the population is not affiliated with any religious group.
Ethnicity Of The Population of Colorado
Colorado is a state of multiple ethnic groups. In 2010, the whites including white Hispanics were 81.3% of the population of Colorado. The blacks comprised 4.0%, Native Hawaiian and other Pacific Islander were 0.1%, other races 7.2%, and two or more races (Multiracial Americans) were 3.4% of the total population of Colorado. Most of the Whites have German ancestry. Whites of Swiss ancestry and Austrian origin also make up the Non-Hispanic Whites.
Sources Of Livelihood Of The People
In the 19th century, Colorado was famous for its booming mining and oil industry. Mining and oil are still huge contributors to the Colorado economy. Advanced agriculture is another important sector particularly in the adaptation of farming technology. Tourism and real estate are major income earners for the state. Denver, Colorado's capital city, is a financial hub. Furthermore, several famous brands have their factories and headquarters in Colorado. Colorado is known for raising cattle, dairy goods; sheep are some of the commercially important activities. The crops common in Colorado include corn, wheat, hay, and Sugar beets. From the 1950s, manufacturing has played a significant role as a source of income in the state. Other major industries of Colorado include food processing, manufacturing of computer equipment, transportation equipment, aerospace products, printing and publishing, electrical equipment, and chemicals among others.
The Population Of Colorado
| Rank | Racial composition | 2010 |
| --- | --- | --- |
| 1 | White (includes White Hispanics) | 81.3% |
| 2 | Black | 4.0% |
| 3 | Asian | 2.8% |
| 4 | Native | 1.1% |
| 5 | Native Hawaiian and other Pacific Islander | 0.1% |
| 6 | Other race | 7.2% |
| 7 | Two or more races (Multiracial Americans) | 3.4% |
This page was last updated on April 25, 2017.
Citations
Your MLA Citation
Your APA Citation
Your Chicago Citation
Your Harvard Citation
Remember to italicize the title of this article in your Harvard citation.