Most Visited Places In The United States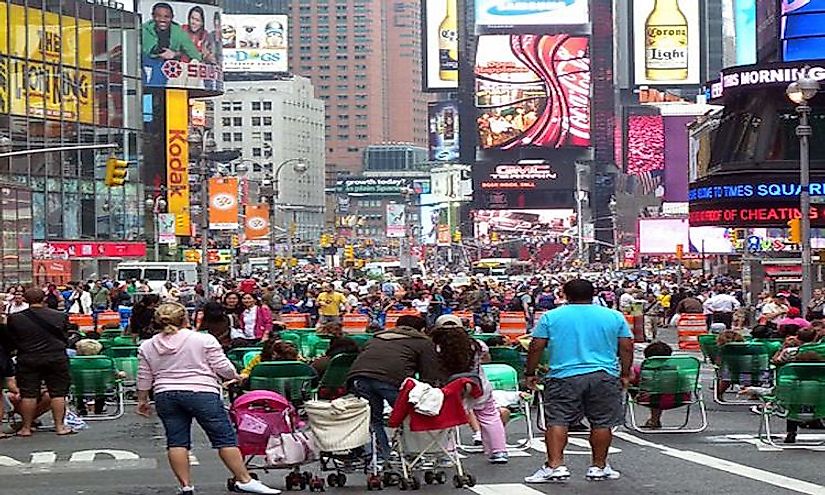 The US is a vast country with numerous attractions, and some of them are major crowd pullers with millions of annual visitors. The tourism industry in the US contributes significantly to the country's economy. In the year 2015, the industry contributed $1.6 trillion to the national GDP. An estimated 77.5 million international travelers visited the US in 2015 while domestic trips were approximated at 2.1 billion. The major tourist attractions include amusement parks, recreational facilities, national parks, and historical and cultural landmarks. The most visited places in the US are discussed below:
Times Square
Times Square in New York is the most visited destination in the US as well as in the whole world. Annual visitors are recorded at 41.9 million. Times Square is a commercial junction, dotted with shops and lit up by billboards. The famous Broadway Theater District sits in the bustling intersection and offers the best in entertainment. Visitors in the square flock into the countless restaurants and shops and enjoy the sights and sounds the square has to offer.
Central Park
Central Park is in the heart of New York City and receives approximately 40 million visitors every year. The park is teeming with attractions and recreational facilities. Visitors engage in sightseeing, picnics, carriage rides and boat rides. Attraction in the park includes the William Shakespeare Monument, Bethesda Fountain, Children's Zoo, Central Park Zoo & Wildlife Center, Obelisk, Lake, Nature Observatory, Belvedere Castle and Delacorte Theater.
Union Station
Union Station in Washington, D.C. receives 36.5 million tourists annually. After its construction in 1907, Union Station was the world's biggest train station. In addition to being a busy train station in the modern day, the station is also home to over 100 shops, restaurants, a food court, and movie theater. The grand hall of the station was refurbished with its original designs and gleaming marble and makes for a spectacular sight.
Magic Kingdom, Walt Disney World
This attraction is in Orlando, Florida and it receives 17.1 million visitors annually. The Magic Kingdom is comprised of six themed lands with numerous attractions suited for children. Children get to meet Disney characters, enjoy spectacular parades and rides and explore themed areas.
Disneyland Resort
Disneyland Resort in Anaheim, California attracts 16.1 million annual visitors. The entertainment resort offers a variety of rides, exhibits and themed shows to be enjoyed by the whole family.
Epcot, Walt Disney World
Located in Orlando, Florida, Epcot in Walt Disney World receives 10.8 million visitors annually. Epcot is a theme park with various attractions, from an aquarium teeming with sharks, dolphins and other fish, a simulated ride in mission space, boat rides and festivals.
Disney's Animal Kingdom, Walt Disney World
This destination attracts 9.8 million annual visitors and it is located in Orlando, Florida. The park is divided into sections, each representing individual continents and their respective habitats and animal species
Disney's Hollywood Studios, Walt Disney World
9.7 million Visitors flock to Disney's Hollywood Studios, Walt Disney World in Orlando, California. The theme park has numerous attractions fashioned in some of the most popular Hollywood blockbusters.
Navy Pier
The Navy Pier in Chicago Illinois attracts 8.7 million visitors annually. The 1,010 meters long Pier is a Chicago landmark, littered with recreational facilities, museums, shops, restaurants, and theaters.
Faneuil Hall Marketplace
The Faneuil Hall Marketplace in Boston, Massachusetts receives 15 million visitors annually. The urban marketplace also offers street performances and numerous dining and shopping options.
Other Most Visited Sites in the US
Other sites and their respective number of visitors are Las Vegas Strip, Las Vegas, Nevada (29.5 million); Grand Central Terminal, New York (21.6 million); Golden Gate Bridge, San Francisco Bay Area, California (15 million); Golden Gate Park, San Francisco, California (13 million); Balboa Park, San Diego, California (13 million); Pike Place Market, Seattle,Washington (10 million); Great Smoky Mountains National Park, North Carolina and Tennessee (9 million); South Street Seaport, New York (9 million); Mackinac Bridge, St. Ignace and Mackinaw City, Michigan (9 million) and Pier 39, Fisherman's Wharf, San Francisco, California (8.1 million).
The Most Visited Places In The US
| Rank | Place | Location | Visitors (millions) |
| --- | --- | --- | --- |
| 1 | Times Square | New York, New York | 41.9 |
| 2 | Central Park | New York, New York | 40 |
| 3 | Union Station | Washington, D.C. | 36.5 |
| 4 | Las Vegas Strip | Las Vegas, Nevada | 29.5 |
| 5 | Grand Central Terminal | New York, New York | 21.6 |
| 6 | Magic Kingdom, Walt Disney World | Orlando, Florida | 17.1 |
| 7 | Disneyland Resort | Anaheim, California | 16.1 |
| 8 | Golden Gate Bridge | San Francisco Bay Area, California | 15 |
| 9 | Faneuil Hall Marketplace | Boston, Massachusetts | 15 |
| 10 | Golden Gate Park | San Francisco, California | 13 |
| 11 | Balboa Park | San Diego, California | 13 |
| 12 | Epcot, Walt Disney World | Orlando, Florida | 10.8 |
| 13 | Pike Place Market | Seattle, Washington | 10 |
| 14 | Disney's Animal Kingdom, Walt Disney World | Orlando, Florida | 9.8 |
| 15 | Disney's Hollywood Studios, Walt Disney World | Orlando, Florida | 9.7 |
| 16 | Great Smoky Mountains National Park | North Carolina and Tennessee | 9 |
| 17 | South Street Seaport | New York, New York | 9 |
| 18 | Mackinac Bridge | St. Ignace and Mackinaw City, Michigan | 9 |
| 19 | Navy Pier | Chicago, Illinois | 8.7 |
| 20 | Pier 39, Fisherman's Wharf | San Francisco, California | 8.1 |