World Facts
The Most Polluted Cities in China
A list of the cities in China with the worst air quality.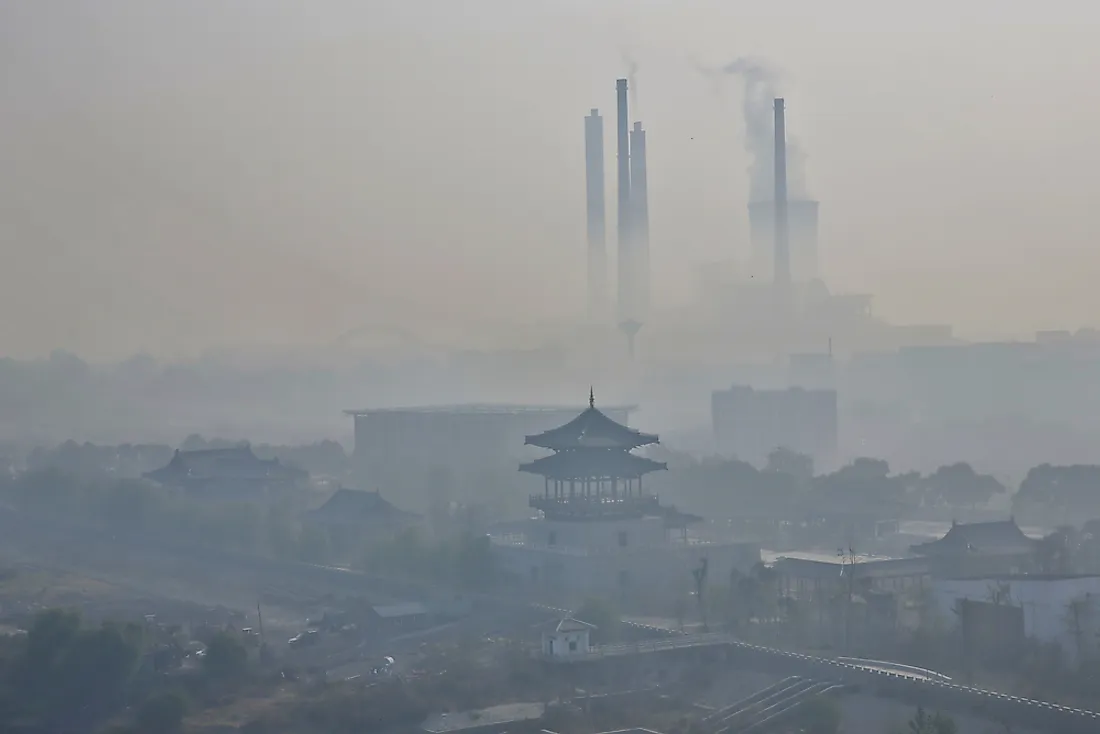 About 80% of city inhabitants breath polluted air. Research has shown that people living in low-income countries are more affected than those living in high-income countries. The trend is similar across the globe. As more people migrate to the urban environment, the more they become polluted. Poor air quality in the urban environment leads to diseases such as heart problems, respiratory complications, and stroke. A majority of the cities record a high rate of fine particulate matter (PM 2.5). Pollutants are fine particles produced in gaseous forms including carbon dioxide.
Chinese cities are among the world's most polluted, partially due to the rapid industrialization that has occurred in China over the last five decades. A large population in China is also another major issue as the streets are filled with more vehicles that emit carbon dioxide. Since the start of the decade, the government has worked relentlessly to reduce pollution in cities but 90% of the urban environments are still above the recommended rate of pollution. Measures by the government in combating pollution include eliminating substandard industrial production, and coal consumption. By 2013 only three cities in China met the pollution standards: Haikou, Lhasa, and Zhoushan. In 2014 six more cities joined the three including Zhoushan, Shenzhen, and Fujian.

The province of Hebei Is china's center of pollution. Seven of the ten most polluted cities in China are found in the province.

China's Most Polluted Cities
1. Xingtai

Xingtai is the most polluted city in the country with a PM 2.5 of 128 micrograms against a required rate of 35 micrograms. Xingtai is an industrial city in northern China with a population of around 7.1 million in its metropolitan area. Partially due to the presence of large coal factories, the air in Xingtai is extremely polluted. In fact, Xingtai ranks as the ninth most polluted city in the world.
2. Baoding
Baoding ranks second with 126 micrograms. Like Xingtai, coal power plants are responsible for the city's pollution, which can sometimes be so thick that it is hard for residents to see nearby buildings.
3. Shijiazhuang
Shijiazhuang ranks third with 121 micrograms. Heavy industry is present in Shijiazhuang, and has been blamed for causing as much as 70% of the city's pollution.
4. Handan
Handan ranks fourth with 112 micrograms. Handan is known for its major steel plants.
5. Hengshui
Hengshui ranks as the fifth most polluted city in China with 107 micrograms. The city is home to 4 million people.
Fighting Pollution In China
Despite being among the most polluted countries in the world, China is making efforts to combat pollution. The country is working towards a goal of achieving cleaner air by 2030. The government is implementing several measures including reducing the dependency of coal in industries and replacing it with less polluting energy. The government also seeks to reduce the number of vehicles burning fossil fuel in cities. By the year 2020, China hopes to increase its forest coverage to 23%. At the beginning of 2018, about 60,000 soldiers were tasked with planting 32,400 square miles of trees.
The Most Polluted Cities in China
| Rank | Country | City | PM 2.5 |
| --- | --- | --- | --- |
| 1 | China | Xingtai | 128 |
| 2 | China | Baoding | 126 |
| 3 | China | Shijiazhuang | 121 |
| 4 | China | Handan | 112 |
| 5 | China | Hengshui | 107 |
| 6 | China | Tangshan | 102 |
| 7 | China | Langfang | 96 |
| 8 | China | Cangzhou | 88 |
| 9 | China | Tianjin | 87 |
| 10 | China | Zhengzhou | 86 |
| 11 | China | Beijing | 85 |
About the Author
Victor Kiprop is a writer from Kenya. When he's not writing he spends time watching soccer and documentaries, visiting friends, or working in the farm. 
This page was last updated on May 8, 2018.
Citations
Your MLA Citation
Your APA Citation
Your Chicago Citation
Your Harvard Citation
Remember to italicize the title of this article in your Harvard citation.