The Most Polluted Countries in the World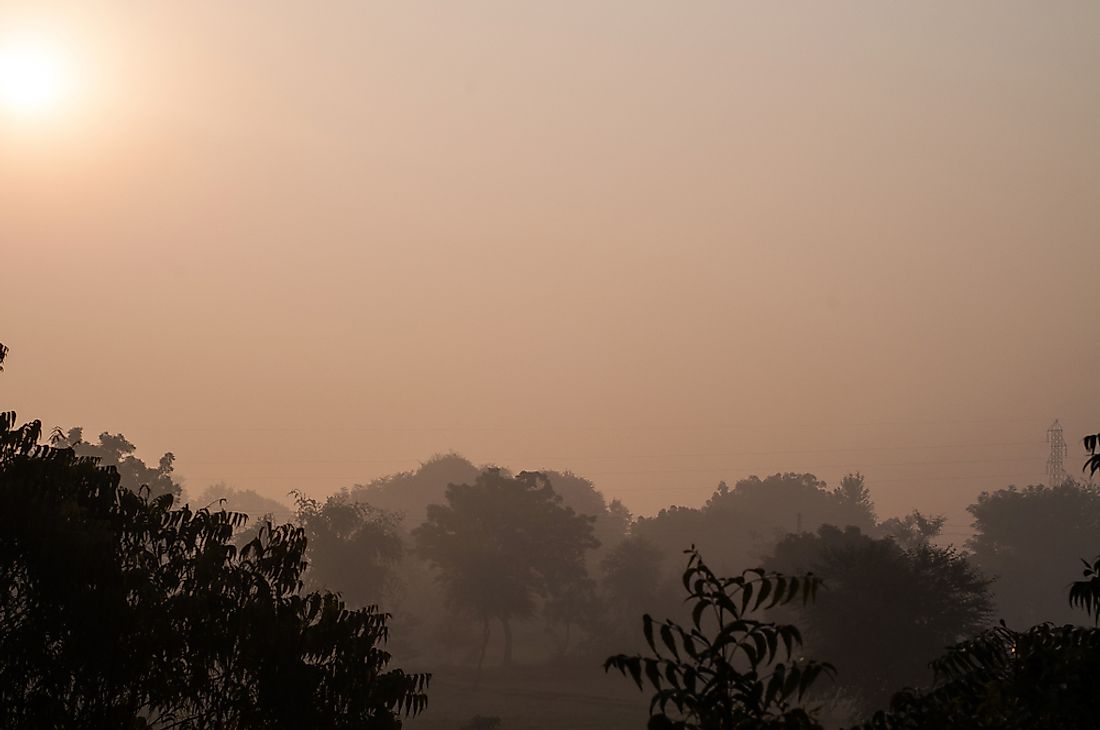 PM2.5 and PM10 are measurements of particles in the air (particulate matter) per cubic meter. These particles include organic dust, coal particles, construction dust, airborne bacteria, and tiny sand particles. The "10" and the "2.5" refer to microns (micrometers). PM2.5 refers to particles that are 2.5 micrometers and below while PM10 refers to particles that are 10 micrometers and below including PM2.5. The recommended safe annual pollution is set at not more than 41μg/m3.
The Indian city of Delhi turns into a gas chamber during the winter with PM10 of about 700µg/m3. During this season, the city is blanketed by fog, smoke, and dust from burning agricultural fields and households trying to keep warm. Pollution in the city drops significantly during the summer, spring, and autumn. The city of Zabol in Iran has an annual particulate matter concentration of 217µg/m3 making it the most polluted city in the world. The cities of Gwalior and Allahabad India rank second and third respectively.
The Most Polluted Countries in the World
Pakistan has an annual PM10 of 364.8µg/m3. Smoke, dust, and sand particles degrade the air quality in Pakistan. Life expectancy in the country is significantly low with 66 for females and 64 for males. The cities of Peshawar, Rawalpindi, and Karachi are among the most polluted in the country. Consequently, the number of people suffering from respiratory diseases due to air pollution is on the rise.
Afghanistan is the second most polluted country in the world with PM10 of about 297µg/m3. Frequent dust storms, explosive residues, burning of tires and rubber are the major causes of pollution. The cities of Afghanistan are also filled with old vehicles that produce high levels of carbon dioxide. The life expectancy for both genders is 60 years. Pollution has led to the rise in respiratory diseases, as a large percentage of the Afghan population cannot afford proper healthcare.
The West African state of Senegal ranks third with an annual Pm10 of 179µg/m3. Senegal is a developing state and therefore burns millions of tons of fossil fuel on its roads and factories. Between November and October, the capital city Dakar is covered by blankets of dust particles due to the desert winds.
Global Pollution
Urban environments are more polluted than in rural environments. With most people living in urban settings, the number of respiratory complications is rising across the world. The most polluted towns and cities are in Pakistan, Qatar, Afghanistan, Bangladesh, Egypt, and the UAE while the least polluted urban settings are in Australia, Brunei, New Zealand, Estonia, Finland, and Canada. On a global scale, China the United States, the European Union, Japan, India, and Russia are responsible for the production of large amounts of carbon dioxide that contributes to global warming.
The Most Polluted Countries in the World
| Rank | Country | Pm 10 Annual Concentration |
| --- | --- | --- |
| 1 | Pakistan | 364.8 |
| 2 | Afghanistan | 297 |
| 3 | Senegal | 179 |
| 4 | Iran | 177.3 |
| 5 | United Arab Emirates | 159.7 |
| 6 | Bangladesh | 153.5 |
| 7 | Egypt | 137.5 |
| 8 | Mongolia | 109.9 |
| 9 | India | 102.1 |
| 10 | Ghana | 98 |